My May 2020 Reading List is full of some really good books. I'm still on a break from reading anything too serious as everything around me right now is still a bit tense. I still need light and easy reads. I'm publishing this post later than I had planned because of everything that happened recently, so it's going up a bit later than I had planned. It just didn't seem important as everything else.
I will be including a post later this week featuring books that I have added to my TBR pile to read to help educate me about white privilege, race, and books that I have seen mentioned as great resources. I plan on reading as many as possible. I've already added a couple of audiobooks so I can listen when walking or working.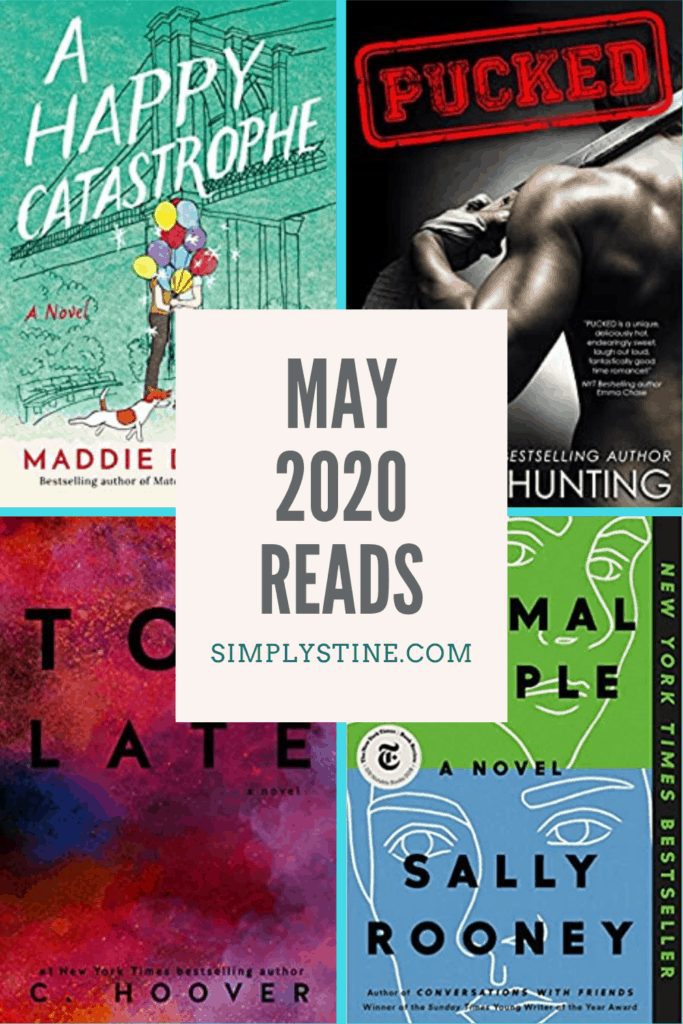 I've been waiting for quite a while for several books to become available from my library, but they haven't been released yet. Because of that, I took this time to read some series that I've heard a lot of people talk about AND because they're available on my Kindle Unlimited subscription.
My favorite book that I read was probably Normal People. It was intense and emotional. I'm not sure how I felt about that ending, BUT I loved the book and the characters. Also, the show was one of the best shows that I've seen in a very long time. I think the show might actually have been better than the book! I never say that.
Too Late by Colleen Hoover
I pretty much love all things Colleen Hoover. I thought I had read all of her books by now, but I was wrong. Somehow I missed this one.
This was pretty good, but probably not my favorite from Colleen. Girl in a relationship with a really bad guy. Good guy comes in to hopefully save the day type of book. It wasn't a bad book, but it just didn't pull me in like her others have.
3/5 Stars
I'm not sure I can say enough good things about this book. That ending will make you feel a certain type of way, but the book is beautifully written. It's one of my favorite books that I've read in a long time. I felt the characters so much and I was rooting for each of them.
This is a love story at the heart of this book. Marianne and Connell meet at high school. Connel is very popular and Marianne is a bit of an outcast. Connell decides to keep their relationship a secret and the story follows them through college and beyond. This book addresses mental issues, class divides, shame and a person's value.
This is THE book to sit down and read and just really have your heart ripped out. I highly suggest watching the tv show after you've read the book. You'll fall even more in love with Marianne and Connell.
5/5 Stars
This book happened to pop up as an add on Instagram during our quarantine and I thought "how appropriate." I read it and enjoyed it!
It was a romance set in the time of a pandemic and how they had to be careful being around each other. It was dates to the grocery store to pick up supplies, but still keeping their distance. Setting a date of being able to see each other two weeks after being quarantined.
I laughed and I kept thinking how crazy all of this was, but it was actually happening all around us while I was reading this book so it felt very, very accurate!
4/5 stars for me
A Lie For A Lie (Book #1 All In Series) by Helena Hunting
This is the book that taught me that the description "Puck Bunnies" is a real thing. This series has three books and they're good. They're steamy, funny, and are very fast reads.
This book deals with a chance encounter and what happens if that someone gets away. It will throw you a curve ball that you might not expect. Overall, I enjoyed it! I read this series before the Pucked series not realizing that they were linked. I don't think it's necessary to read the Pucked series before these, but you'll recognize some of the characters if you do.
4/5 Stars
A Favor For A Favor (Book #2 All In Series) by Helena Hunting
The series continues with book #2 for the All In Series. This book is about Stevie, who happens to be Bowman's sister. Bishop is the new player on the team and who also happens to live across from where Stevie is staying. He's that total asshole type of guy who thinks he's god's gift to women.
Obviously, there's a lot more to these characters and you find out more as the story goes. This book has a lot of funny moments and I found Bishop to be hysterical. I also loved Stevie. Lots of steam with this book and I mean LOTS!
4/5 Stars for me
This is the third book in the All In Series and again, I enjoyed this one. Kingston is a hockey player and honestly, a bit different from most of the males she writes about. He's shy, kinda quiet, timid, and a really good guy. Queenie is the daughter of the GM of the hockey team. So it's a forbidden romance type of book.
I enjoyed the story of these two and how they complimented each other. I won't say this was my favorite one so far because honestly, I missed the laugh out loud moments that some of the other books have given me, but it was still a good read!
4/5 Stars for me
This is the sequel to Matchmaking for Beginners that I read last year. I LOVED both of these books; probably A Happy Catastrophe even more.
I won't go into too much detail as I don't want to give anything away from the first book if you haven't read it yet. This story continues with Marnie and she's at a point in her life where she is so happy, but she's wanting to start a family. I'll leave it at that.
Read Matchmaking for Beginners before reading A Happy Catastrophe. You'll love both. It's funny, it has loveable moments. It also has moments where you want to scream at a certain someone who I won't name in this review.
5/5 Stars for Me
Who knew I was such a fan of a sports romance series? I read the All In Series from Hunting before I started this series, not knowing they were tied together. OOPS. It's ok though.
So far I've read five of the Pucked Series books. They're very funny, they're quite steamy (VERY) and they definitely have made me say wow more than once. To me they're easy reads and I enjoy that right now. Plus, when I watch hockey with my husband, I have these stories in the back of my head. Makes the games that much more interesting, ha!
Did you miss the Simply Stine Book Club announcement for June 2020? I shared the two books that I chose as the book club picks for June. I'll be discussing each one at the end of June and announcing the next months choices.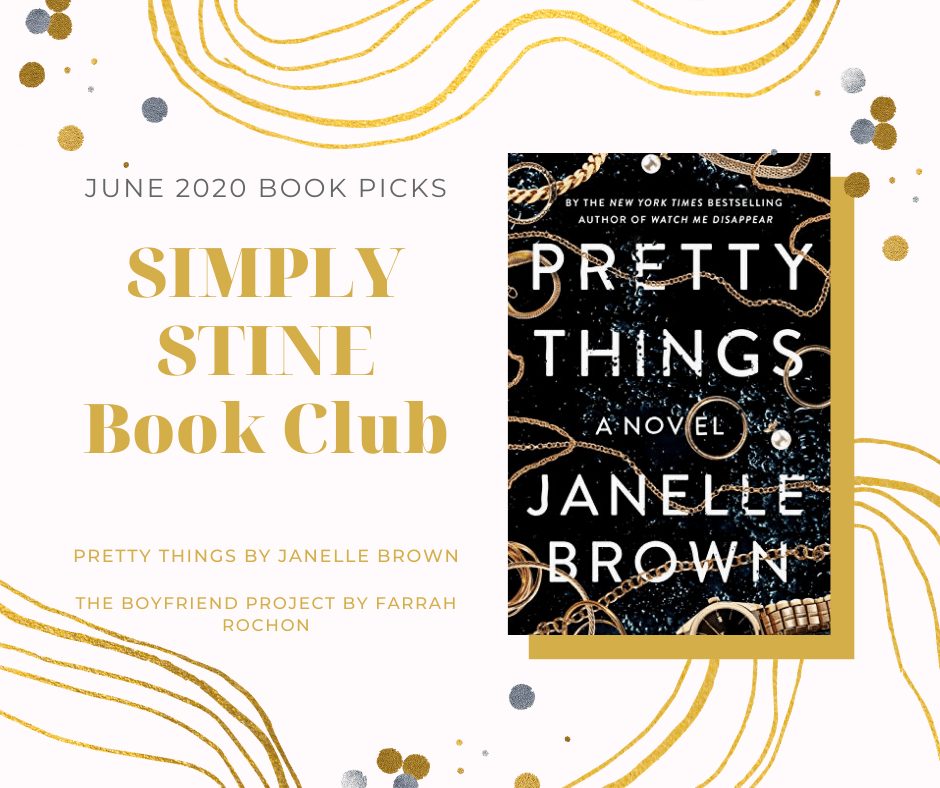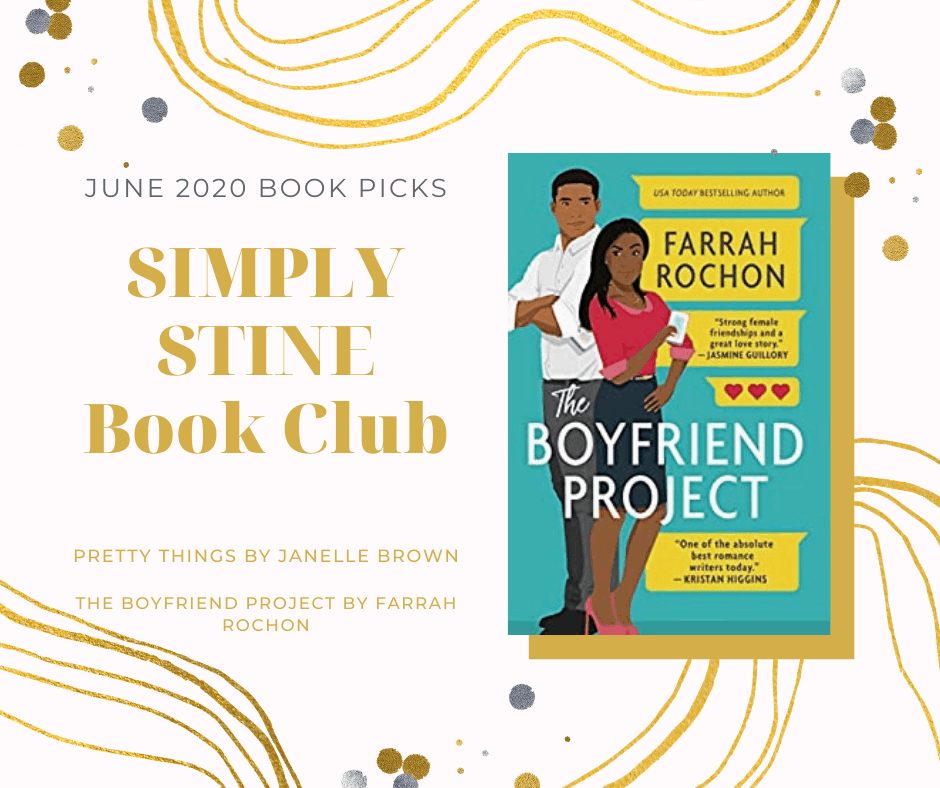 There's my May 2020 Reading List! What did you guys finish reading?
Shop The Post