I'm a tad bit late in sharing my March 2021 Reading List and I'm sorry about that, but better late than never, right?!? I feel like I finally got myself out of my reading funk. THANK GOODNESS! I'm back and reading more than I have in a while. I'll be sharing some books that I've read and the one book I'm suggesting to read for April.
Simply Stine Book Club March 2021 Reads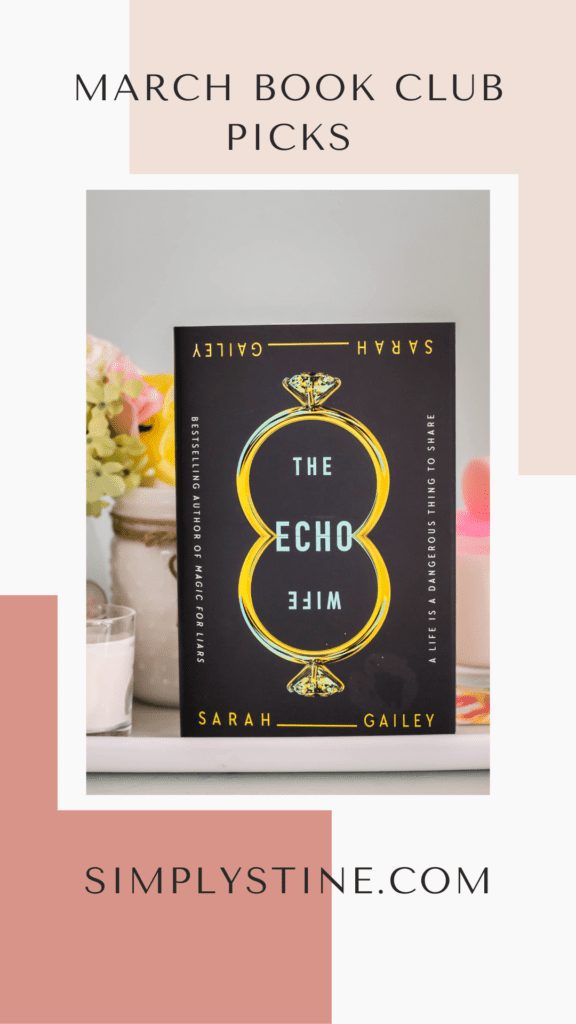 I wanted to really like this book, but it just fell sort of flat for me. I enjoyed the plot, but it wasn't anything that stood out. I felt bored at times and felt that it lacked emotion. I don't know. It was for sure one of those I didn't hate it, but I didn't love it. I do think this would make for an interesting tv series or movie. 3.5/5 Stars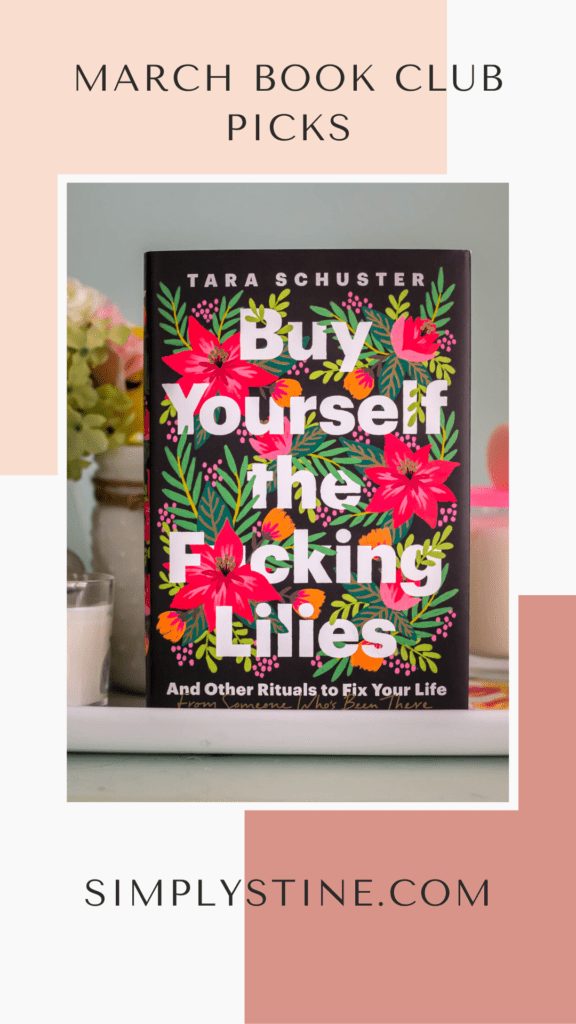 This book was interesting. Again, I didn't love it or hate it. It's part memoir and part self-help in my opinion. I think you can really learn some things to try to help you with your own life reading this book. Is it groundbreaking?!? Nah, but it's still a good book. 3/5 Stars
Books To Consider Reading in April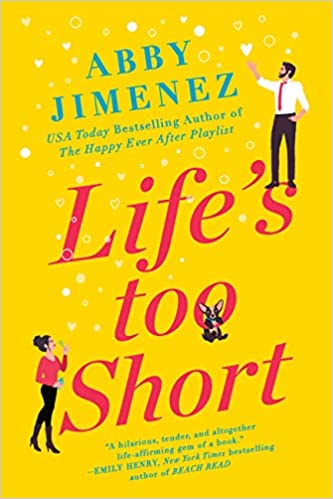 Abby Jimenez is quickly becoming one of my favorite authors. I previously read the other two books in this series and I'm obsessed. Do you have to read the other two to understand this one? No. I don't think so at all. Also, I want to point out that this series is incredible on audiobook. In fact, when this came out I immediately got the audiobook. There's something about the male narrator that I love! Anyways……..
When Vanessa Price quit her job to pursue her dream of traveling the globe, she wasn't expecting to gain millions of YouTube followers who shared her joy of seizing every moment. For her, living each day to its fullest isn't just a motto. Her mother and sister never saw the age of 30, and Vanessa doesn't want to take anything for granted.
But after her half sister suddenly leaves Vanessa in custody of her baby daughter, life goes from "daily adventure" to "next-level bad" (now with bonus baby vomit in hair). The last person Vanessa expects to show up offering help is the hot lawyer next door, Adrian Copeland. After all, she barely knows him. No one warned her that he was the Secret Baby Tamer or that she'd be spending a whole lot of time with him and his geriatric Chihuahua.
Now she's feeling things she's vowed not to feel. Because the only thing worse than falling for Adrian is finding a little hope for a future she may never see.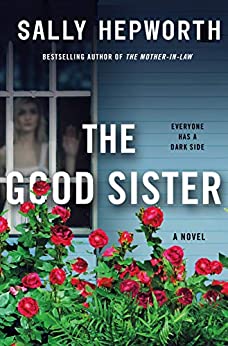 This is my next audiobook (thanks to Libro.fm) I'm hoping this is a good one as I know a lot of people LOVED this book. Trigger warning: I believe this story does involve infertility. Just an FYI. I'm trying to branch out and read more thrillers. I can't wait to report back on this one.
There's only been one time that Rose couldn't stop me from doing the wrong thing and that was a mistake that will haunt me for the rest of my life.
Fern Castle works in her local library. She has dinner with her twin sister Rose three nights a week. And she avoids crowds, bright lights and loud noises as much as possible. Fern has a carefully structured life and disrupting her routine can be…dangerous.
When Rose discovers that she cannot get pregnant, Fern sees her chance to pay her sister back for everything Rose has done for her. Fern can have a baby for Rose. She just needs to find a father. Simple.
Fern's mission will shake the foundations of the life she has carefully built for herself and stir up dark secrets from the past, in this quirky, rich and shocking story of unexpected love.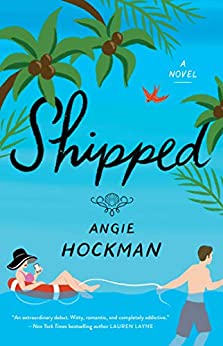 When I read about this being a mix between The Unhoneymooners and The Hating Game (two books I absolutely loved!) I knew that I had to read this. So I can't wait to report back on this one. I need a good book about second chances, romance, and new beginnings. (This is going to be my for sure book that I'm going to read this month)
Between taking night classes for her MBA and her demanding day job at a cruise line, marketing manager Henley Evans barely has time for herself, let alone family, friends, or dating. But when she's shortlisted for the promotion of her dreams, all her sacrifices finally seem worth it.
The only problem? Graeme Crawford-Collins, the remote social media manager and the bane of her existence, is also up for the position. Although they've never met in person, their epic email battles are the stuff of office legend.
Their boss tasks each of them with drafting a proposal on how to boost bookings in the Galápagos—best proposal wins the promotion. There's just one catch: they have to go on a company cruise to the Galápagos Islands…together. But when the two meet on the ship, Henley is shocked to discover that the real Graeme is nothing like she imagined. As they explore the Islands together, she soon finds the line between loathing and liking thinner than a postcard.
With her career dreams in her sights and a growing attraction to the competition, Henley begins questioning her life choices. Because what's the point of working all the time if you never actually live?
This has been a major buzzed book. It's going to be adapted for TV by President Barack Obama and Michelle Obama's production company. It's also a Reese Witherspoon Book Club YA pick. Consider me curious!
Eighteen-year-old Daunis Fontaine has never quite fit in, both in her hometown and on the nearby Ojibwe reservation. She dreams of a fresh start at college, but when family tragedy strikes, Daunis puts her future on hold to look after her fragile mother. The only bright spot is meeting Jamie, the charming new recruit on her brother Levi's hockey team.
Yet even as Daunis falls for Jamie, she senses the dashing hockey star is hiding something. Everything comes to light when Daunis witnesses a shocking murder, thrusting her into an FBI investigation of a lethal new drug.
Reluctantly, Daunis agrees to go undercover, drawing on her knowledge of chemistry and Ojibwe traditional medicine to track down the source. But the search for truth is more complicated than Daunis imagined, exposing secrets and old scars. At the same time, she grows concerned with an investigation that seems more focused on punishing the offenders than protecting the victims.
Now, as the deceptions—and deaths—keep growing, Daunis must learn what it means to be a strong Anishinaabe kwe (Ojibwe woman) and how far she'll go for her community, even if it tears apart the only world she's ever known.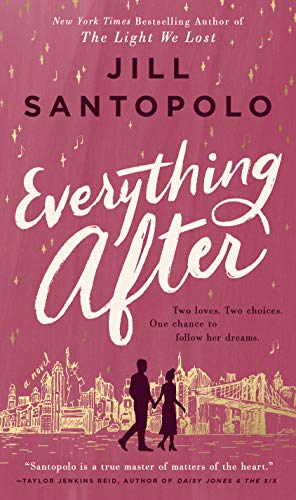 I LOVED the The Light We Lost by Jill Santopolo. Easy five star read for me. So I was thrilled when I saw that she had written a new book. Will this one rip my heart out like The Light We Lost did?!? I'll let you know!
Two loves. Two choices. One chance to follow her dreams.
Emily has come a long way since she lost her two passions fifteen years ago: music, and Rob. She's a psychologist at NYU who helps troubled college students like the one she once was. Together with her caring doctor husband, Ezra, she has a beautiful life. They're happy. They hope to start a family. But when a tragic event in Emily's present too closely echoes her past, and parts of her story that she'd hoped never to share come to light, her perfect life is suddenly upturned. Then Emily hears a song on the radio about the woman who got away. The melody and voice are hauntingly familiar. Could it be? As Emily's past passions come roaring back into her life, she'll find herself asking: Who is she meant to be? Who is she meant to love?
Shop The Post