Every other Wednesday, the
Metro Atlanta Beauty Bloggers
will answer a beauty-related question just for fun! This week's question is…
On a daily basis, do you favor bright colors or neutrals?
I have to say both! My makeup changes daily, but for the most part, I tend to stick with a neutral eye look and a brighter/bolder lip color.  Right now, I've been loving a wine colored lip, so I've been sticking with a more neutral eye because I want the focus to be on my lips. When I want to wear a brighter, bolder eye color, I stick with a color that closely resembles my actual lip color, but with a little bit more color.
My go-to palette for most of my eye looks would have to be Urban Decay's Naked Palette.  Does that shock anyone??? It's the perfect palette for creating simple neutral eye looks and dramatic smokey eyes.  It's probably my favorite palette and I use it at least three times a week. It has been duped, but I find that this is one palette I will always buy the original. I can't get over how many times I use it to create so many different looks.
My go to color for lips? My day to day color is probably Stila Cosmetics Isabelle Color Balm Lipstick. It's my basic lip color, but with a little bit more. If I want a more dramatic look I've been opting for this Rimmel London Lasting Finish Matte by Kate Moss. These lip colors are some of my favorites! Plus, they are under $5.00 and they last! I'm loving #107!!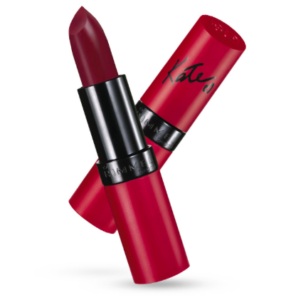 What's your day to day look? Neutrals or bright, bold colors?
– – – – – * – – – – –
Be sure to check out the other Metro Atlanta Beauty Bloggers' blogs!
Ashley Elizabeth from Ashley Elizabeth's Beauty Blog
Brittney from BellBelleBella
Dawn from Ritual Beauty
Dionne from Glittery Fingers & Sparkling Toes
Emma from Manicurity
Harri from TrailerHood Chic
Kaitlin from Blushing Beauty
Mandy from MandysSecrets
Pam from Pammy Blogs Beauty
Quinn from Mama Fashionista
If you're a beauty blogger in the Metro Atlanta area and would like to join us, please visit our website! We would love to connect with you!