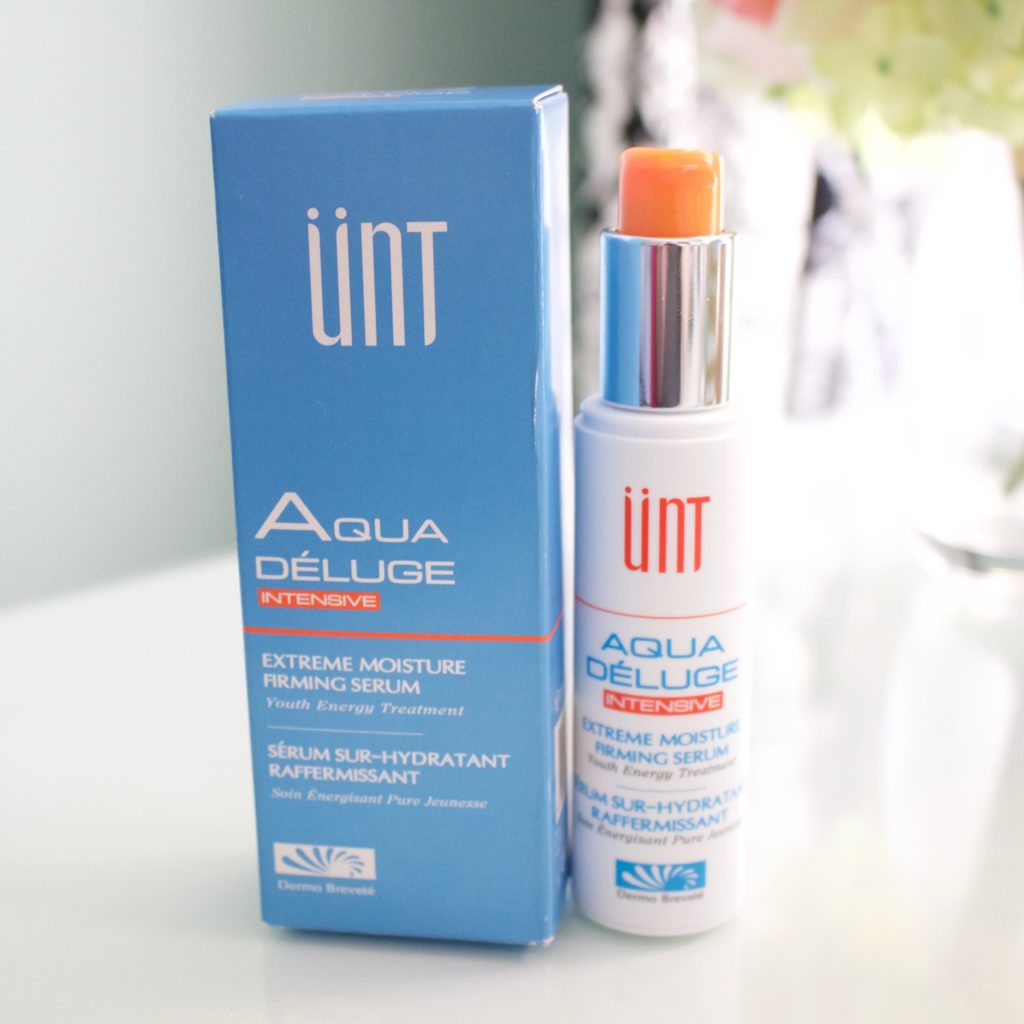 This is a sponsored post for SheSpeaks/UNT
Simply Stine has always been about introducing you to new skincare and cosmetic brands that you might not have heard of before. UNT, is actually a brand I wasn't familiar with, but was sent some products from their line to try. I was impressed enough with their products and thought it would be a good brand to talk to you guys about and also offer a discount if you were curious enough to try the line! More information on the discount below!
UNT is a skincare and cosmetic company that was founded in Taiwan. Their motto is that all people should be able to have healthy and comfortable skin and that products should be at an affordable price. How awesome is that! I couldn't agree more with that statement! Today let's talk about their Aqua Deluge Intensive Serum for "Extreme Moisture and Firming." This is a product from their skincare line of products, which is pretty expansive. Here is some information from their website about the Aqua Deluge Intensive Serum:
[line]
UNT Aqua Deluge Intensive Serum
New skin-filling moisturizing serum. Self-adapts to skin needs for lasting super hydration and firming repair.
UNT's best-selling AQUA serum has been continuously upgraded over the years to always bring the most advanced hydration care. This latest AQUA DÉLUGE INTENSIVE is designed to adapt to varying seasonal needs for all skin types. A groundbreaking formula, AQUA DÉLUGE INTENSIVE blends maximum moisture and a powerful skin regenerative technology for everlasting supple, youthful skin.
ULTRA FILLING SPHERES™ is a system that cross-links micro-sized Hyaluronic Acid and Konjac Root Extract to achieve superior water retention capacity. Like a sponge, the spheres deliver super-abundant moisture deep into the skin and retain it from evaporating. As a unique property, the spheres increase in volume when they hold water. As a result, the skin is plumped from within and looks smoother and more radiant.
The revolutionary SYN®-HYCAN boosts Hyaluronic Acid synthesis in the cells to increase skin's self-hydration. The use of Marula Oil and Royal Jelly further enhances skin regeneration and collagen synthesis to impart additional firmness for an overall remodeling effect.
Rich in texture, AQUA DÉLUGE INTENSIVE brings long-lasting hydration and nourishing repair to all skin layers. Use with AQUA line for smooth, springy skin immediately and over time.
[line]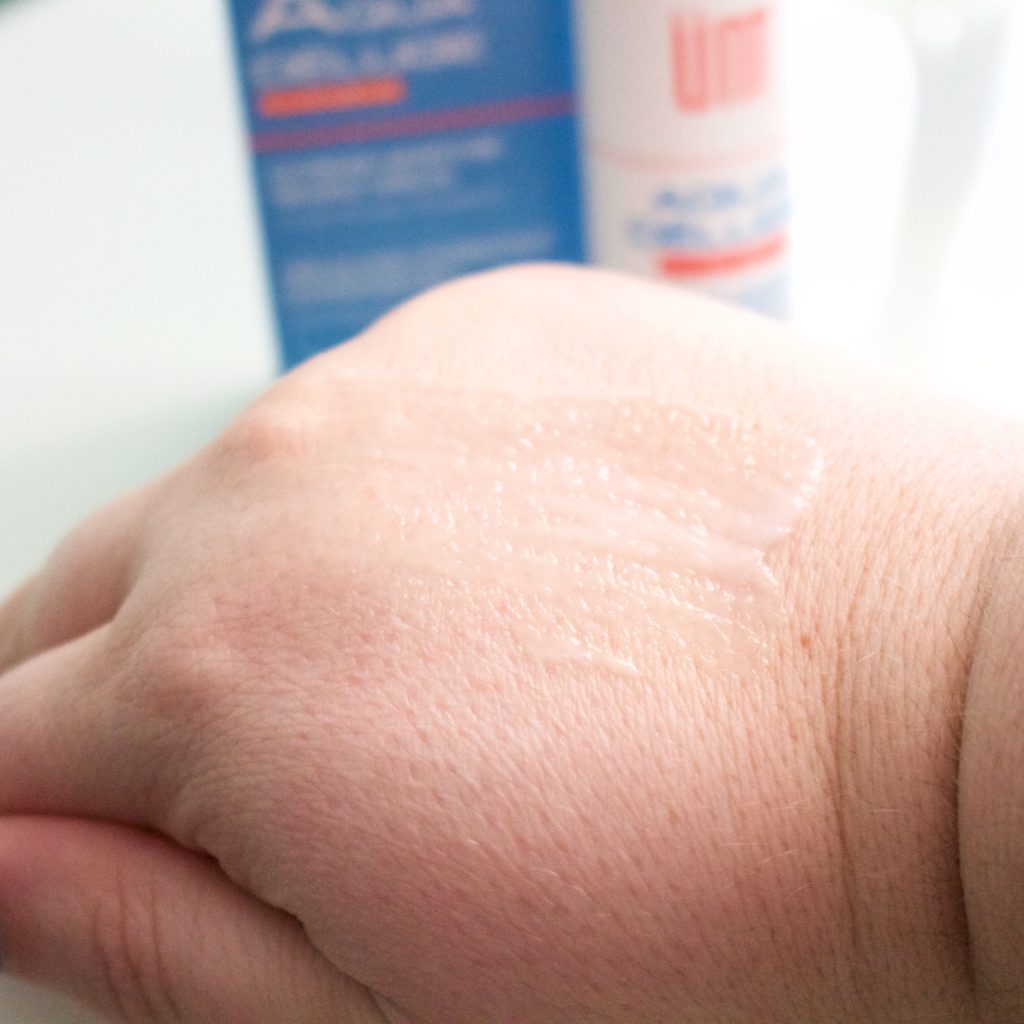 This serum is fantastic for offering another option for more hydration to your skin. It also contains the always good for you, Anti-Oxidants and deep levels of healing and age prevention! What I noticed and loved right away was the texture of this product. This didn't feel like your average hydrating serum. This one felt thicker and rich, but didn't leave an oily residue or anything on my skin. The Aqua Deluge Intensive Serum also has Ultra Filling Spears which help to plump the skin, from within, which will help smooth out the wrinkles and lines on the skins surface. Think of this as an alternative to fillers and such. When I apply this serum, I notice a "firming" feeling happening. My skin feels tighter and not in a bad way.
With ingredients like Manula Oil (which helps revitalize lackluster skin) Hyaluronic Acid (super hydrating), Royal Jelly (excellent for dryness) and SYN-HYCAN (Your "Filler) I am completely confident knowing that when I am using the UNT Aqua Deluge Intensive Serum, my skin is getting some much needed ingredients to help my skin look and feel it's best.
[line]
Facts about UNT:
"UNT" is named after an abbreviation taken from "Untitled" because we believe that beauty cannot be represented by one verbal expression alone. Also, we feel that UNT cannot relate to just one form of beauty.
Throughout its pursuit of beauty, UNT has stayed true to several guiding principles:

Develop the latest cosmeceutical formulas with the knowledge from medical experts.
Be effective. UNT uses only the latest and the most proven effective ingredients.
Be affordable. UNT provides high quality products at direct manufacturer's prices.
Be innovative. UNT continually challenges itself to solve all users' skin problems.
Shape healthy skins. UNT aims to improve every skin condition to reveal the true beauty in its users.
Specifically, all UNT products share the following distinct attributes: small molecular weight, easily absorbed, light, low-oil based content, high concentrations of active ingredients, in sync with international development for new materials.
UNT is devoted to developing innovative and effective products at an affordable price to the mass market.
[line]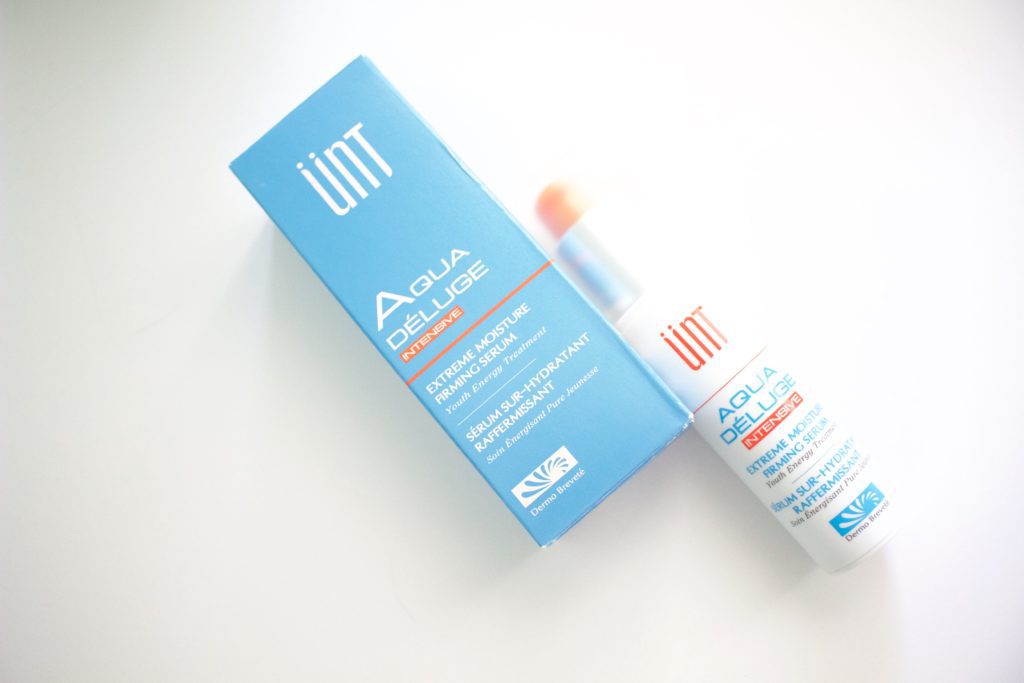 I can't wait to continue using Aqua Deluge Intensive Serum and see what happens to my skin with prolonged use. It's not always that I find a product line that really works with my sensitive, combination skin, but UNT has been great so far! Coming next week, I'll talk to you about some of their Cosmetic products and I'll also be sharing a giveaway! Stay Tuned!
If you are curious about the UNT Product Line, here is some more information for you!
Facebook Page *Follow their Facebook Page for information on giveaways and sampling programs!
Instagram *Full of gorgeous pictures and information about their products
Discount Code: UNT10OFF (Valid from 9/7 – 10/31, enter coupon code at checkout to receive an additional 10% OFF on entire website)

This is a sponsored post for SheSpeaks/UNT