My perfect Sunday would include the ultimate at-home pampering session. I'd take a really warm bath, sit in the tub with a face mask on and enjoy just laying there. Soaking in all of the peacefulness and possibly read a book, drink some wine and just allow myself to completely rest. One of the ways I like to make my bath time experience that much better is with a LUSH Bath Bomb. LUSH just makes my bath time that much more amazing. The scents of these Bath Bombs are insane and some of them make my bathtub look like a work of art. HA! Seriously, if you haven't tried any of their Bath Bombs before, get it on it ASAP! I've reviewed several LUSH Bath Bombs, but today we're going to be talking about the LUSH Lord Of Misrule Bath Bomb.
"Misbehave while you bathe
Revel in your bath with this mischievous bomb that features a spicy herbal blend of patchouli and black pepper oil. Inspired by the ruler of the pagan Feast of Fools, Lord Of Misrule has a deep green exterior that slowly froths away to reveal a rich wine-colored center. Just like at the Feast of Fools, when the wine starts to flow, the popping candy crackles and the festivities begin…"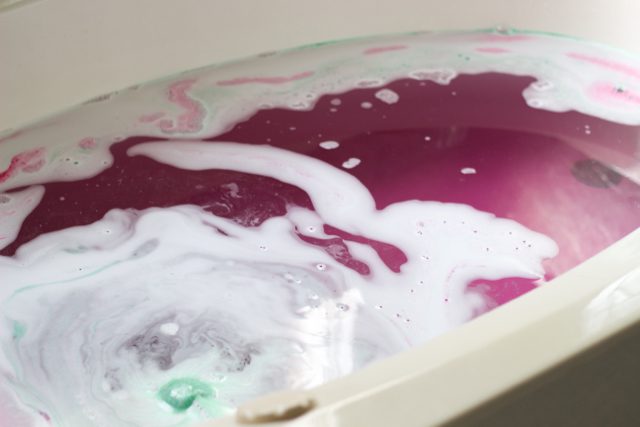 The LUSH Lord Or Misrule Bath Bomb is limited-edition, so if you're curious about this one, I'd suggest picking it up ASAP! I checked online and it's still available. It was probably one of my absolute favorite bath bombs that I've ever used before. It filled up my entire tub with this gorgeous wine color and the actual Bath Bomb itself was slow to dissolve, which I enjoyed! It very foamy and creamy and the scents were incredible! Even though I am not the biggest fan of Patchouli, I really enjoyed the scent of this so much. Speaking of scent, after I got out of the bath, I noticed throughout the day that the scent was still there. Not in a bad way at all, but some bath bombs that I use, the fragrance just disappears. Not the case with this one. It smelled lovely and left my skin feeling incredibly soft.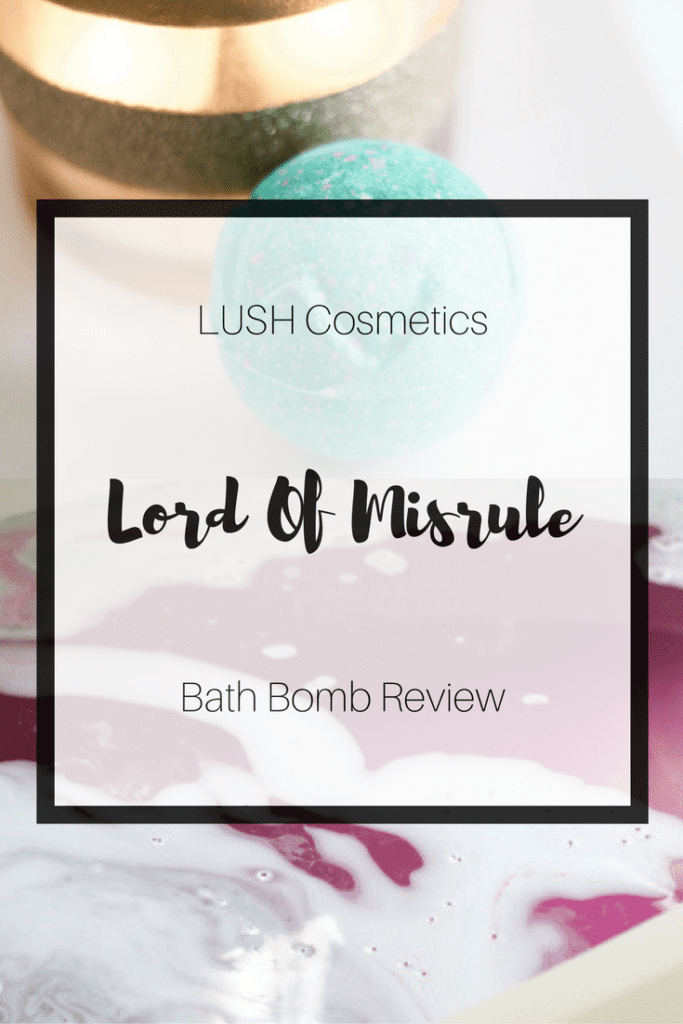 ---
Some questions that you might have about the LUSH Lord Of Misrule Bath Bomb:
Will this stain my bathtub? NO! When I saw how deep in color it was getting, I got a little bit worried. Honestly, when I drained my tub there was nothing left in my bath tub at all!
Does this have glitter in it? No! I didn't notice any glitter what so ever with this Bath Bomb
Can I use this more than once? Honestly, I wouldn't. I know a lot of people who try to break up the bath bombs to get more usage out of them, but I just think that would make such a mess! Plus, some of the Bath Bombs, like this one, have different ingredients in the middle. Enjoy the Bath Bomb experience and just use this one time!
How much does this cost? $7.45 (7 oz)
Can I order this online if I don't have a LUSH store around me? YES! it's still available to purchase on the LUSH Cosmetics website!
---
Some of my favorite videos to do for YouTube are of the LUSH Bath Bombs. There is just something about watching them and seeing how they transform a bath tub that leaves me so intrigued! I went ahead and filmed this bath bomb in action for you, so you could see first hand what it will look like! I just wish that you could smell the amazing scents that came from this and also, it fizzled, cracked and popped almost like a fire burning. Take a look for yourself!
The LUSH Lord Of Misrule Bath Bomb exceeded my expectations and honestly, I wish this one wasn't limited-edition because I'd love to be able to use this one year round! Come on LUSH, do us all a favor and make this one a permanent Bath Bomb! Pretty please?!? It smelled incredible, left my bath looking like a giant tub of merlot (YAAS!) and allowed me to relax and leave my bath feeling pampered and rejuvenated.
I'll be back with lots of LUSH reviews coming soon! I've been testing out several of their new Holiday products and I can't wait to share them with you! If there is anything you've been curious about or anything that you'd like me to review from LUSH, please let me know in the comments below!