It's that time again!  I just got my April Julep Maven Box and once again, what a great box! This month's theme is all about The Brights.
I changed around my box this month and added the Classic With A Twist for my style choice.  I normally am Boho Glam, but with Julep, you always have an option of changing your style theme each month based on what the color and products are, for each box.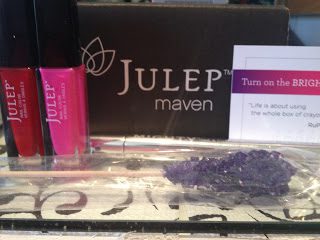 2 Nail Colors,  Mighty Nail & Cuticle Serum and some yummyRock Candy 
The Classic With A Twist was a gorgeous box! I loved the colors that were in this box.  They are the perfect Spring/Summer shades to add a pop of color to my nails.  Avery is a neon pink, bright bubble gum color and Jackie is a gorgeous, bright cherry red.  I LOVED these colors.  The box also included a full sized Mighty Nail & Cuticle Serum (Prevent peeling, help strengthen nails) that has very chic packaging (a pen like container) that is excellent for a simple application, where ever you are.  Just click once and apply to cuticle area twice daily (for two weeks, then just once a day after that).  One click is enough for one hand.  So far, I've used it a handful of times and its worked nicely.  I can't fully review this product's performance because  it takes a while to see if a product is really working, but so far so good.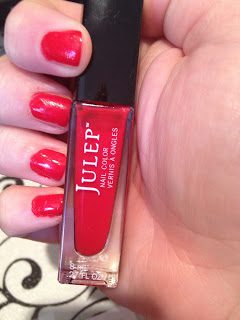 Jackie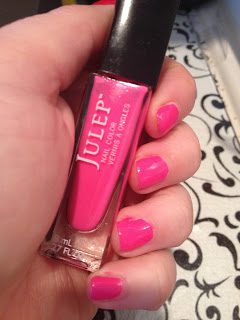 Avery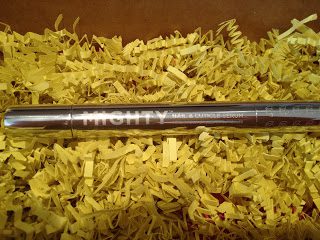 Mighty Nail & Cuticle Serum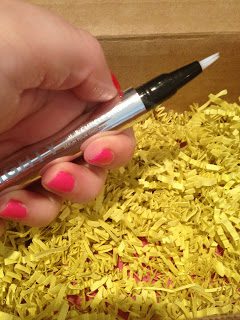 Just a click and it releases the serum.  Very easy to use!
The packaging is great and they even included a piece of Rock Candy.  The box was slightly larger this month, although I'm not really sure why.  I love getting this box and I know I say that every month, but they are excellent about changing things up from month to month.  I never feel like any of my boxes are really similar.
I've included a ton of links below.  Links to each individual product, the actual box I purchased (Classic With A Twist) and the main website for information on becoming a maven.  Interested in getting your first box for a penny? Use code JULEPVIP.  ($19.99 normally)  The great thing about Julep is that you can cancel anytime and if you don't want to fully cancel your membership, you can opt out of the box if you don't want it that month.
Click here to check out the Julep Maven Program

April Classic With A Twist

Might Nail & Cuticle Serum

Avery

Jackie
Here is a description of the April, Classic With A Twist Box from Julep's Website:


Avery: Hot pink crème
Jackie: Maraschino cherry crème
Mighty Nail & Cuticle Serum: Peptides–super-charged amino acids that build keratine (for your nails) and collagen (for your cuticles)–are our Mighty Nail & Cuticle Serum's secret weapon to transform dry and damaged cuticles almost overnight. Plus, get visibly stronger, smoother nails with fewer ridges and less splitting and brittleness in only 2-3 weeks.