I can't believe it's already April! That means it's time for my March Favorites! I actually had a pretty easy time putting this together this month.  These are products I've been using and loving!  Check out my favorites below and be on the lookout for some great discounts!
*Vasanti Brighten Up! Enzymatic Face Rejuvenator 
$34.00
This was a product that was included in a recent Birchbox and I love it!  This product contains papaya enzymes that will break down any dead skin cells you have and also dermatologist-approved microdermabrasion crystals that will help with fine lines, scars and leave the texture of your skin very soft and smooth.  This product is great for anyone with sensitive skin because it also contains aloe vera, coconut and vitamins to soothe the skin. Can be used 3-5 times a week and is safe for all skin types.
* Covergirl Outlast Stay Fabulous 3-in-1 Foundation
$9.49
This foundation is a 3-in-1 product containing primer, concealer and foundation.  This is a long wearing foundation and really does give a great coverage.  I have very combination skin.  Oily in some areas and dry patches in others.  Plus, I have a lot of redness on my cheeks.  This foundation covers it nicely. I selected the shade 810 (Classic Ivory) and it was a tiny bit too light for me since I've gotten a little bit tanner from vacation.  I have heard people say that after wearing it for a while, the color changed, but I didn't seem to have any issues with that.  It took me a little bit to get used to this foundation because it dries very quickly on the skin.  I've tried using just my fingers to apply and also using a foundation brush (Sigma Beauty Brushes) and found that either way works great.  This is a great foundation for under $10.00!   **Love the Sigma Beauty F88 Flat Angled Kabuki Brush
*Haute Naked Whipped Body Butter
$16.95
I've said it before and I'll say it again, this is the BEST body butter I have ever used.  I love this product so much and I talk about it all of the time.  It's not greasy, it's lightweight and it hydrates my dry skin and leaves it silky soft, smelling amazing! I've tried the Mango, Pink Grapefruit, Coconut and I hear amazing things about the Blackberry scent.  If you are sensitive to scents, they do have an unscented version available.  This whipped body butter is all natural and contains Mango Butter, Tucuma Butter, and Meadowfoam Seed Oil.  Haute Naked has been extra generous this month by giving Simply Stine readers a 20% Discount! Use code SIMPLYSTINE to receive 20% off your purchase! Thanks Haute Naked!!
*MAC Cosmetics Blushbaby Sheertone Blush 
$21.00
This is a Beige-Pink Sheertone Blush.  It's a great, natural looking shade for my skin tone.  It contains no shimmer or frost and is very pigmented.  It's the perfect touch of soft pink for my cheeks.  I've been wearing this very often and loving it!  I think it's a great  color for many skin tones and especially perfect for Spring/Summer.
*L'OREAL PARIS Advanced Haircare Total Repair 5 Line
$4.99 and up
I really love it when I find a great drugstore hair product line that delivers great results.  I have been using the L'OREAL Paris Advanced Haircare Total Repair 5 line and loving it!  I've used the shampoo, conditioner, balm and dry oil.  I took it with me to the Caribbean and am still using it.  It makes my hair silky smooth and very soft.  This haircare line is supposed to help with split ends, weakness, roughness, dullness and dehydration.  Don't worry about this being to heavy for your hair, it's made to be used on all hair types.  I used to notice when I was using a previous brand (an expensive product line only carried at salons) that my hair was still getting frizzy and I seemed to be having a lot of hair coming out when I was brushing it and washing it.  Not anymore!  I love this whole line and think that the balm and dry oil might be my absolute favorites of the line!  L'OREAL has an amazing website full of information, tips and tricks.  Check it out here!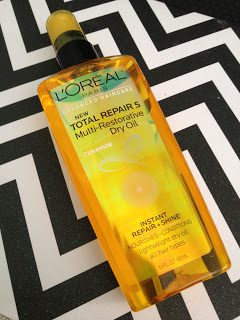 **Remember to use discount code SIMPLYSTINE for all Haute Naked Purchases to save 20% off your purchases! Good thru 4/30!
**Sigma Beauty is offering 10% off your purchases for the month of April! Use code AAM2013