Dark circles are such a pain to deal with and it's hard to figure out what products to use that really work.  So the testing continues with Clinique's Even Better Eyes Dark Circle Corrector.  I've tried similar products, but I have read so much about this product,  that I picked it up and having been using it for about a month.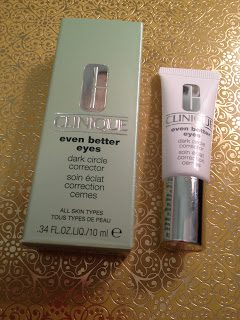 First of all,  I think it's important to understand what causes dark circles.  Clinique's website has this listed: "Stress, fatigue and age.  As we age, the skin gets thinner, which makes dark circles more visible."  So how does this product make the dark circles disappear?  It works by hydrating the eye area, which helps lighten dark circles (Clinique claims up to 30% in 12 weeks) and this product will also strengthen the skin so its not as transparent.  This features a metal tip, and when applied, cools and will help with puffy eyes.  Sounds great to me, but does it work?

This product feels great when applied.  It definitely feels cool when I'm putting this on with the metal tip and has helped a lot with any puffiness I was experiencing.  It is a tinted product and if your dark circle aren't horrible, you could possibly get away without using a concealer.  For me, I still feel like I need a concealer, but I'm hoping that if I continue to use this product, I might not have to use as much or any at all.  My under eye area feels very hydrated after I use this, however, some people have said that it actually made them feel dry. This product is meant to be used UNDER your regular eye cream.  This is a treatment, which means it's not just eye cream.  So make sure you use this product first and then your regular eye cream.  I think this will help those with dryness issues.  I really have enjoyed using this product and I will continue to use it to see how much of a difference it has made.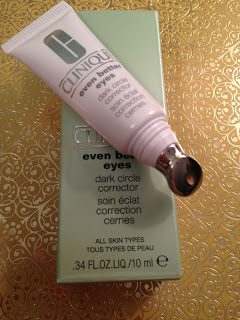 To use this product simply squeeze a small amount of the corrector out and go back and forth under your eye area.  Gently, use your finger to smooth away any excess. In my opinion, a little bit goes a long way.  Always remember to NEVER RUB you under eye area, just gently tap with your ring finger.  This product can be used twice a day and reapplied as needed during the day to help with puffiness. 

This product retails for $39.50 and cane be purchased online at Clinique's website or at Sephora or any other fine department stores that carry Clinique.  
**This product was purchased by me and all opinions and reviews are my own.