It's that time again and believe it or not, I'm on time this month! It's time to talk about my January Favorites. I don't have a lot to talk about this month, but the products I do have are really good! Some are products I recently started using in January and a few are oldies but goodies that I keep going back to. Let's get started!
1. Glam Glow ThirstyMud Hydrating Treatment ($69.00)
I've reviewed this product before and I just adore it. Yes, it's expensive, BUT, it is worthy of splurging if you can afford it.
2. it Cosmetics Bye Bye Redness ($32.00)
Another review I've done and still absolutely loving this product! It covers up my redness within seconds and feels like I have nothing on my skin.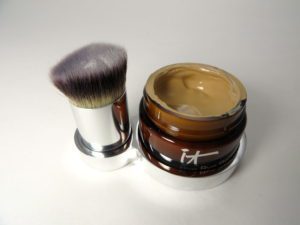 3. LUSH Karma Kream ($12.95-$28.95)
I featured this in a haul I posted right after Christmas. It's my favorite body lotion I've ever used and the smell is totally addicting! I can't get enough of it. Good thing that this fragrance comes available in other products!! The Karma Kream is super hydrating, but doesn't leave my skin feeling like greasy. I love how the scent lingers….perfection!!!
4. Shiseido The Makeup Facial Cotton ($9.50)
I know I'm going to catch so much crap for posting this BUT, believe me, these cotton pads are really worth $9.50. Think about it. When you go to CVS and spend $4.99 on 80 of the crappy cotton rounds that do nothing but fall apart all over your face, I spend $9.50 on 165 of these perfectly soft Shiseido Facial Cotton squares. I'm obsessed and at first I wasn't a Shiseido cotton believer.  These facial cotton squares contain 15-20 layers of 100% textile cotton. They are incredibly soft and they are perfect for removing makeup and nail polish. They don't come apart as soon as they are wet and they are great for even removing cleanser. I swear by these and I always tell people, you won't believe me until you try them. ****I have heard of a possible "dupe" for these and I'm checking it out.
February is already looking pretty promising as far as beauty favorites are concerned! I've been trying some new products that I've really been enjoying and I've got a few makeup goodies that I think might make it as favorites for next month! I'm also going to be posting a non-beauty favorites post this month! It's something new I thought I'd try and it gives you guys a little bit more info about me and what I like, other than just beauty products. Yes, I do have other interests 🙂 It's been real January…until next month!