I've been dealing with dry skin and a dry scalp for a while now and it's been even worse since I had to go on antibiotics for a week. Thanks, migraine. Lucky for me, I had ordered a set from Ouai during the Nordstrom Sale. I'm happy to report back that since using both of these products, my skin and scalp are getting back to normal again!
If you aren't familiar with Ouai, let me introduce you to the brand. Jen Atkin is a celebrity hairstylist. She's worked with (and friends with) Chrissy Teigen, the Kardashians and more. I've followed her for years and was super excited when she launched The Ouai line. It's expanded beyond just hair products and now into fragrance as well. The packaging is slim and chic, but the products, from what I've tried, have really impressed me. It's not just another celebrity adding their name to a product line. She's very involved.
Dry Skin and A Dry Scalp
One thing to note about having dry skin and a dry scalp is that it can be from numerous issues. It could be a diet issue (for me when I indulge in dairy) or it could also be a health issue. A lot of people who are diabetic or have issues like eczema or psoriasis, etc have major issues with dry skin. My point is, it's good to know what's causing your issues.
Also, keep in mind that the products you are using can sometimes be irritating your skin. So keep an eye out on what you're using to make sure it's not making your issues worse!
With scalp issues, sometimes a lot of the hair products I try irritate my scalp. I also have issues with dermatitis and this issue can be made worse by products that have a lot of fragrance, etc. I have to be extremely careful about what hair products I'm using, especially shampoos and dry shampoo! They seem to irritate my scalp the worst!
Also, since a lot of us are out in the sun, we tend to get dehydrated and our skin suffers! It's important to make sure that you're taking care of your skin and adding hydrating products into your routine.
Ouai Scalp and Body Scrub
First of all, the scent of this scalp and body scrub is incredible. It's the Ouai's Melrose Place scent and it's incredible. It features Rose, Bergamot, Lychee, Cedar-wood, and White Musk. It's soft and not overpowering at all. I LOVE the scent so much I think I'd purchase the fragrance separately.
The Ouai Scalp and Body Scrub is a scrub that can also be used on your scalp. Give me all the multipurpose products! This is a deep-cleansing scrub that also foams! The gentle exfoliating sugar crystals help to cleanse the body and scalp, exfoliate, and also unclog pores. It leaves my skin feeling super soft and the scrub isn't harsh on the skin at all. There are probiotics in the formula that help to boost the skins natural defenses as well. Coconut Oil is rich in fatty acids and helps to hydrate the skin. It's an amazing product for dry skin!
For me, having dry skin and a dry scalp, this product works wonders! I use this one to two times a week on my body. I use it in the shower, apply to damp skin and rub all over. Immediately after the shower, I use the Ouai Rose Hair and Body Oil, which I'll get into later in the post. My skin is super soft and honestly, I can't get enough of the fragrance! Plus, this makes my skin glow!!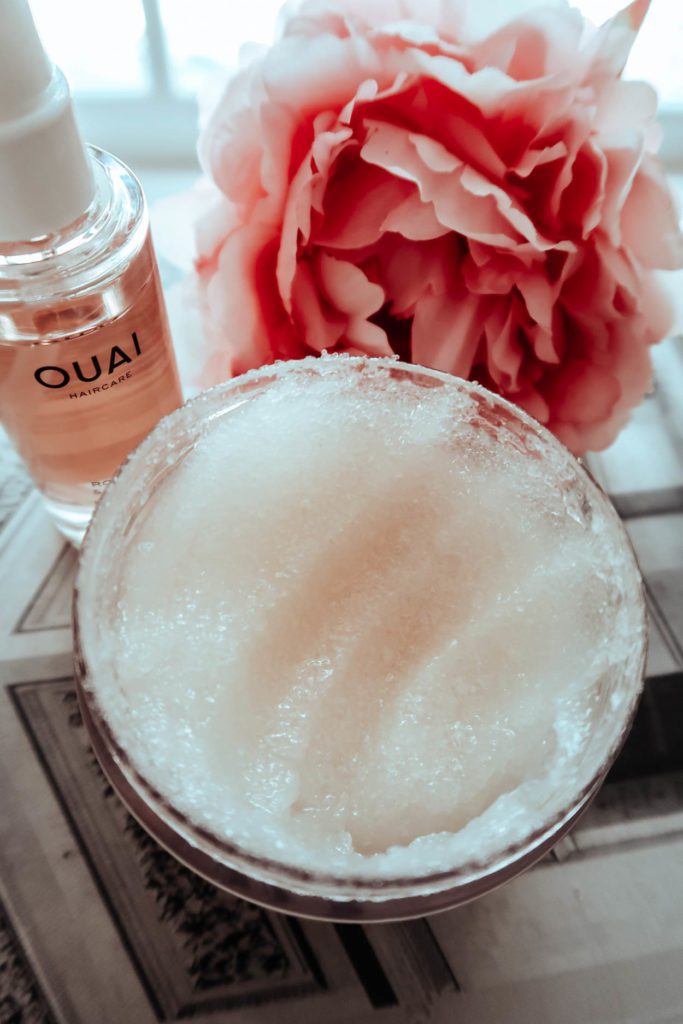 For my scalp, I'll use this about once a week for right now. This helps remove excess product build-up and since I have dermatitis that flares up every so often, this helps with that as well, without irritating my scalp further.
To use this scrub on the scalp, I section my hair and apply in circular motions. Since this scrub does foam, it is pretty easy to use on the scalp. If you'd like additional cleansing, feel free to add a bit of shampoo to the scrub. I use a good conditioner after the scrub and it's helped my scalp not be so dry. I also think that since I'm using a scrub and helping to stimulate my scalp, this has also helped keep my roots from being so oily! A problem I have often.
The whole idea for the product was to help women with their dry, itchy, flaky scalp. In addition to sloughing off the dead skin cells, reviving glowing skin on your body, reducing product buildup, and creating a soft scalp, we also wanted to go back and replenish the good bacteria that you have in your skin. Everyone has a great assortment of bacteria in their skin naturally, but what happens is we go through the day and pick up bad bacteria that our scalp accumulates throughout the day, causing redness and itchiness. So we infused Scalp & Body Scrub with probiotics to boost your body's natural defenses.

Ouai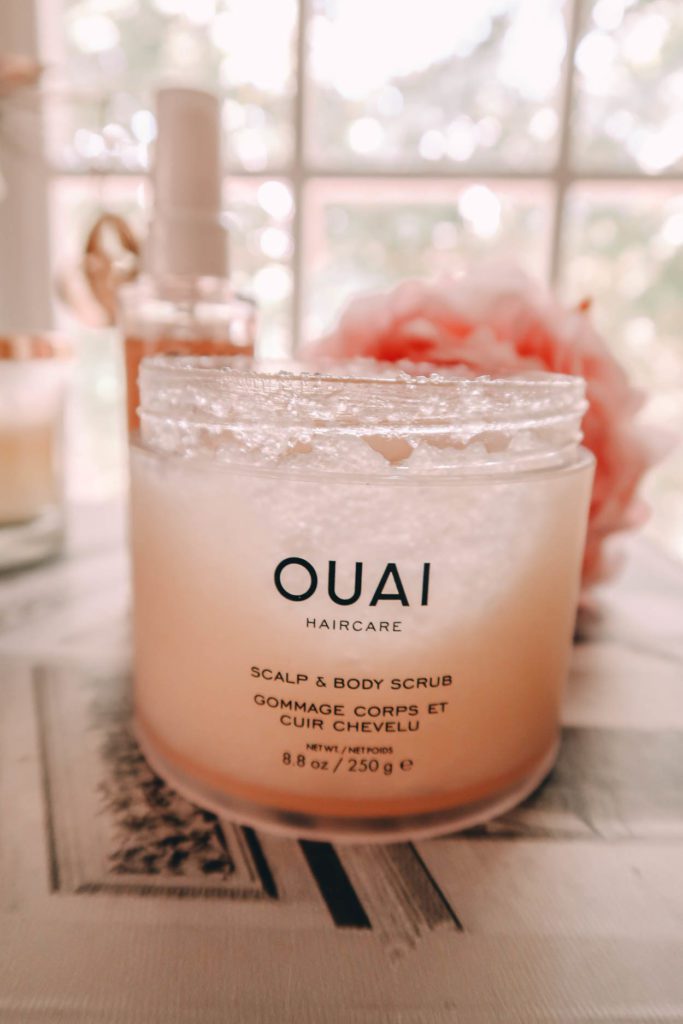 Ouai Rose Hair and Body Oil
This Rose Hair and Body Oil hair and body oil is another multitasking product, which I love. It helps to smooth my hair, hydrate my body and you can even use this as a fragrance! The formula features a blend of Absinthium, Shea and Rosehip Oils that help to nourish and protect, lock in moisture and will leave your skin glowing!
I struggle with oil products for the hair. A lot of the times I feel that they weigh down my hair and for someone who has oily issues already, I don't want to make that problem worse. This doesn't seem to weigh my hair down at all. I apply it mostly towards the middle to my ends to tame down my frizz and it leaves my hair shiny and frizz-free! Also, this is a great product to use to prevent heat damage!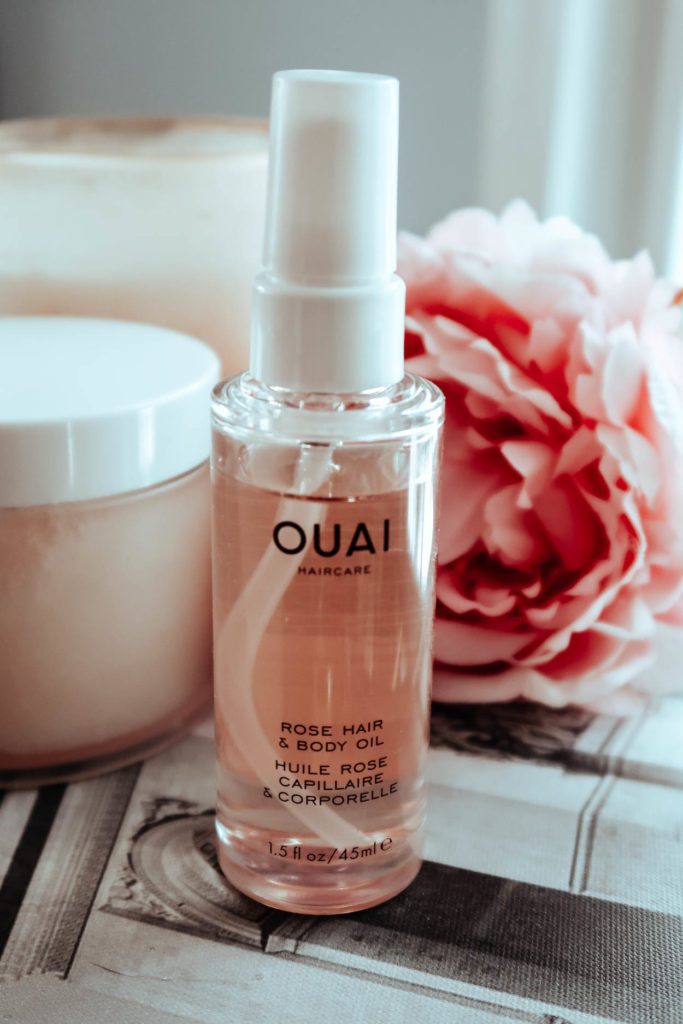 Using this on my body makes me feel like a million bucks. It smells incredible and it leaves my body looking like I'm supermodel walking down the runway. The way it leaves your skin glowing, without being sticky or oily feeling is incredible. Plus, the scent! You guys, it's intoxicating. I will sometimes dab this on my neck and wrists to add a bit more of the scent! This also features the Melrose fragrance as well.
I use this product almost daily now! I put this on my skin as soon as I get out of the shower, with my skin a tiny bit damp. It's helped hydrate my skin so much. I also use this on my cuticles and my heels! It's not one of those super oily formulas, it seems to absorb into the skin quite quickly in my opinion!
For my hair, I apply this before I blow dry (ends only) my hair and then I'll apply it to my mid length to smooth out my frizz and when not a lot of oil is left on my hands, I'll run it through the front of my hair to tame down my baby hairs.
I love using the RHBO right after the shower because it leaves my skin feeling soft, illuminated and fresh. It's also perfect to apply after a day at the pool/beach when your skin feels a little on the dry side.

Ouai
So, if you're like me and you're suffering from dry skin and a dry scalp, I can't suggest these two products enough! I not only smell incredible (the fragrance is soooo good) but my skin feels so soft and I'm glowing like a runway model! Also, my hair is frizz-free in this god awful humidity we're having in Georgia. #miracleproduct
Did you miss my latest post? Get caught up now!
Shop The Post