On a recent trip to Whole Foods, I was given a coupon for $30.00 off a HelloFresh box. HelloFresh is a subscription service that sends pre-planned meals right to your doorstep. I know that sometimes days are so busy you don't have time to do a lot of grocery shopping. In that case, this might be a great option for you to consider. I gave it a try and now, it's time to share my HelloFresh review with you so you can decide if it's the right choice for your family as well.
Simply Stine's HelloFresh Review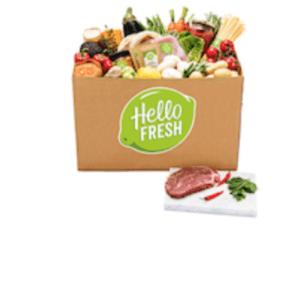 HelloFresh Meal Plans
There are several plans to choose from and I've included a couple of screenshots so you can see how the prices vary. HelloFresh offers a classic, vegetarian, and family plan. It feels like there is something for everyone.  The one thing that I really like about HelloFresh is that I'm able to view the menus available for the month and choose the meals I want sent to me.
If I'm traveling one week and won't be home, no worries! Simply pause your delivery until you're ready.
Don't see meals that you like? Just skip to the next week.
It's so simple and I love that I have the option to review what I'm actually going to be sent. You're in charge of your food, not the company!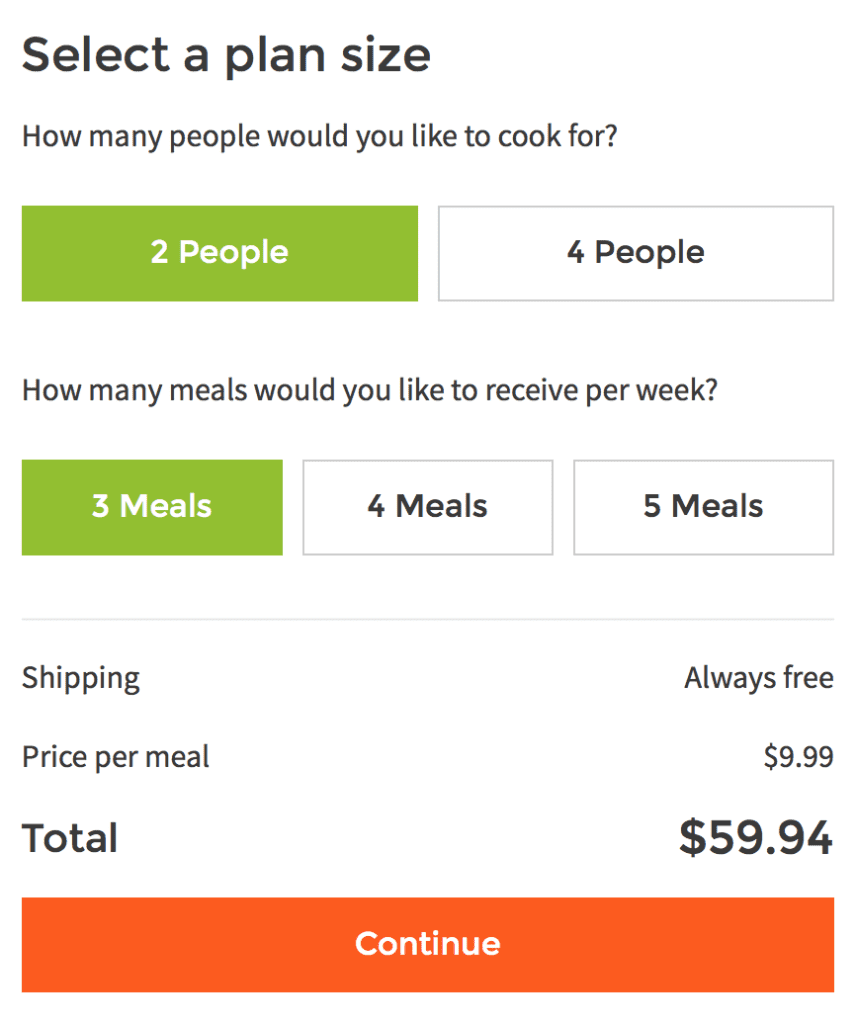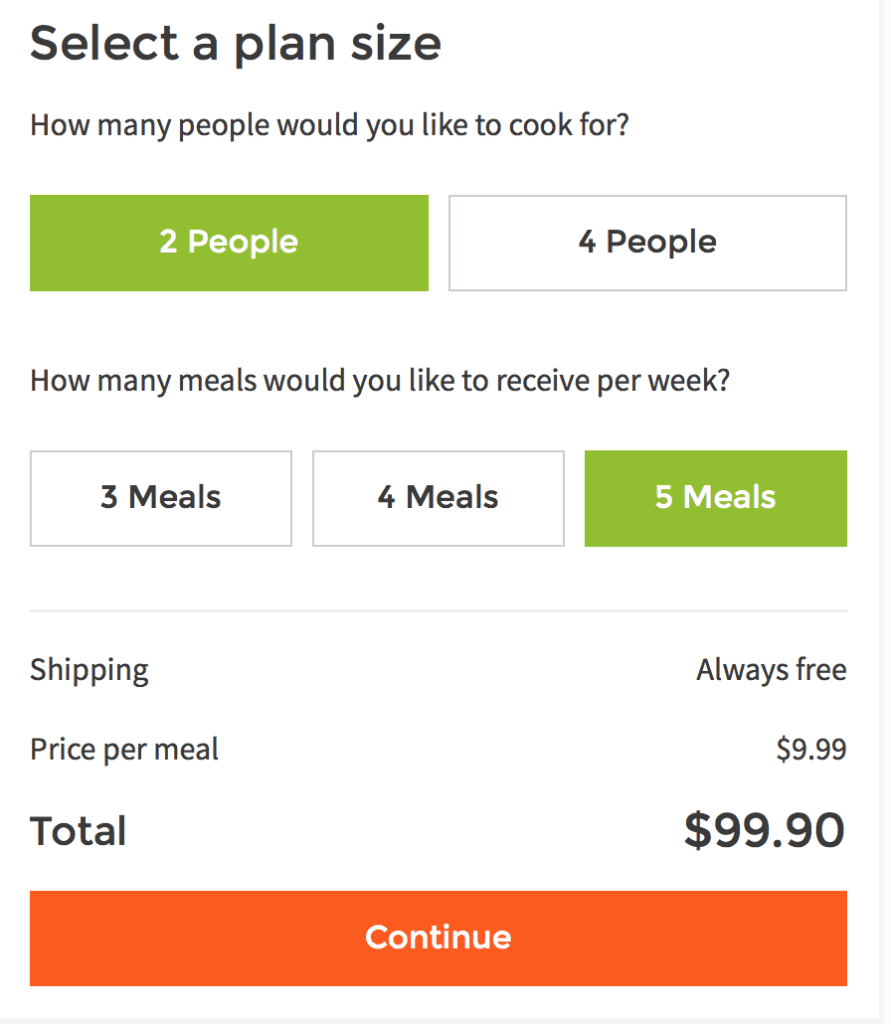 I chose the Classic/3 Meal Plan. It would normally cost $59.94 and they always offer free shipping. After my coupon, I paid like $29 and some change. Honestly, even at $59.94, I don't think that's a horrible price for  three meals.  So my questions that I was wondering before I got the box or tasted any of the meals were:
Is the food good quality
How is the food packaged? Did it arrive cold?
How were the portion sizes?
Is there a variety of meals available that will accommodate our tastes?
How difficult is it to pick meals
When do I need to order to receive a box by a certain day
How difficult is it to pause shipments or cancel
HelloFresh Delivery
I wasn't home when the box arrived, but my amazing husband photographed the box and the contents for me.  He's good y'all.  So the box came probably around 6:00 or so and when it arrived, he said that everything was definitely cold.  Not necessarily frozen, but nothing felt really warm and nothing was leaking or anything like that.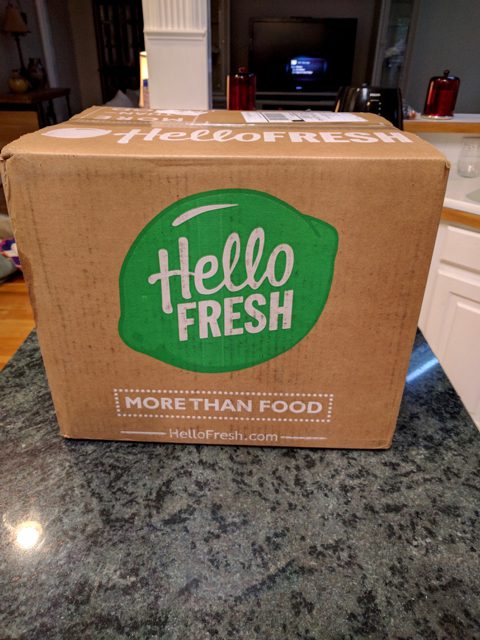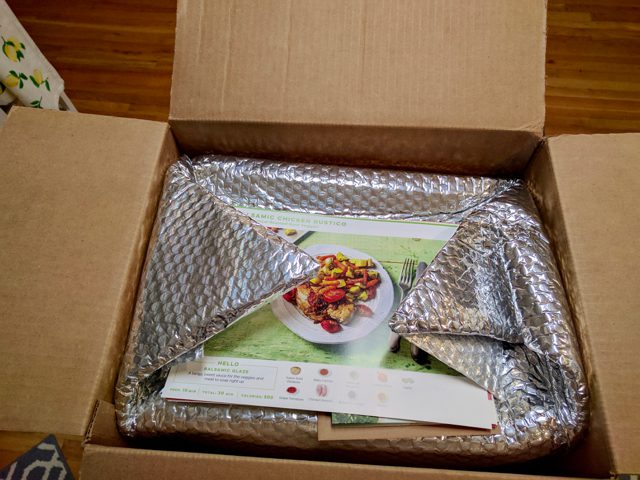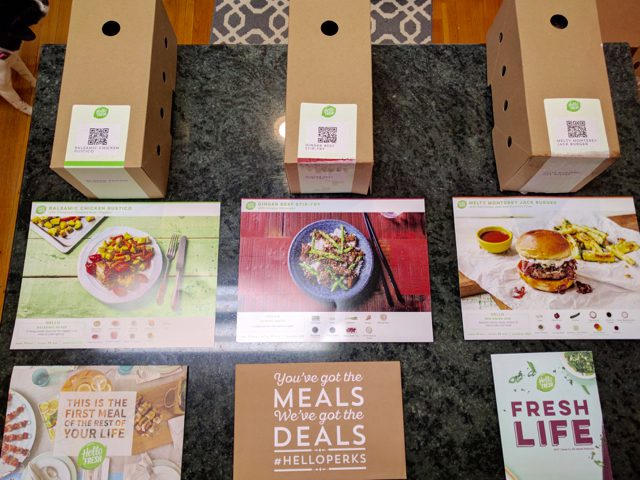 The package contained my three meals and I love that each meal is divided into a box, rather than just throwing all of the ingredients into the box for the week.
Each box contains the ingredients for that meal, with the meat being packaged separately.  It's easy to identify if the foods, as they're labeled with what meal is in the box.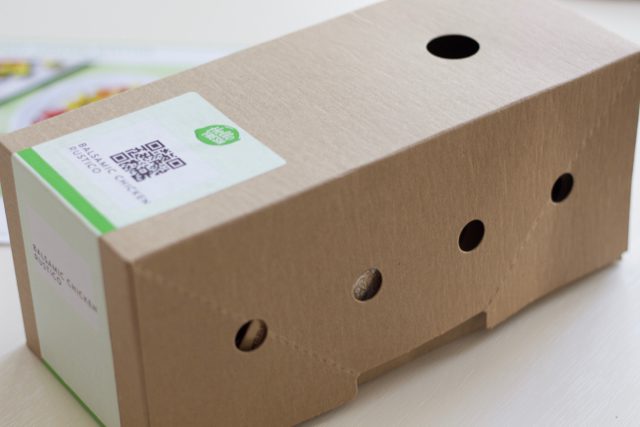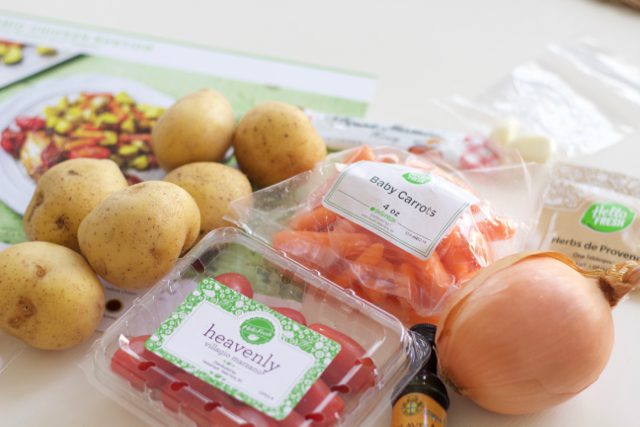 Here's an example of a meal that was included.  You can see how everything is already just the exact amount of ingredients that you'd need.  Potatoes, onions, carrots, tomatoes, even small containers of balsamic vinegar, honey and herbs de provence were included.  There is no waste wit these meals, which I love!
Each meal comes with a recipe card that shows you nutritional information, exact measurements and instructions and I really appreciate that they include photos as well.  Another benefit of the recipe cards is that you can keep them and fix the recipes again and again on your own. I really, really fell in love with the recipes cards and how easy they were to follow.
HelloFresh Review
I have made one meal so far and I'm already super impressed.  So impressed that I went online to go ahead and look at next weeks meals that are available.  We had the Balsamic Chicken Rustico with Provencal Roasted Roots Veggies and it was delicious.  The instructions were simple and everything was very easy to follow. It took a little bit to put together (just because of chopping vegetables and such) but it was well worth it in the end!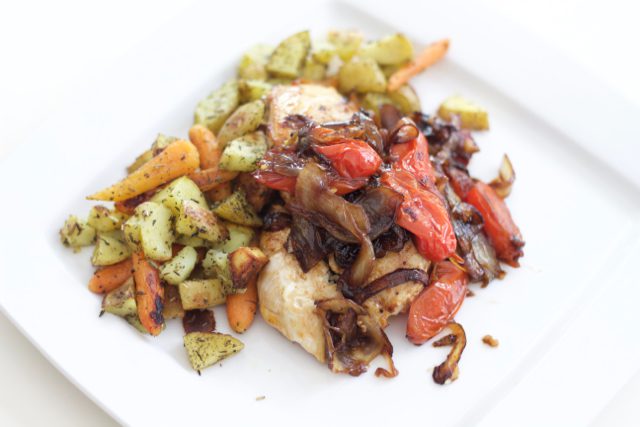 Tonight we're having a Ginger Beef Stir Fry with Snappy Asparagus and we'll also have Melty Monterey Jack Burgers with Red Onion Jam and Zucchini Fries sometime later this weekend. Y'all. I am impressed!
*I have actually made both meals since I began writing this post and have included pictures and my thoughts below*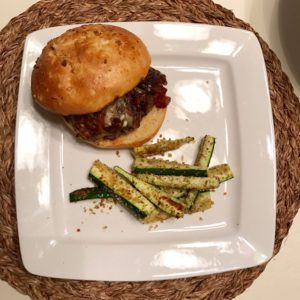 The Melty Monterey Jack Burgers with Red Onion Jam and Zucchini Fries were really, really good!  At first I thought the amount of hamburger seemed small, but it was way more than enough for both of us. Really good! I appreciated the fact that it wasn't a typical burger I'd normally prepare, even the bun was different than a plain ol' bun.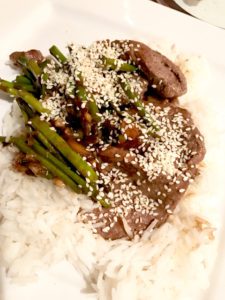 The Ginger Beef Stir Fry with Snappy Asparagus was good, but I wish there would have been more sauce to this.  There was a crazy amount of white rice that was included, way more than we needed.  Other than that, it was easy to put together and tasted really good.
Here's some of the things that I loved about HelloFresh:
You can view nutritional information for each meal on the recipe card or a more detailed look online
Each meal tells you it's information like if it's nut-free, grain-free, etc
You can "favorite" meals that you've loved online and it will save the recipes for you to easily view
Super impressed with the quality of the food that was sent to me
Everything is pre-measured for you and comes pre-packaged per meal
I love that I can skip a week if I'm not interested in the meals or won't be in town,etc
The box arrived nicely packaged and my food was still cold
I love the recipe cards that they send, butI also love that I can view recipes online! It even shows ingredients that I'd need to prepare the meal
This saves me some major time since I don't have to go to the grocery store for as many ingredients
I like that you can prepare this for yourself (and have leftovers for another meal) or spend the time with your partner preparing the meals together
Things I didn't like or think you should take into consideration (and there aren't many):
I wish a classic plan could have five meals delivered a week. The most I can get are three!
You must remember to either pause your delivery if you're out of town, or if you are wanting to receive meals for the next week, you have to pay attention to the date you need to select your meals by.  There will be some that they pre-select for you, so if you don't change those or pause your delivery, you're getting what they chose
One thing to keep in mind is that they aren't sending you pre-cooked meals.  The boxes are full of all of the ingredients (measured out) that you will need to prepare the meals.  There is a recipe card with very detailed instructions and pictures.
Save yourself some money and try HelloFresh!
Click this link to get $40.00 off your first box!
Overall, I am loving HelloFresh! Honestly, I like it way more than I thought I would.  I think this would work for someone who loves to cook and even for those that just need a little bit of help in the kitchen.  I appreciate a service like HelloFresh because sometimes, even though I like to cook, I run out of ideas and time to do grocery shopping. Having something like this, is a great alternative to me struggling to come up with ideas week after week.  Plus, I'm not spending anymore than I normally do at the store.
Bottom line, HelloFresh provides me with awesome ingredients and saves me time. Rather than going to the grocery store and coming up with menus for the week, I can spend more time with my family instead. Total win if you ask me!


I paid for this myself.  
If you use the affiliate link, I'll get a small amount of money credited to my account and you're going to be saving some money yourself as well!