I sat down today and really thought about what my goals for September will be. Professionally and personally. Are you the type of person who sits down and plans out goals for yourself each month? I never used to be, BUT I've found that it helps me realize that while I sometimes feel like I'm accomplishing nothing, I've actually accomplished quite a bit.
Let's chat about my goals for September and why I chose each one! I've included both my own personal goals and also some business goals that I've decided on!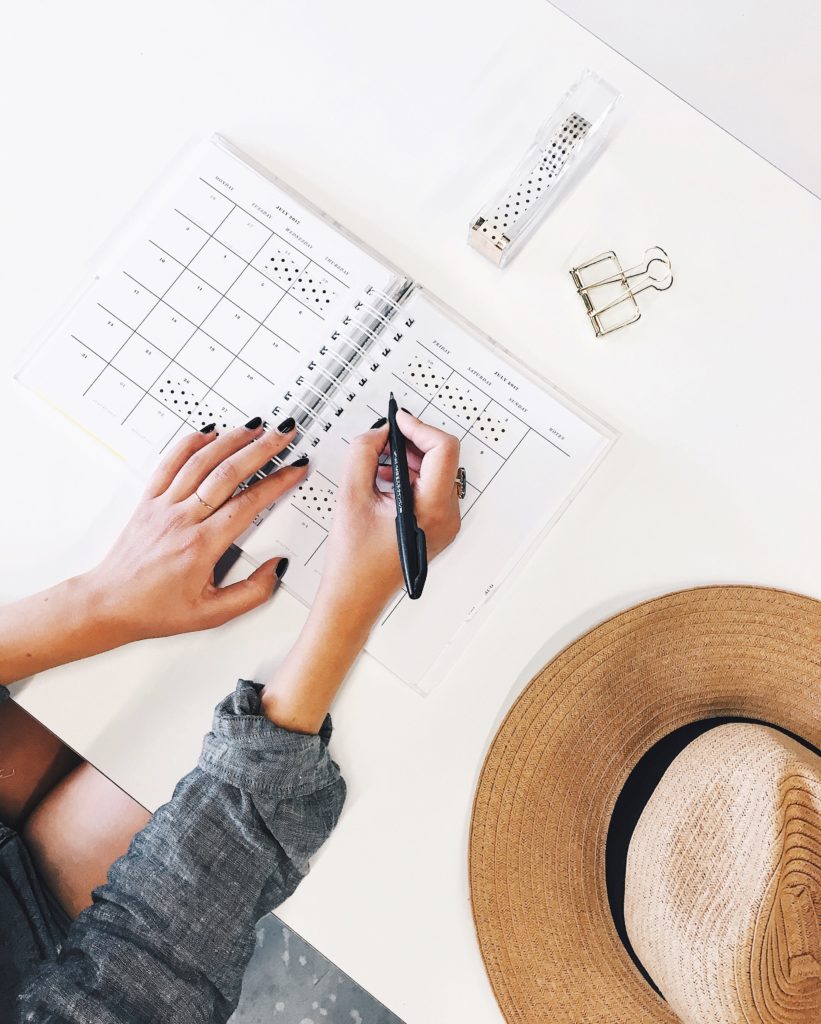 Goal #1 For September: Myself
I've been working on myself for a while now. I even enrolled in the Faster Way to Fat Loss program in August. Why? Read this post to get caught up. I'm in week three of this and so far, I'm really damn proud of myself. I've given up dairy and gluten for the most part. I've been focusing on eating whole foods and taking a lot less trips to Chick fil A than I was. I've also even made it a habit to stop drinking Diet Coke like I used to.
While this program isn't focused on weight loss shown on a scale, I have weighed myself. I'm currently down about fourteen pounds. I've got a ton more to go, but I'm also losing inches. I'm trying to not focus on the scale and instead, focus on eating better foods for myself and making healthier nutrition choices.
I'll be continuing this program throughout September, so more updates coming soon! One thing I can tell you is that I'm making so much more progress than I thought I would!
Goal #2 For September: My Business
While this is a no-brainer for me, I have to set out the exact business goals I have in mind. I have been so busy lately that sometimes my work gets put on the back burner and that's not ok! So my goal for September when it comes to business is to make extra time for work so I can get ahead.
The Holiday season is basically here for me because brands are already sharing their Holiday releases, etc. So that means extra busy time for myself and my business. I'm already putting together editorial content and planning everything I want to share this holiday season. You can expect more decorating tips, recipes, personal posts and always, shopping recommendations.
My one goal for September that I'm trying to nail down 100% is my editorial calendar. I'm trying so hard to get things finalized through the new year. If you're a blogger, influencer or someone who's in this business, I can't stress to you enough to take control of your calendar now!
Goal #3 For September: Books To Read
I'm so close to my reading goal I set for myself this year. I believe I'm on book 38 on 40 for the year and it's only September! GO ME! I've been reading a lot for my podcast, Influenced The Podcast, because each month we do an episode on a book that we feature.
I also just love to read. I've been reading a YA series that has me HOOKED. I'm on book two of the series and want to finish it because I have a huge to-be-read pile sitting and waiting for me to pick up.

There are also some new releases that I'm really excited about reading:
Goal #4 For September: Create A Capsule Wardrobe for Fall
One thing that I want to get under control right now is my wardrobe for fall. I actually don't think I "need" a lot of things, but I do need to organize my closet. I like keeping my closet with items that are for the season that we're currently in. I'm also considering getting a wardrobe rack and organizing outfits for each week.
My main goal is to have less clothes, but more clothes that work with each other. Sweater weather is literally my favorite time of year, but I'm wanting to step up my style a bit and throw in some oversized blazers, cute pops of color and less yoga pants and sweatshirts each day.

Goal #5 For September: Less Online Time
Have you ever sat down and looked into how much time you're spending online? While this is a little tricky for me because of what I do, I know that I can spend way less time online than I am now. I recently went through and unfollowed over 1500 people on Instagram and I'm just getting started.
I'm going to see how much less time I can actually spend during September. It's more a habit nowadays that we pick up our phone and start scrolling. I want to do less of that and have more conversations with the people in front of me. Less phone time when I'm at home. Less Facebook (because I hate it already) and more one on one conversations.
Those are my goals for September! They aren't super hard, but they will require effort! If you were to sit down and make a list today, what would your goals for September look like? Share some in the comments!
Affiliate Links included in this post
Shop The Post