It's that time again! I've got a lot of "finds" that I want to share with you guys. I love these posts because I genuinely get excited when I get to read other people's finds when they post them on IG or their blogs. It could be their favorite mascara, it could be a new favorite go-to coffee. Whatever it is, I like it when people post the items that are working for them. So that's what we're doing today.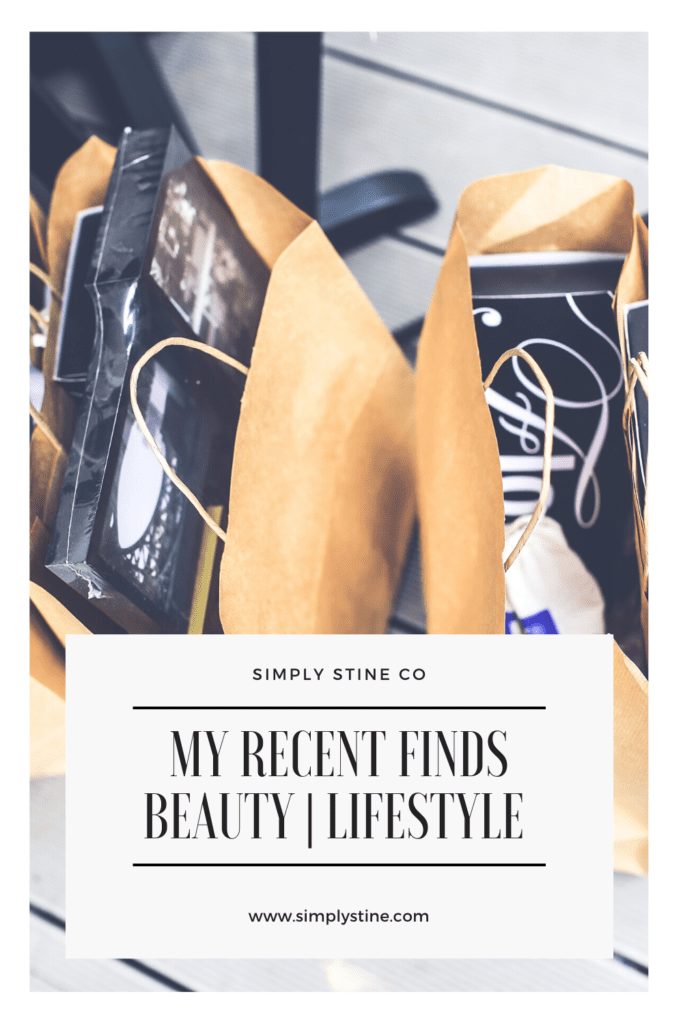 Cutest Little Blush
I want to order this Benefit Georgia blush ASAP and not only because it's called Georgia or that it's mini and adorable, but because it's such a beautiful delicate color. This is a gorgeous peach shade with a subtle shimmer. I feel like this will be beautiful on so many complexions.
Tie Dye Pajamas
These tie dye pajamas have been the most popular item from the Simply Stine shop since I posted them on my IG stories. They're the softest pajamas I've ever worn and they're right at $20.00. I feel like these would make a great Easter Basket addition!
Dry Shampoo To The Rescue
If you're in need of a really good dry shampoo, this IGK First Class Detox Dry Shampoo is crazy good. I get pretty oily roots and this dry shampoo has been a lifesaver. You don't need a lot as a little bit goes a long, long way. The scent doesn't kill me like other brands do and it works!
My Go-To Foundation Look
Lately, I think I've realized that I'm into a very natural complexion and makeup look. I've been mixing a pump of this CC Cream and a half pump of this foundation. If you have oily or combination skin, this foundation is incredible. If you're more on the dry side, I'd stick with this formula. Seems extra mixing two products, but it's really easy. When I want a full-coverage without feeling heavy; this is my go-to.
Another combination that I've been loving if I'm wanting a radiant glowy complexion is this Charlotte Tilbury Foundation mixed with the Hollywood Flawless Filter. You guys, this combination is so pretty on the skin. I love Charlotte Tilbury products as you know and this combination is great on days when I want a lighter coverage, but still want to have a radiant glow.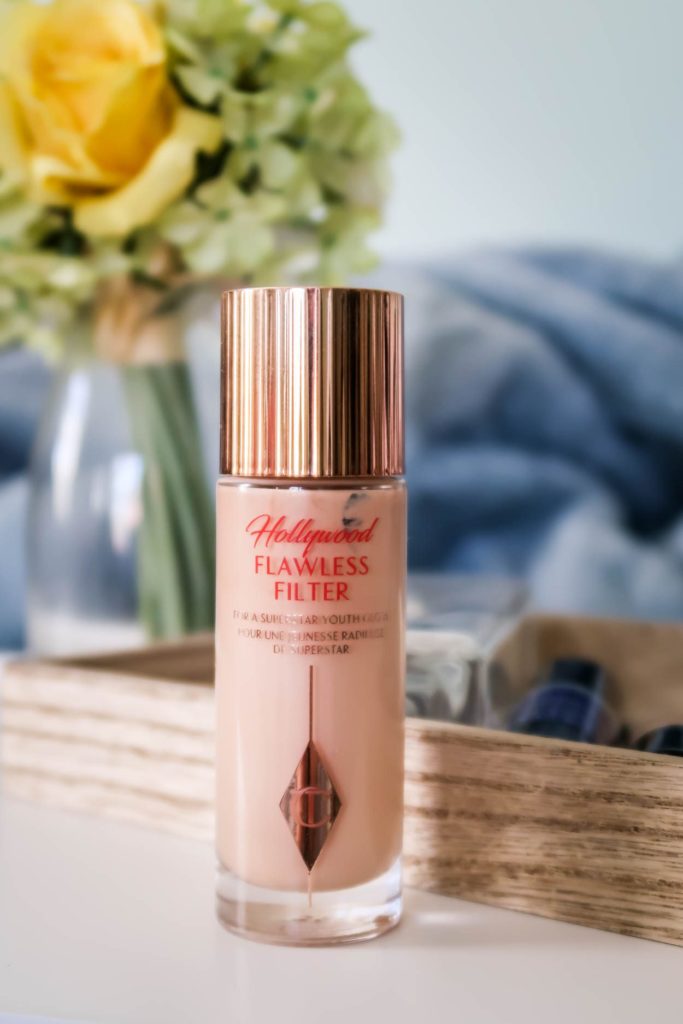 A Full-Coverage Concealer
I shared a blog post about this concealer recently and I'm still loving it. The Hourglass Vanish Airbrush Concealer has been my go-to since purchasing it. It covers my dark circles and any imperfections so easily and yet, it's not heavy on my skin. I don't have to worry about it creasing either! Color matching can be a bit tricky, so make sure to go to a store that carries it if you can!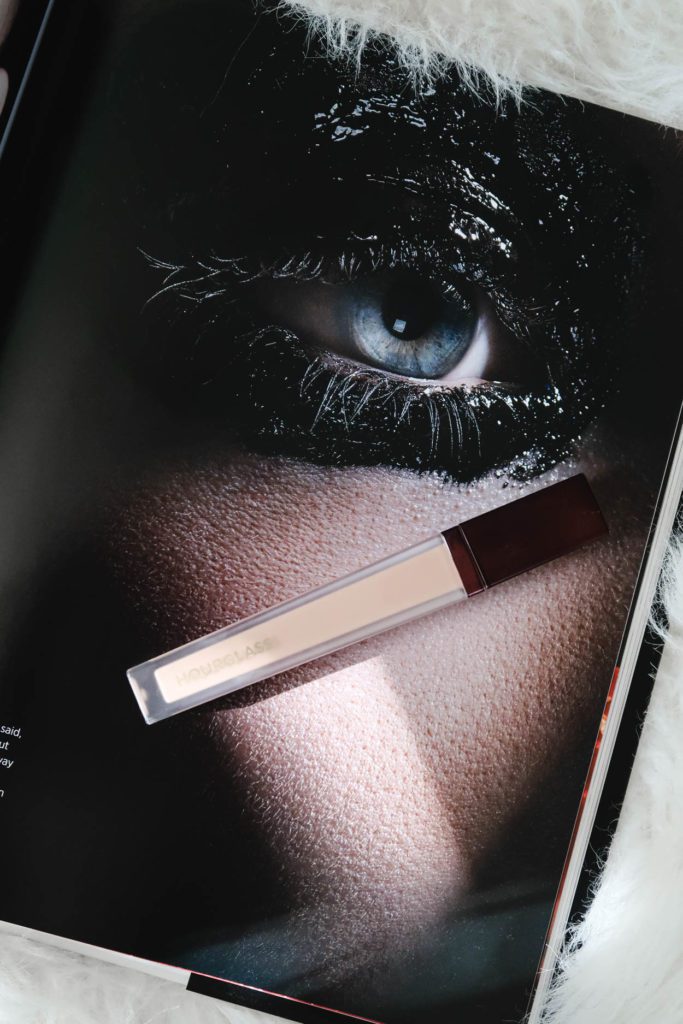 Beauty Blender Dupes from Amazon
Who doesn't love a good dupe?!? This set of makeup sponges has been going crazy on Instagram for a while. It took me a minute to order them, but y'all, they are good! Five makeup sponges for $8.99. Yes and thank you! They have over 10,000 reviews on Amazon and are at a 4.5 star rating!!!
Collagen Eye Patches
These Collagen Eye Patches are another Amazon find and I love them. I keep them in my skincare fridge and I use them every morning. They are so damn cheap that I was almost laughing when I ordered them. I thought that there was no way that I'd like them, but I was so wrong. They're great for added hydration under the eyes and they help when I'm feeling extra puffy.
If I'm feeling extra generous and want to spoil myself, I use these eye patches instead! These will not move from your face and they're excellent. They're just pricey…
Slow Burn Candle
I LOVE me some Kacey Musgraves and I recently saw she partnered with Boy Smells and launched a Slow Burn candle. The description sold me:
Glowing and dark: incense, black pepper, and guaiac wood take center stage with whiffs of embers in the distance. A little dank, a little crisp: accords of smoked papyrus and amber add an earthy expensiveness. Commanding but not in a hurry, like the last sips of a Negroni at the bar down the street, expressed through hints of elemi and tonka bean. The "scentiment" is about pausing along the way to relax and enjoy exactly where you are right now….
Wild at Heart by KA Tucker
My reading list recap for February will be live next week, but until then, know that Wild at Heart was my favorite book that I read all month. It's a sequel to Simply Wild, so you have to read that book first. It's got romance, but I think this book really told the story of what happens when the honeymoon phase is over and you really have to figure out things in your relationship. Do yourself a favor and order ASAP!
Dashing Diva Ultra Shine Gel Palette Nails
I had the lowest of expectations for these nail sheets, but you guys they have impressed me BEYOND any other nail sheet I've used. I knew I had to have them as a part of my current favorite find post because they're so good!
I've had the pair that I purchased on for almost two weeks now and there hasn't been any chipping or anything. They take a bit to apply, but after you get the hang of it, they are so easy.
They have impressed me so much that I'm considering buying more of these and skip my next nail appointment. There are a variety of nail sheets available. I got mine at Target, but you can order online also. I also discovered that they're at Ulta as well!
Nuxe Ultra Nourishing Lip Balm
I never thought I'd ever say this, but I think that this is quite possibly the best lip balm I have ever used. My lips have been so chapped and dry and for the longest time the lip balm that I had sworn by just wasn't doing the job I needed it to. So I switched and you guys, my lips are so smooth. If you need something for your lips, you must give this lip balm a try. PS Kathleen Jennings (aka IG Skincare Guru suggested this and I'm so happy that I tried it)
La Colombe Draft Latte
If you're like me and you love a good latte; I think you'll really enjoy these draft latte's from La Colombe. Currently they're 20% off at Target and you can buy them individually or in packs of four.
I'm trying to be good when it comes to our budget, so I've been trying to skip Starbuck's as often as possible. These Draft Lattes are Nitrogen infused, so they're creamy and remind me of a Nitro Cold Brew. Maybe not quite as creamy, but still an amazing flavor.
Divided Lazy Susan
If you're like me and you're still trying to get your home in order, then I had to suggest this Divided Lazy Susan. This is a piece from The Home Edit Collection at The Container Store and it's so good! I've not only used this in my pantry and under my sinks, but I've also used it to organize my skincare products in my bathroom.
The way I use this is I use the divided sections to divide my products into categories: Cleansers, Treatments, and Masks. It's worked great and I love that it spins and I can see everything that I need to.
I mentioned that I used these in my pantry and they are incredible! I can spin each lazy susan around to see what I have in my pantry at all times. Nothing is hidden and I can easily scope out what I need to repurchase.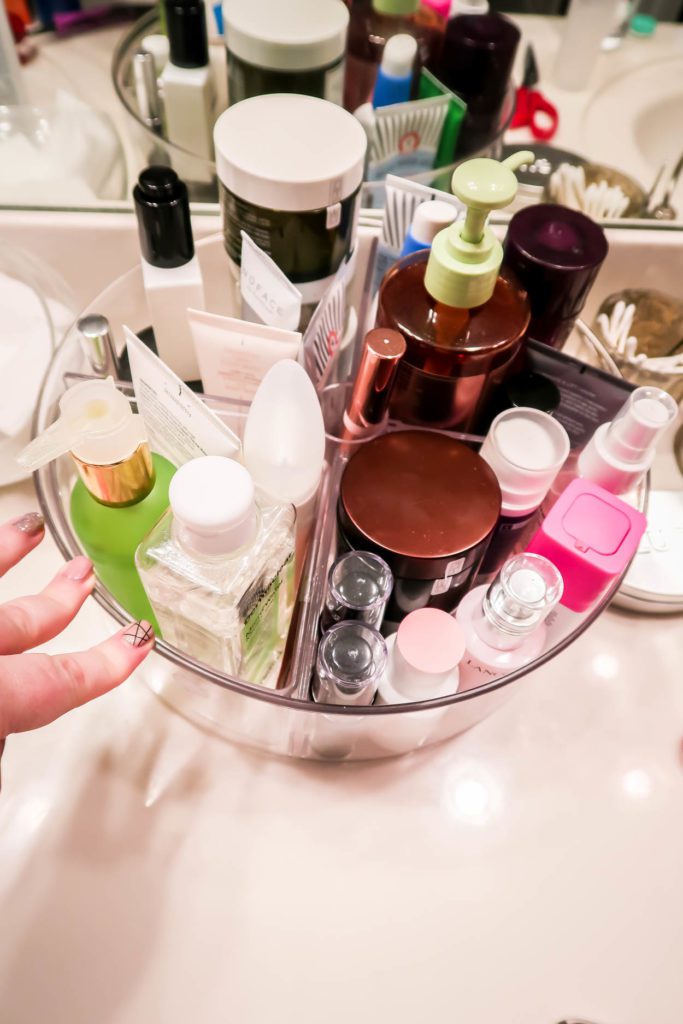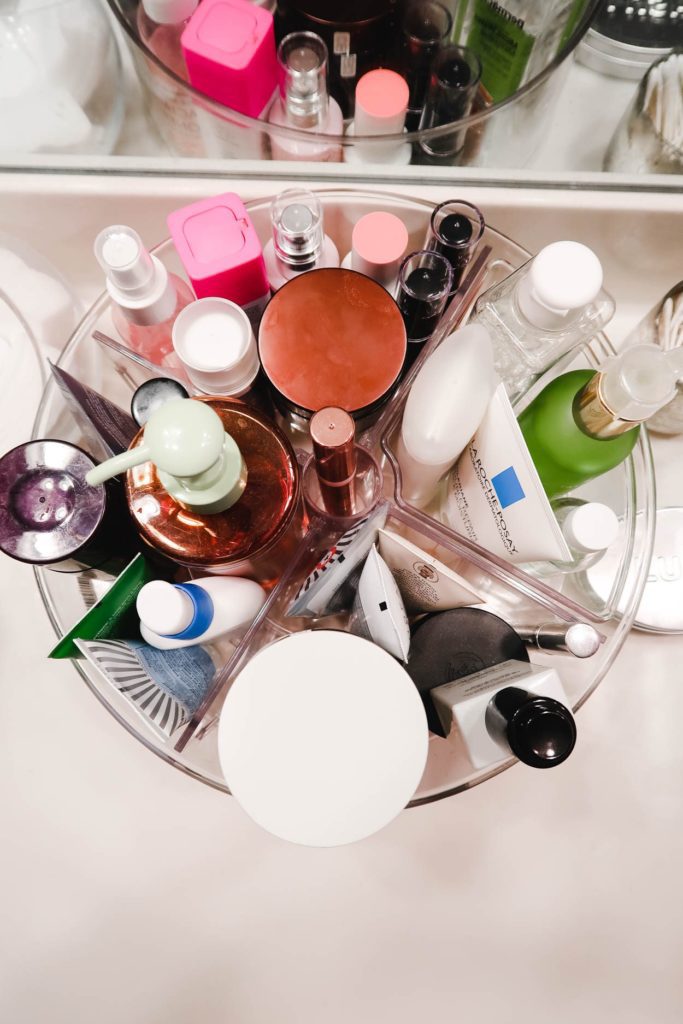 Trendy Dresses From Target
The IG fashion influencers have been in full force lately and I even found myself #influenced by a couple of pieces that I've seen. I went to the store and did some browsing online and here are the dresses that I think are worth adding to your closet:
This ruffled crewneck midi tiered dress is so darling. I've ordered it in the green and can't wait to get it in! I feel like this will be perfect for when we go to the beach. Also, pair this with a denim jacket and you've got yourself a date night look!
This sleeveless dress I actually saw in person at my local Target and immediately thought that this would be a perfect dress for spring and summer. It's longer, but not ankle length and its slit just a tiny bit at the bottom of the dress. It's available in numerous colors and sizes. There is also a straight size available as well!
Lastly, this short sleeve crewneck dress is a dress that I wanted to pick up because it's cute, but still totally casual when I want to be comfy yet put together. Hopefully that makes sense! I love that they paired this with a pair of boots. I feel like if this dress is a cute pastel, it could be a darling choice for Easter.
Those are my current favorite finds. I know, it's a variety of products, but I hope that you find some of them useful! Have you shared any of your current favorite "finds" with me lately?!? Share below!
*Post contains affiliate links*
Shop The Post