There has been a lot of talk about using Coconut Oil Skincare products in the beauty world for the past year or so. Numerous brands have hopped on the Coconut Oil bandwagon, but I think that Kopari Beauty is THE brand that I hear people comment on and review the most. Being that I'm a total skincare and beauty junkie, I wanted to put it to the test so I could learn more about the benefits of incorporating Coconut Oil Skincare products into my routine.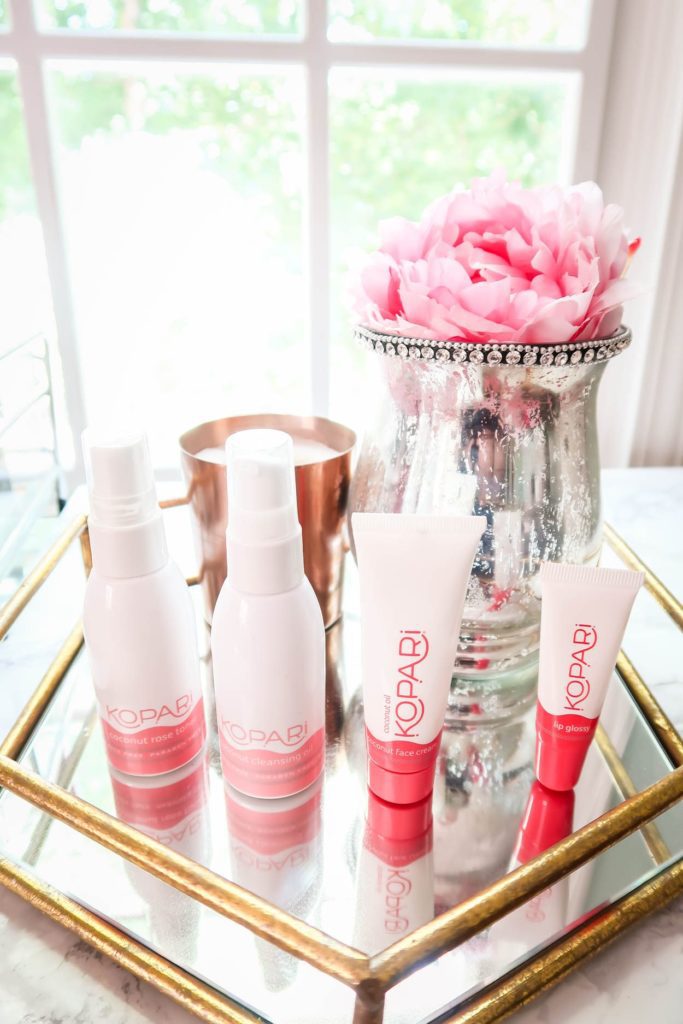 Kopari Beauty products feature 100% Organic Coconut Oil that is sourced from the Philippines and their products contain no sulfates, no silicones, no parabens, no GMO's, and also they're a non-toxic brand. Coconut Oil has been used in Hawaiian beauty rituals for centuries and if I can look even half as good as most Hawaiian women do, then sign me up! Seriously, their hair and skin are always glowing! 
Coconut Oil Skincare Benefits
If you haven't noticed by now, Coconut Oil Skincare is for sure having it's moment right now. Coconut Oil is fantastic for keeping your skin moisturized, smooth and glowy!  Why? Because Coconut Oil is made of fatty acids such as Lauric, Capric and Caprylic Acids, which help to keep your skin hydrated and soft! Also, Coconut Oil features Vitamin E which is full of antioxidants to help keep the skin from dryness and aging.
Basically, we should all bathe ourselves and every part of our body in Coconut Oil because it's that dang good!
I tried four products from the brand that were a part of their Coconut Skincare Essentials Starter Kit (c/o Kopari Beauty) which retails for $40.00. I think that this is a great little starter kit to experience the brand and their products, without breaking the bank.  The products lasted me quite a while and they were four products that I found myself using every day and not just something that I'd pick up every once in a while.
2 oz. Cleansing Oil   $32.00 5.1 oz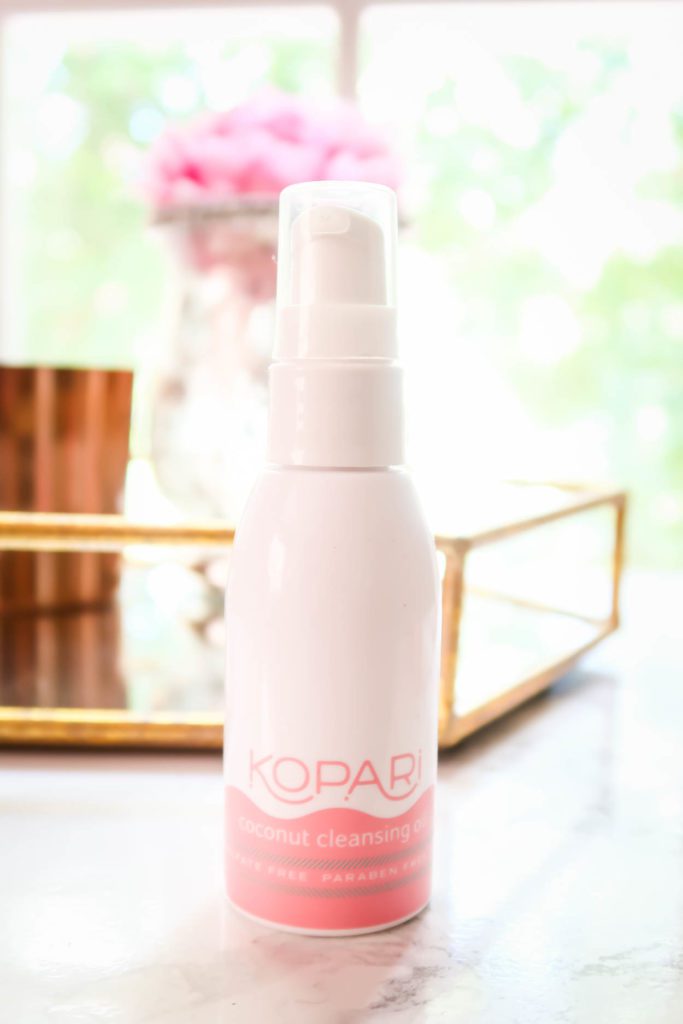 Antibacterial Rice, Coconut, and Green Tea Oils gently wash away makeup and pore-clogging impurities without using harsh drying methods
This coconut cleansing oil features Green Tea Oil which features antioxidants that slow collagen breakdown, Rice Oil  which is very hydrating and cleansing, Tocopherol  which helps to protect the skin from toxins, Lavender Flower Extract which is very anti-inflammatory and  is an antiseptic to help ward off blemishes and Camellia Seed Oil which helps to moisturize the skin and protect it from free radical exposure. Basically, this does a lot more than just cleanse the skin!
The one thing that I loved about this cleanser is that while it was gentle on my skin and didn't strip away any necessary oils that were on my skin, it still did such a great job cleaning my skin! I used three pumps of this and massaged it into my skin before adding water to it. When you add water, it removes your makeup really nicely and leaves your skin feeling so soft!
I would for sure repurchase this because I enjoyed it so much!
2 oz. Rose Toner  $24.00 5.1 oz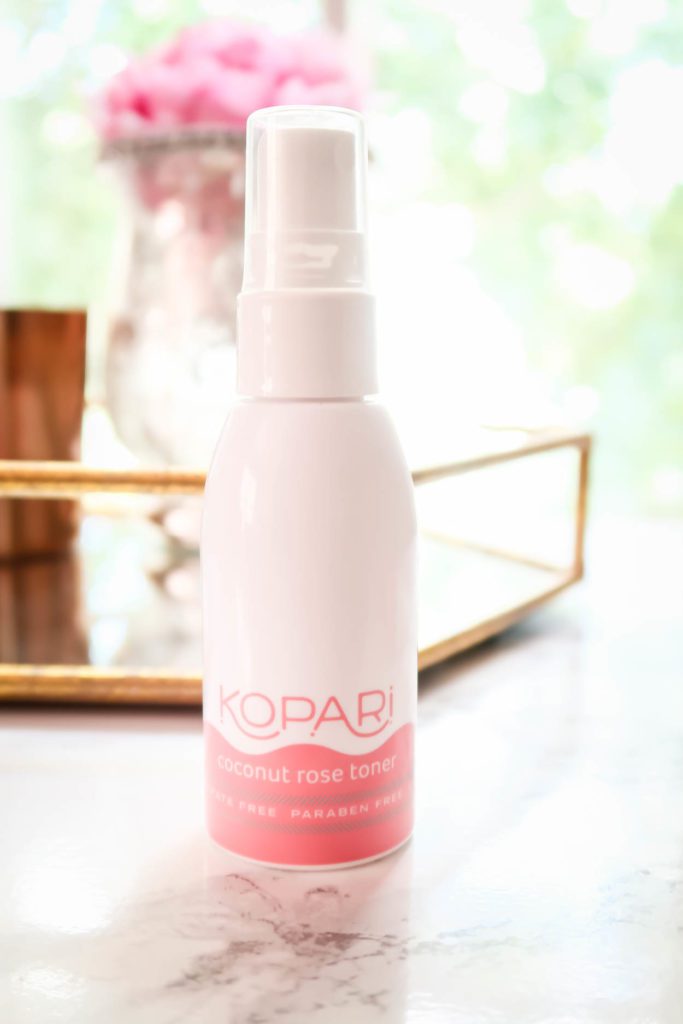 I am such a huge fan of Rose Toners and pretty much anything rose.  This alcohol-free toner also features Witch Hazel, which is a natural astringent that also helps shrink pores! Rose extract is included in the formula to help hydrate and calm the skin. Plus, it also features Chamomile to help decongest, protect and refresh the skin throughout the day.
This toner helped my redness so much! I used this daily (even kept it on my desk and spritzed my skin throughout the day) and I found myself looking in the mirror noticing that my redness was for sure calmer than normal. I loved this toner so much!
1 oz. Face Cream  $38.00 2.5 oz
Somehow I forgot to take a picture of the Face Cream by itself (oops) but you can still see it in the pictures in this post. At first, I didn't really think that the Face Cream was going to work for my skin type.  It seemed so "simple." However, it's actually formulated with a smart emulsifier that allows the product to vary consistency depending on your specific skin type and needs.  It hydrates dry spots on your skin, but also won't cause any issues like clogging pores if you have oily skin.
The Face Cream will help lock in moisture and help to soothe any inflammation that you are experiencing on your skin as well. If you're worried about aging, this will help with fine lines, collagen production and also help with firming the skin.
Overall, it's a pretty amazing Face Cream!
.03 oz. Lip Love  $12.00 .03 oz
I wasn't sure how I'd feel about the Lip Glossy, but I actually really enjoyed using it.  I'm not one for really sticking "things" on my lips, but I actually didn't mind this product at all! It features a blend of shea butter and of course, coconut oil.  So if you have chapped lips, this will help protect them!
Is Coconut Oil Skincare Worth A Try?
This seems like such a simple skincare routine and I think that's what I loved about it honestly.  The products worked fantastic on my skin and I think that I'd for sure purchase full-sized products of everything for this Summer.  They didn't feel heavy on my skin, but they still felt moisturizing and my redness seemed to not be quite the issue it normally was. As far as pores, I didn't see much change with them, but I also didn't complain about them as much as I normally did?! I'm wondering with longer use (and an exfoliant being used) if I'd notice more of change with them.  Bottom line, Kopari Beauty really won me over! So much so that I'd like to try more from the brand, especially their Coconut Melt and the Coconut Body Glow!

Products were provided c/o Kopari Beauty.  All thoughts and opinions are my own.