I'm back!  I can't believe how fast time went when we were on vacation!  The weeks at home sometime seem like months, but get yourself to a tropical location and its gone in the blink of an eye!  I had such a fabulous time on vacation.  It's nice to get to spend time with my husband, have no outside disruptions and just relax.  
We started out our vacation in Puerto Rico!  San Juan is a lovely little place to get away to.  It's far enough from home, but still feels a little like home.  We enjoyed the pools, beach and scenery for two days before boarding a cruise that went around the Caribbean. 
Lovely Puerto Rico!
Had to buy a cute hat because my hair was going crazy in the wind!
You can always find Starbucks wherever you are…
Señor Frogs is fun for a drink!
We left Puerto Rico and headed to St. Thomas.  This is such a special place for me because 6 years ago my husband and I were married there!  I love St. Thomas and I love that we were there on our actual wedding anniversary.  It has amazing views, great shopping and has the most beautiful beaches!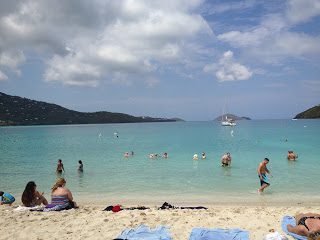 Magen's Bay (where we were married)
Gorgeous, crystal clear beach
Gorgeous St. Thomas!!
Yep, that was my wedding day!
We also went to St. Kitts, Aruba and Curacao. Aruba was gorgeous!  We went to Palm Beach and enjoyed the turquoise waters and a few umbrella drinks and if  you like to shop, you are in luck!  Everything from Louis Vuitton, Ferragamo and the usual touristy stuff.  St. Kitts would be a great stop for anyone who loves nature.  This island has volcanoes you can climb and lots of places to explore.  We didn't get off the ship in Curacao, but the island seemed very small and was supposed to have great beaches as well.  
One thing I love about being in the Caribbean besides the gorgeous beaches and sun, is the shopping!  Most stores are duty free (saves you money) and if you are interested in jewelry, this is the place to shop!  On board the cruise ship, you can get lots of alcohol very cheap (they store it until you are done with the cruise) and they even had a cosmetics store to shop in.  I had to check it out (duh) but didn't see anything I really wanted or needed.  However, to a normal person who doesn't have 500 lipsticks like I do, they had a great selection of makeup and perfumes to choose from.  I saw Dior, Clinique, Philosophy, L'Occitane, Smashbox, Estee Lauder and a lot of others.  
I relaxed, spent time with my husband, ate a lot of food (too much) and got really sunburnt.  Ha!  I think this might have been my favorite time away with my husband because we didn't rush around like idiots.  We watched the ship dock at each port from our balcony each morning and spent the rest of the days doing whatever we wanted.  If you have ever wanted to take a cruise, I suggest researching them first.  Not all ships are retirement homes on water.  There was some definite partying going on, but the ships are so big now that you can have private/quiet time whenever you want it.  It was a great vacation!  Here are some pictures I took….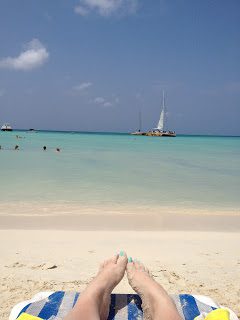 Palm Beach in Aruba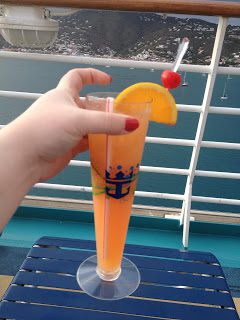 Enjoyed lots of drinks…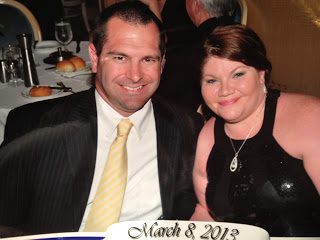 Our Anniversary Dinner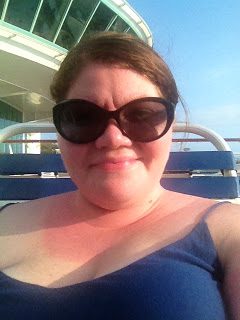 Me relaxing while at sea!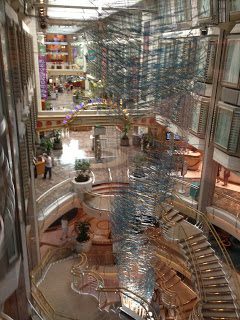 View of middle of ship
Rock Climbing, Pools and Gorgeous Dining Rooms
From Cosmetic Stores, Lots of food, Sports Bars and Fancy Casino Floors…a cruise has it all!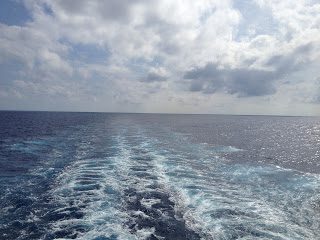 Stunning views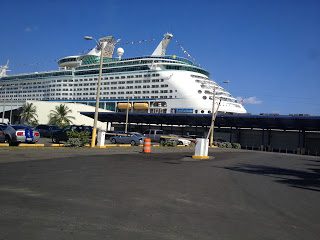 Royal Caribbean Adventure of the Seas