Remember those giant crayons we used to use to color with? Imagine that, but only as a concealer and you have the L'Oreal true match Super Blendable Crayon Concealer. L'Oreal offers this concealer in 6 shades, so finding the right shade to match your skin type should be super simple. What I love most about this concealer is that it will travel amazing! From someone who travels quite often, I know that this product will make it to my destination. The other giant benefit of this product? It blends into the skin great and it lasts.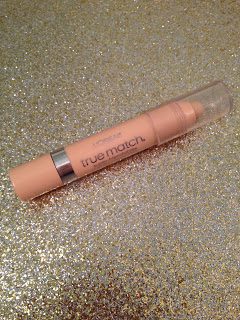 I got this in the shade Fair/Light (N1-2-3) and it matches my skin great. It first came with a pointed tip that made concealing smaller areas a breeze, but after time, that tip goes away. That's ok though, you can still easily use it by using your finger, a concealer brush or the actual product. I love that this glides onto the skin, which makes it easy to apply and blend in. I find that this does tend to dry onto the skin pretty quickly. It almost feels as if there is a powder type feeling to it after applied. It lasts quite a while and I only needed to rub it in a little bit towards the end of the day.
This is the perfect concealer for anyone looking to spot conceal or to conceal larger areas. To spot conceal blemishes, use the tip of the product. To cover larger areas, turn the product to its side and apply. Even though the tip will wear down, it still allows you to spot conceal.
L'Oreal did a great job with this product. From awesome packaging and a great color selection, this is sure to be a hit with most people!