If you ask me what product line is worth a splurge, one that immediately comes to mind has to be Charlotte Tilbury. The line features both skincare and makeup, as well as fragrance. Everything from the packaging to the actual products themselves is incredible.
Charlotte Tilbury herself is basically makeup royalty. Having worked with supermodels such as Kate Moss, Naomi Cambell, Cindy Crawford, and other celebrities; she's the real deal. I love her thoughts about women and makeup. She realizes the power behind makeup and wanting women to look their best. Makeup is a powerful tool, Y'all!
Charlotte Tilbury Beauty Products I Love
I know a lot of you are wondering about the price tag for Charlotte TIllbury products. Is it pricey? Yep. Is it worth the price tag? 100%! That's my opinion, but everything that I've tried has really impressed me. I don't mind paying money for products that work and do what they advertise. Now, this isn't a brand I'm picking up weekly. It's definitely a luxury, high-end makeup, and skincare line. It's totally worth a splurge though!
Since I'm pretty much beauty obsessed, I've acquired several Charlotte Tilbury beauty products. I thought that it might be helpful for you to know what products I really love that I've tried. I'm going to talk about Charlotte Tilbury beauty products that are makeup and skincare related. I haven't tried her fragrance yet. Maybe one day! Also, I'm going to mention mostly makeup in this post. I haven't tried all of her skincare long enough to form an opinion on it just yet.
Magic Foundation?!?
About three years ago, I first tried the Charlotte Tilbury Magic Foundation. I chose shade 2 and for most of the year, that's a great match for me. IF I have any amount of sun, it's a little bit too light for my complexion.
The Foundation itself is lovely. It's a gorgeous, buildable foundation. It took Charlotte five years to create this foundation formula. I love it because it is a great foundation when you want full coverage, but it doesn't feel heavy on the skin. It's also like wearing an anti-aging moisturizer. She's loaded up the formula with a concentrated mushroom extract that helps with firmness, enlarged pores and it also contains hyaluronic acid (one of my favorites for hydration) as well as Vitamin C for brightness.
This foundation is great for all skin types and all ages. If you suffer from melasma, rosacea or even acne; this foundation will work with your issues and your skin type! I apply it with a brush or a beauty blender; both work great.
Charlotte Tilbury Lipstick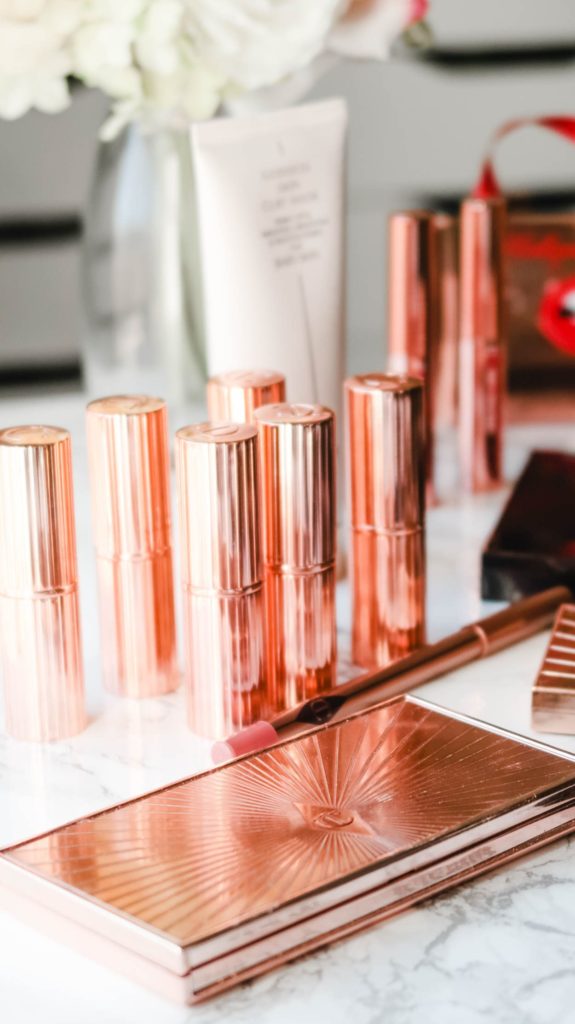 One of my absolute favorite Charlotte Tilbury beauty products has to be their amazing lip products. I love the formulas, the colors are incredible and the packaging is superb. You'll see below what colors I own and I swatched them for you so you could see the colors. They are gorgeous!
Lipstick is happiness in a tube!

Charlotte Tilbury
AMAZING GRACE

BITCH PERFECT

STONED ROSE

SUPER CINDY

VERY VICTORIA

KIM KW
The Charlotte Tilbury Hollywood Liquid Lips are a favorite of mine! I was given a set of these at Christmas and have been using them since! They are a matte finish that is very long-lasting BUT the great thing about them is that they are not drying at all. They feature beeswax, so it's also hydrating.
Lip Cheat Pillow Talk Lip Liner
My absolute favorite lip pencil that I use almost every time I wear makeup has to be the Charlotte Tilbury Lip Cheat Pillow Talk. It's the perfect rosy, nude pink. It's a waterproof formula that glides on so easily. I LOVE this product so much and recommend it as often as possible. They now have Pillow Talk lipstick to match it!
One of her secrets to a powerful lip is to over-define the outline of the lip! Sounds crazy but it really works! With a pencil like this, I find that this a very easy way to cheap having fuller looking lips!
Instant Look Eye Palettes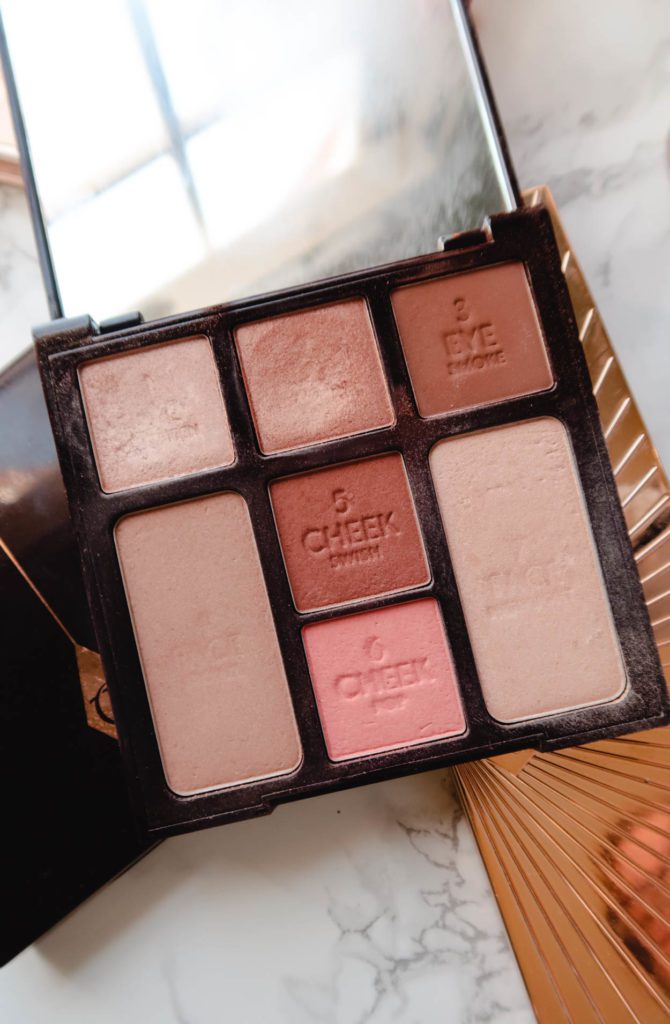 I own several Charlotte Tilbury eyeshadow palettes. Her Instant Look Eye Palettes are one of my favorites because not only are there eyeshadows, but they also have a bronzer, highlight, and blush colors. When I travel, I normally travel with one of these palettes. There are several Instant Look Eye Palettes available, so be sure to look into the options available!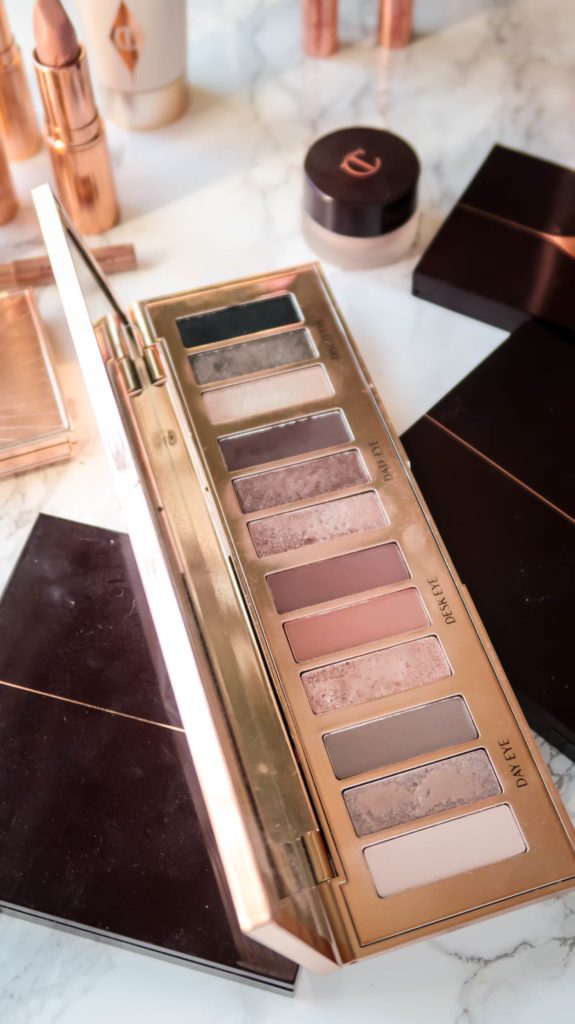 This Instant Eye Look Holiday Palette for Holiday 2017 is not available anymore. They seem to be very limited edition when they come out. In fact, I didn't even get my hands on the one that came out last year during the Holidays.
I love having all of these eyeshadows available in one palette! So when these are available during the Holiday's, look into them quickly before they sell out; because they will.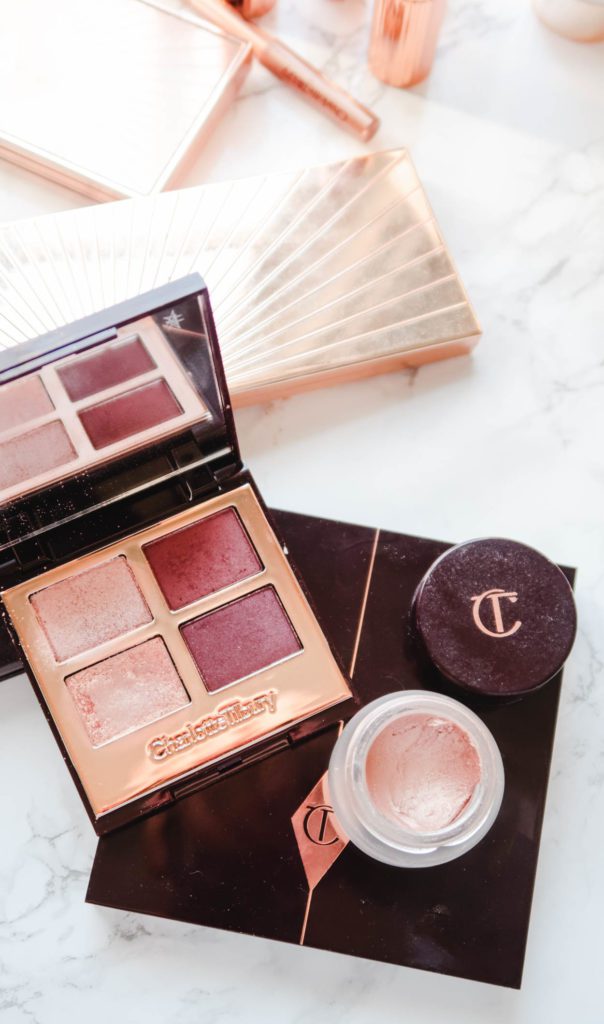 Pictured above are the Vintage Vamp Eyeshadow Palette and the Eyes to Mesmerise Cream Eyeshadow in Jean. I love her cream eyeshadow formula. The shade Jean is the perfect champagne pink. It applies very easily and has a cooling effect once applied to the lids. This is an eyeshadow that I can easily put on sans makeup brush and just go. It's beautiful!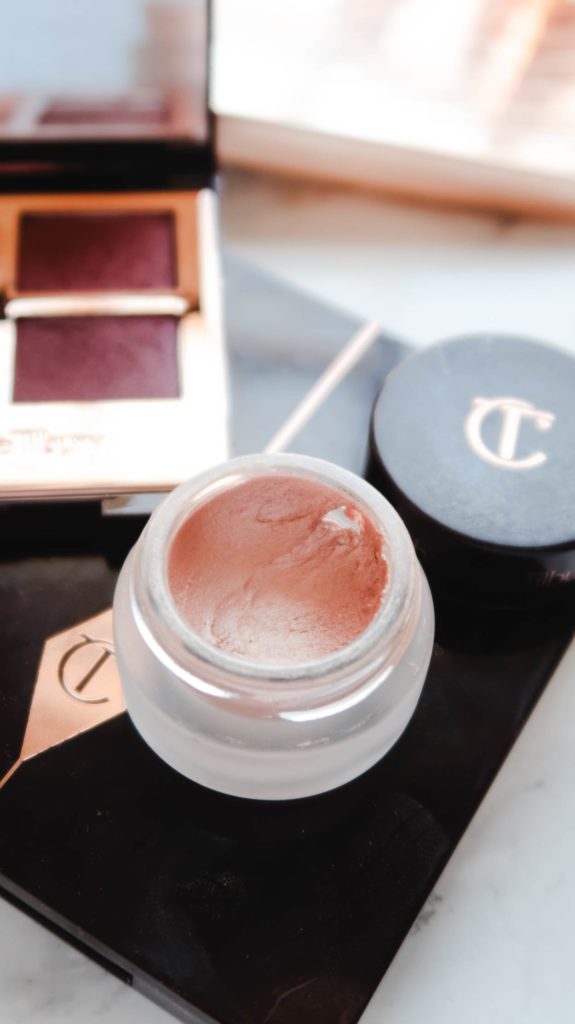 The Vintage Vamp Eyeshadow Palette is the most beautiful red and purple toned eyeshadow palette. It features deep burgundy and plum shades with the perfect gold tone to add some sparkle. Charlotte calls these eyeshadow palettes "desk to disco" and that's very true. You can easily achieve a day to night look with just this one palette.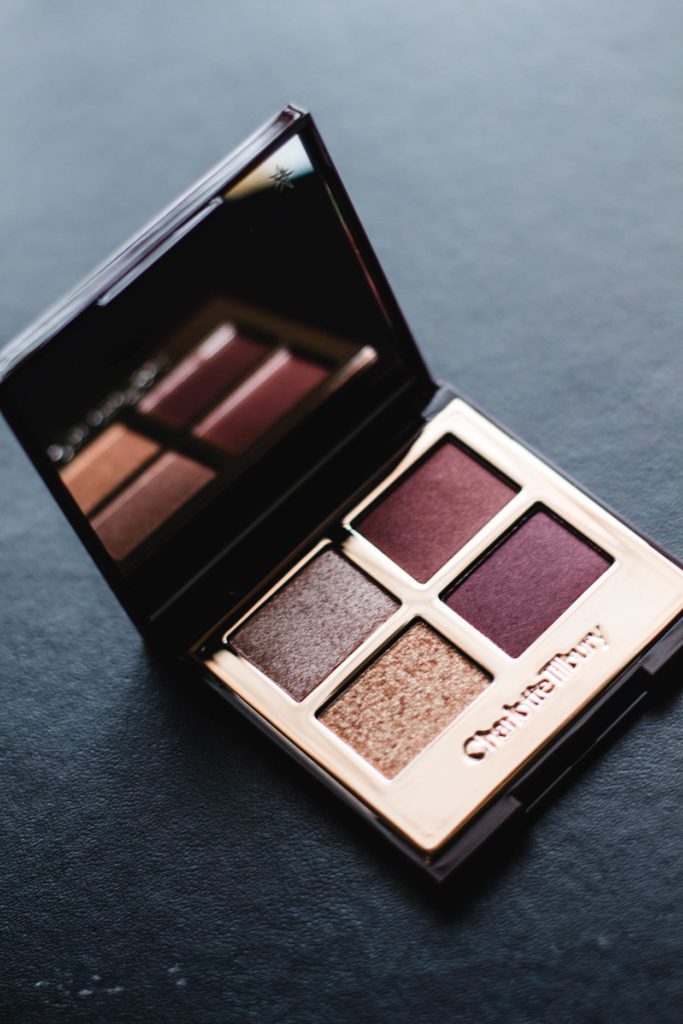 Filmstar Bronze & Glow Contour and Highlight Palette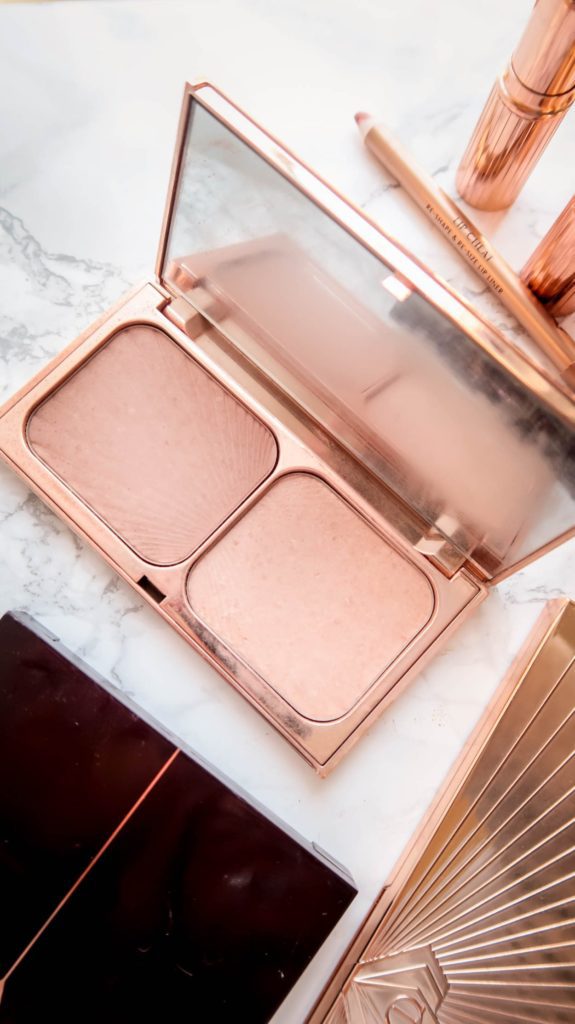 The Filmstar Bronze and Glow Palette is my go-to bronzer and highlighting palette. The shades are just perfect for so many skin tones (there is a deeper palette available for warmer skin tones) and it applies beautifully! I don't have to worry about looking orange when I apply the bronzer shade at all.
I use this for my cheekbones, around my nose, my temples and my chin to "sculpt" the areas. The highlighter is THE MOST BEAUTIFUL natural looking highlighter if you aren't wanting to shine like a disco ball. The combination of these two colors on my complexion make my face come alive!
I also want to touch on the packaging because I wasn't sure how fragile the product would be in a palette, but I'm happy to report after traveling numerous times with mine and it falling on the floor, it's still in perfect condtion!
Charlotte Tilbury Magic Away Concealer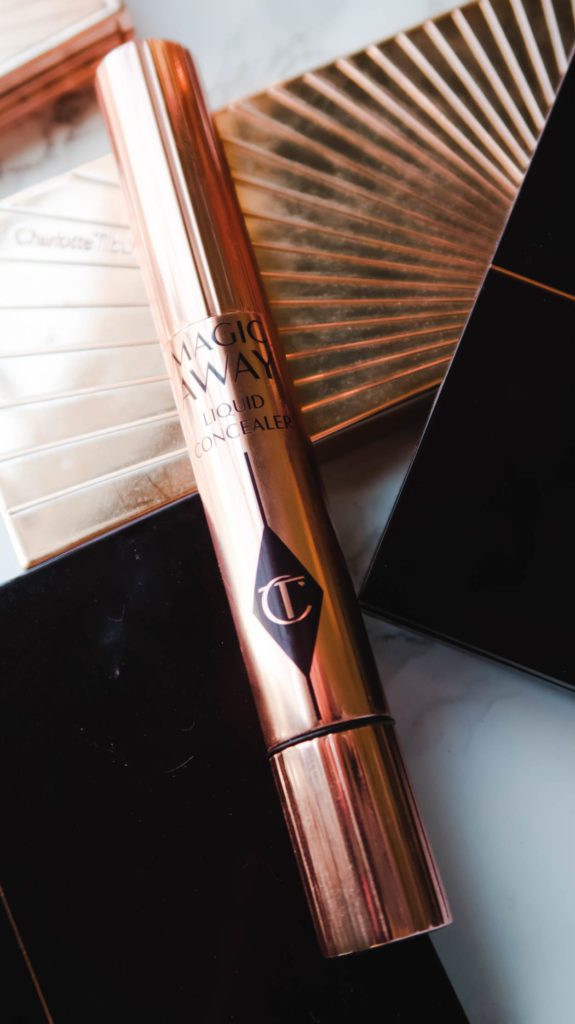 I didn't try this concealer as soon as it came out. It looked intriguing, but I was still using other concealers that I loved at the time. So when the time did come that I was out of my go-to concealer, I remembered that I wanted to try this one.
Charlotte calls this her magic wand of makeup. I happen to agree. I think this is a great full-coverage concealer that doesn't feel heavy on the skin. It brings a glow to the under eye areas and other places that you apply it, without it being "too much."
Now the one thing I will say that I find is a negative with this concealer is that it does not stay clean very easily. You can see in the picture below how messy the wand is. I have to scape the excess off with a makeup brush. It's not a huge deal, BUT this isn't a prodcut that stays neat and tidy.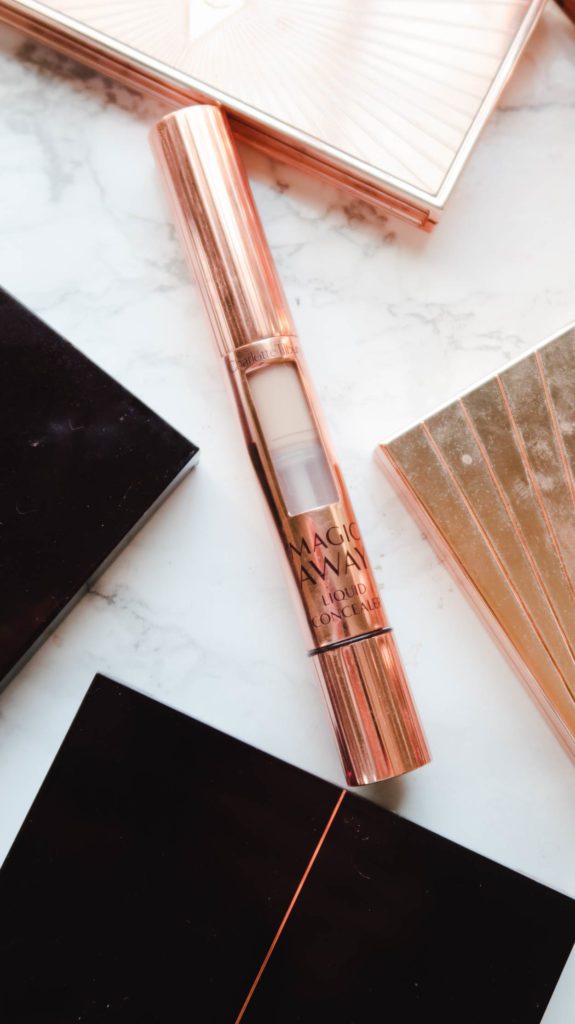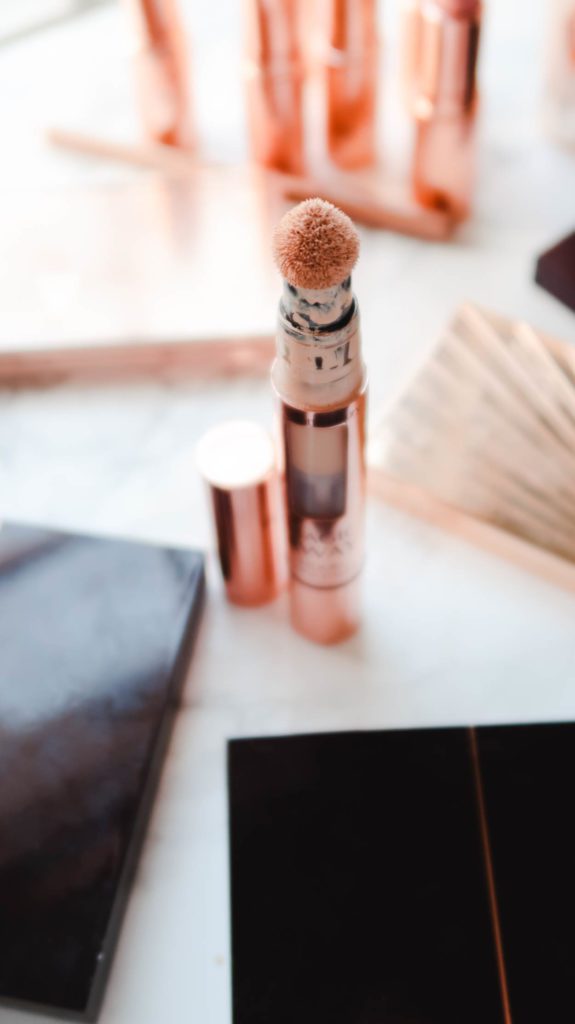 Full Fat Lashes Mascara
The Charlotte Tilbury Full Fat Lashes Mascara is said to be a five-in-one mascara; curls, separation, volume, and drama! It features a very glossy black formula and I really do love this mascara. Even for someone like me with short lashes, I feel like it gets to the root of my lashes and coats them nicely. It's not a super wet formula, but it's not on the drier side either. It's a good mix.
The wand on the Full Fat Lashes features very fined tipped bristles, so I feel like it's easy to work in between my lashes. I don't feel like the wand is oversized, but instead a generously sized wand that will work for a variety of lashes.
To use this mascara, I first zig-zag the product into the root of my lashes and when I get to the ends of my lashes, I turn the wand up to give some definition and length to the outer corner of my eyes.
If you're looking for very long, defined lashes, I'd go with her Legendary Lashes. It's also humidity resistant and smudge proof. This mascara helps to incerease volume and thickness!
Where To Buy Charlotte Tilbury
I think one of the biggest game changers for the Charlotte Tilbury products being so popular in the US is because they finally have launched in US stores. Nordstrom, Sephora, Bloomingdale's and Bergdorf Goodman. To see where they are sold near you, click here to locate your closest location. While you can order Charlotte Tilbury products online, I find it helpful to see the products in person the first time. That way you can get a good color match, etc.
Charlotte Tilbury Skincare
I have used a lot of Charlotte Tilbury Skincare and I feel that it's worthy of a seperate post. So today, I'm only going to talk about one super stand out product from the line and I think it will shock you what I chose! No, it's not her uber famous Magic Cream (I'll talk about that later) but intead, it's her Skin Clay Mask!
Goddess Skin Clay Mask
I think a lot of us probably associate clay masks for those with oily, acne skin types. However, that's not the case with the Goddess Skin Clay Mask. This mask will tighten pores, hydrate your skin as well as helping with imperfections. So essentially, this mask is great for all skin types!
Spanish Clay draws out impurities
Sweet Almond Oil hydrate the skin
Peptide Complex promotes collagen and elasticity
Frangipani Flower Extract has antiseptic properties to help soothe the skin and leave your complexion feeling like butter.
Rosehip Oil regenerates the skin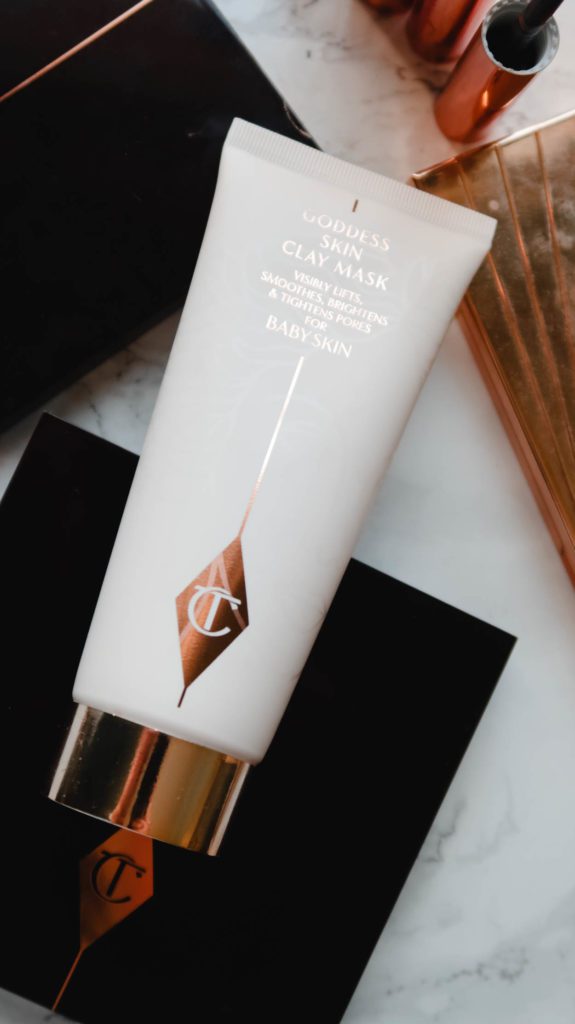 I love this clay mask because it doesn't dry my skin out. Instead, it's more hydrating! While it does a great job of cleansing my skin of impurities, I feel like my skin is insanely soft and looks so radiant after I have used this skin mask. Some clay masks will leave me with a rather dry feeling, not this mask.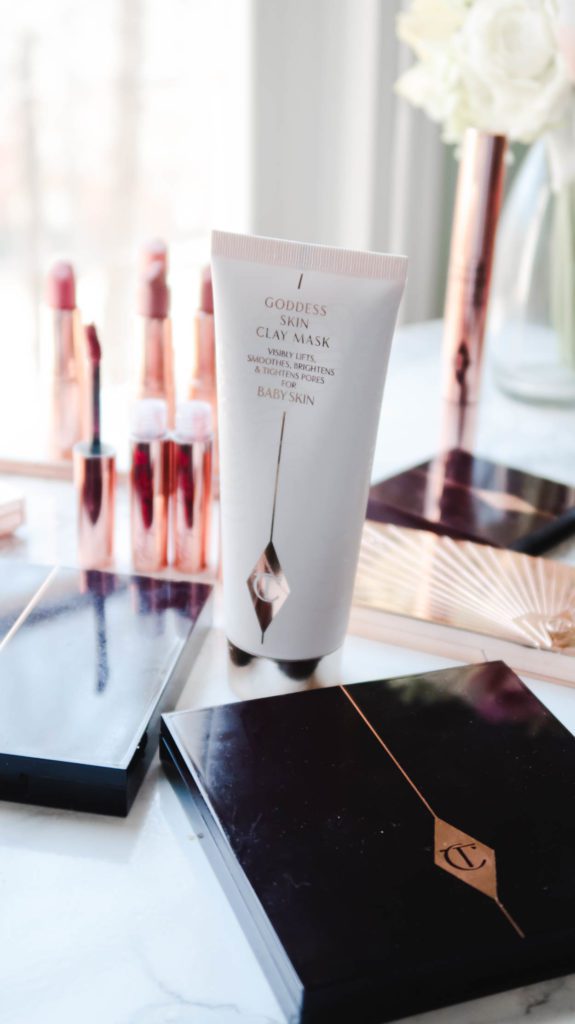 Goddess Cleansing Ritual
The Charlotte Tilbury Goddess Cleansing Ritual is a brand-new launch from the brand and their first ever cleanser that I'm aware of. Naturally, I had to pick it up to experience it first hand.
This cleansing ritual features two products; The Citrus Oil Radiance Cleanser and the Bamboo Charcoal Cleanser. Also included is a muslin cloth. If you've never used a muslin cloth, I HIGHLY suggest giving one a try!
I will have more on this cleanser in the future as I just picked this up and want to give it a chance before I do a review on it! First impressions are that it's a solid cleanser!!
Give a woman the right makeup and she can conquer the world.

Charlotte Tilbury
As you can see, my Charlotte Tilbury collection is quite large. That's because it's a go-to product line for me. As someone who's in the beauty community, I have access to a lot of products and brands. When I'm showing this large of a collection from one brand (that's all been purchased by me or as gifts from family and friends) that should tell you A LOT! These weren't PR products that were sent to me.
Charlotte Tilbury is a woman I look up to so much. Not only for her makeup skills, but also for her views on makeup and how it can change a woman. Her entrepreneurial drive is inspiring to me as a woman. She's a powerful, badass woman. That's a brand I want to support!