If you are like me and you love a good lip color, then the BITE Beauty's Best Bite Kit is an excellent product for you to own. Here's the bad news, I can't seem to find it available to purchase anymore except on Amazon. The good news (because I wouldn't leave you guys with no options) is that you can purchase these lip colors individually on Sephora's website or in their stores. YAY!!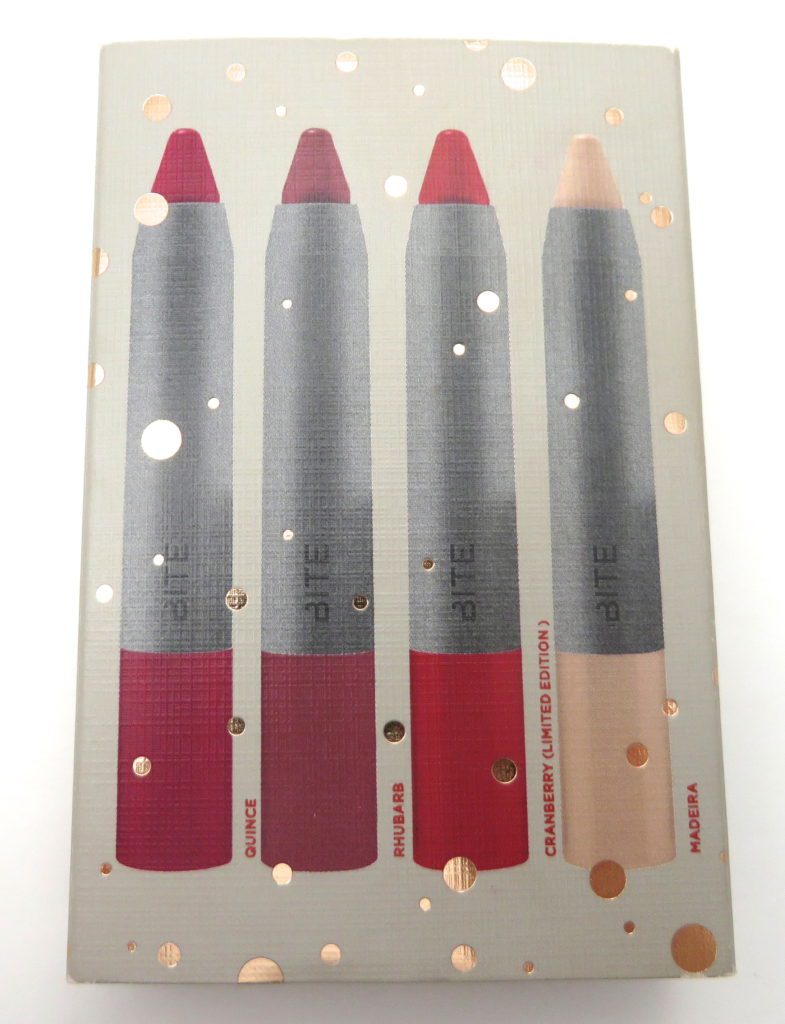 If you aren't familiar with BITE Beauty, they are a product line that is sold exclusively at Sephora. These lip products contain natural and organic ingredients and are basically edible. Not that I'd want to eat my lipstick, but it's good to know that there are no harmful chemicals or ingredients in these at all! They instead, feature good ingredients like antioxidants such as Resveratrol (website says it's an anti-aging antioxidant that is equivalent to five glasses of wine) and Manuka Honey and fruit butters for moisturizing benefits. These are good for you lip products!
The BITE Beauty Best Bite kit features four (.05 oz) of the High Pigment Lip Pencils. Normally these pencils, while a bit bigger, retail for $24.00 a piece! They come in a really nice aluminum case (feels close to a NARS packaging)  that features a giant mirror. I love this case because it keeps them together, especially if I'm traveling and the mirror is just an added bonus that is great to have, especially when not using these at home. I'm really happy with the colors they included. It's a great mix of nude, mauve, rose and red colors. The actual lip pencils are very pigmented and feel great on my lips. I'd say they last a decent amount of time, but I still have to reapply fairly often.
Here is a description of the High Pigment Matte Lip Pencils from Sephora's website:
What it is:
A long-lasting, matte lip color.
What it does:
Made with a double-dose of premium micronized pigments, this lip pencil delivers a modern matte look. This lip color delivers super antioxidant resveratrol, which fights free radicals with potent long-term antiaging benefits. Each lip pencil contains the amount of resveratrol found in five glasses of red wine.
What it is formulated WITHOUT:
– Parabens
– Sulfates
– Synthetic Fragrances
– Synthetic Dyes
– Petrochemicals
– Phthalates
– GMOs
– Triclosan
What else you need to know:
This product is free of synthetics, polybutenes, and petroleum byproducts and made exclusively with lip nurturing food-grade ingredients that are healthy enough to eat.
Sephora is the exclusive beauty retailer for this product.
I really have enjoyed using the BITE Lip products and find that I keep reaching for them. I'll be adding more of their colors to my collection and I'd also like to pick up some of their other products, especially their new Agave Lip Mask. If you haven't tried any of Bite's products, I'd suggest giving them a shot! They are sold exclusively at Sephora stores and website.
Follow their blog: BiteBeauty Blog
 Products were paid for by Simply Stine. All thoughts and options are my own.