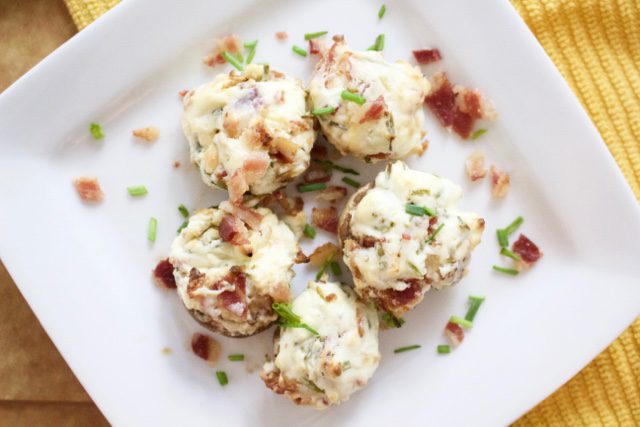 I have a couple of recipes that I'd say are my go-to for entertaining. Obviously, different events call for different types of food. However, my recipe for Stuffed Mushrooms are normally a crowd pleaser at all types of events. Football games, Holiday Parties, Game Night, etc. No matter what type of party we're having, they're always pretty much gone by the end of the party if not half way through it. So today I thought I'd share my story of how I came to make these mushrooms and share the recipe!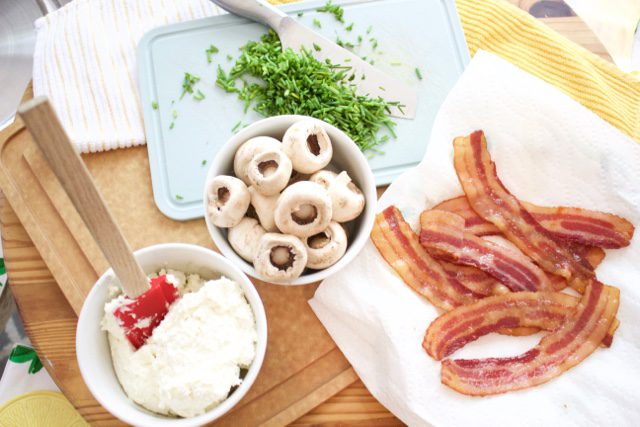 My recipe for Stuffed Mushrooms are probably about the simplest you can get. Here's where my recipe is different from other Stuffed Mushroom recipes. I don't like sausage so there is no sausage in my recipe. You don't like sausage?!? That's an inside joke, but most of my family reading that will know what I'm talking about, ha! Anyways, my Stuffed Mushrooms are basically three ingredients: Cream Cheese, Bacon and Chives. Easy, simple, but seriously so good! They look like the type of appetizer that took a long time to make, but they really don't! Here are some tips for making the Stuffed Mushrooms:
I use Whipped Cream Cheese, but you can use regular. Just make sure to let it soften before you make the filling.
I use regular bacon, but I have cheated and used the store bought bacon pieces and used those. Just make sure you're buying a good brand and that it's not those small, really hard pieces of bacon.
You can use fresh Chives or the chives in the bottle that you can get at the grocery store in the produce section.
[yumprint-recipe id='10']
My Stuffed Mushrooms are always a hit at parties and I love making them! It's funny how you try a recipe once and it sticks around with you and you become known as the Stuffed Mushroom Lady. I know it's a good recipe because even the pickiest eaters in my family request that I make these! So go ahead and give this recipe a try! I promise you that you'll like it. Unless you are my mom. She'll probably tell me there is too much cheese in the recipe. HA!!! If you make this recipe let me know!