I want to share my Korean skincare results with you. If you remember, a while ago I posted about starting my 30 Day Korean Skincare Challenge I had started thanks to Peach & Lily, who graciously provided me with an entire Korean Skincare routine to follow.  If you aren't familiar with Peach & Lily, I can't recommend them enough.  They are your K-Beauty headquarters! They provided me with detailed instructions and they hand selected products based on my skin issues. If you're a skincare junkie like myself, you must email them for a free skincare consultation! More on that later.
I committed to trying this Korean skincare routine for 30 days and I stopped using all of my normal holy-grail products and instead, only the products that Peach & Lily provided.  I was nervous but so excited to see what happened to my skin and what Korean skincare results I would see. If you know anything about Korean Skincare, you'll know that the women there don't mess around when it comes to a skincare routine.  They're using sometimes 10-12 products daily, but their skin is incredible.  If that's what it takes for me to have amazing skin, I'm all for it! 
My Korean Skincare Results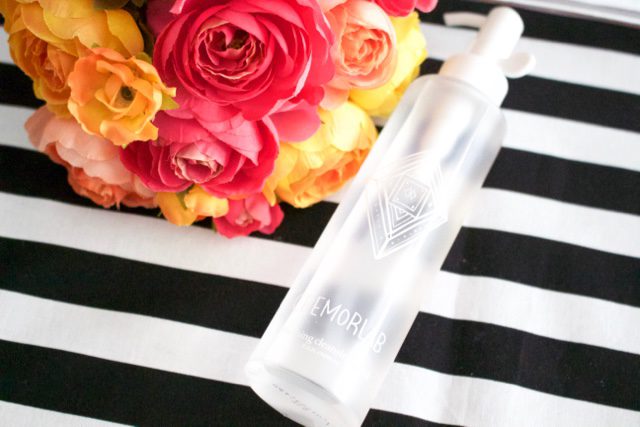 Cremorlab T.E.N. Tremor Cleansing Gel Oil $32.00
This was a nice cleansing gel oil, but honestly, I had several times where it just didn't take off all of my makeup.  Did I dislike it? No, but for me, I had other products that just worked better for me. I did like the way that this didn't irritate my skin when I used it and it didn't cause me to break out.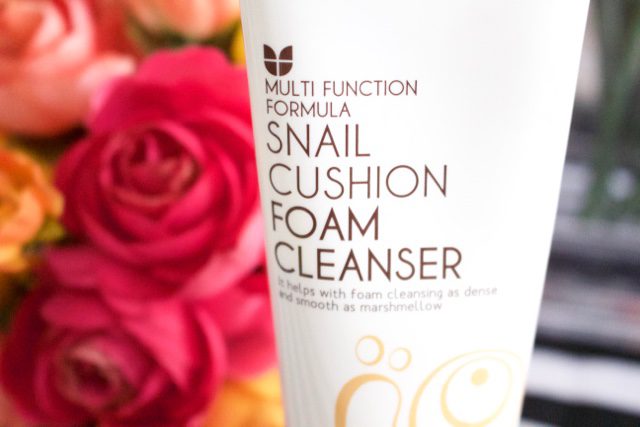 Mizon Snail Cushion Foam Cleanser $14.00
I LOVED this cleanser.  It was so rich and foamy, without being overly drying to my skin.  It honestly felt like I put marshmallow fluff all over my face.  I would repurchase this for sure!! I've found that cleansers are one thing that I really love when it comes to a K-Beauty routine.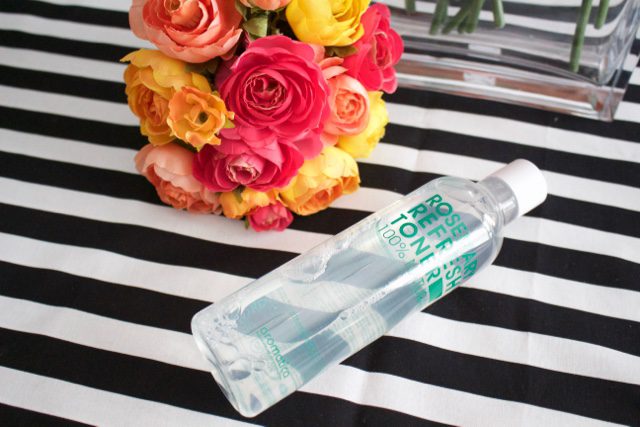 Aromatica Rosemary Refresh Toner  $34.00
Loved it before and still love it now!  It's the most refreshing toner that I've ever used. I honestly look forward to using this! I don't know if I've eve said that about a toner before.  I'd like to try some more products from this line. This toner was their Rosemary one and it smelled so refreshing and felt amazing on the skin.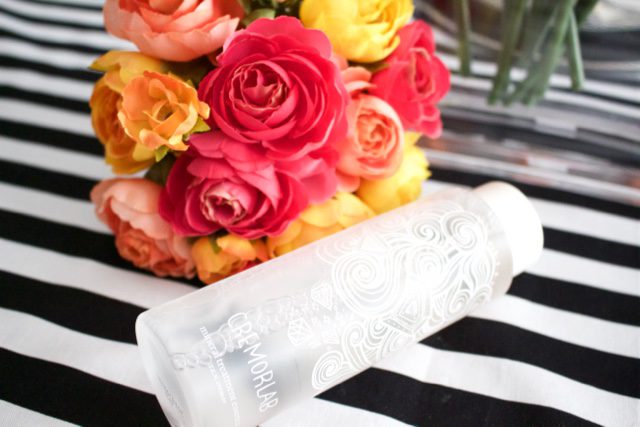 Cremorlab Mineral Treatment Essence $42.00
A great essence, but for me, I'm still completely in love with Raw Sauce from May Coop.  I really enjoyed this one and I loved the cotton pads it came with for application.  However, I noticed more benefits from the Raw Sauce. If you haven't used an essence yet, it's another part of a Korean Skincare routine that I'm completely obsessed with now!  It's so hydrating and feels wonderful on my skin.  If you're looking for more hydration in your skin, please do yourself a favor and look into an essence!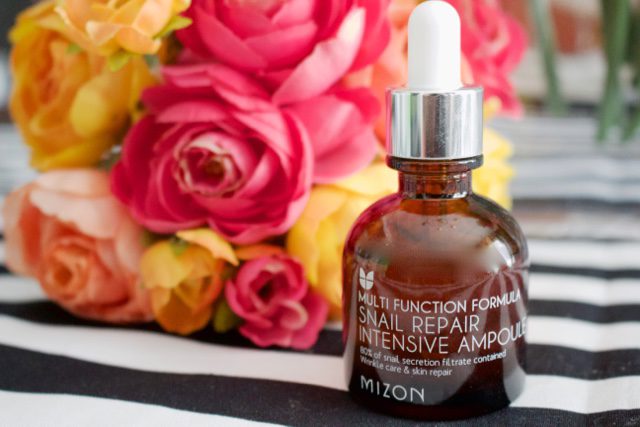 Mizon Snail Repair Intensive Ampoule $38.00
This ampoule is incredible and I think if I continue to use it, I will see more improvement in my skin.  It features snail mucin extract which is wonderful for helping to prevent acne scarring, fine lines and wrinkles. This is amazing for irritated skin and when I use this, my skin seems much calmer than before.  It is great for someone wanting to start an anti-aging routine and for anyone with sensitive skin.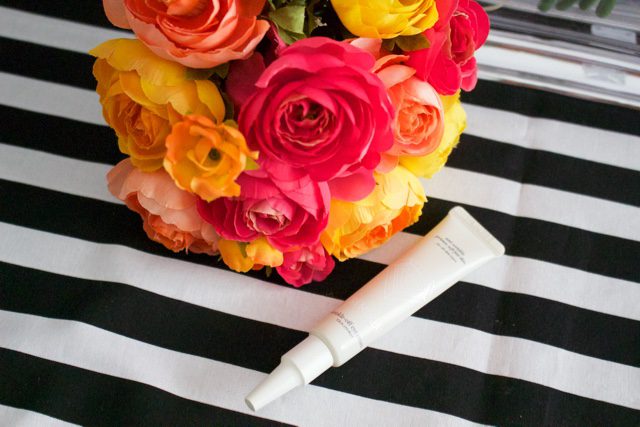 Cremorlab Wrinkle-Off Eye Cream $48.00
I liked this eye cream and used it daily.  I didn't love it as much as others that I have used, but it was a good product.  I'm just ultra picky about eye creams.  I will say that this didn't irritate my sensitive eyes at all! I think the one thing that I noticed with this particular eye cream was that it wasn't moisturizing enough for my skin sometimes.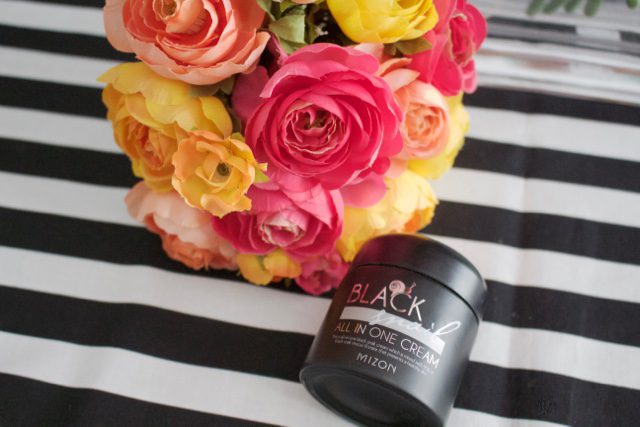 Mizon Black-Snail All-in-One Cream $54.00
When a product claims to fade hyper-pigmentation, acne scarring and helping control fine lines and wrinkles; you pay attention.  This all-in-one cream is great for offering hydration to the skin, brightening the skin and it's full of antioxidants.  Basically, this cream is amazing. I loved it and I will continue to use it, especially with the colder temperatures on their way.  It features Black Snail Filtrate and if you aren't familiar with black snails, they are known for being able to survive harsh environments.  This cream contains 90% Black Snail Filtrate so you know you're skin is going to be protected!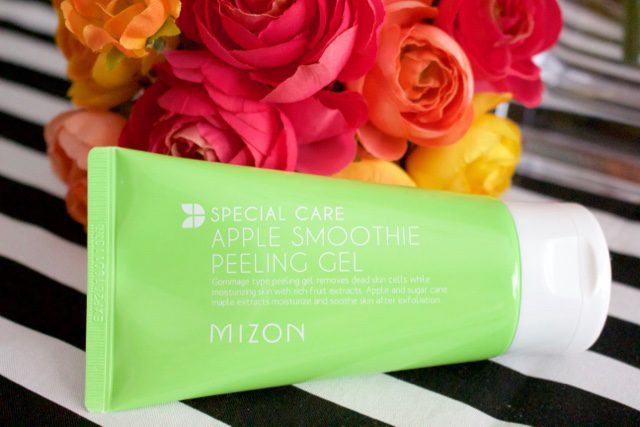 Mizon Apple Smoothie Peeling Gel $18.00
Oh my goodness, this product was amazing and was a total dupe for a Boscia Peel that I own.  It exfoliates my skin without being too harsh and it works at helping to keep my pores under control and my complexion smooth and radiant. This is a product I will for sure repurchase, especially when it's only $18.00! I loved this product so much I'm going to do an entire post on this!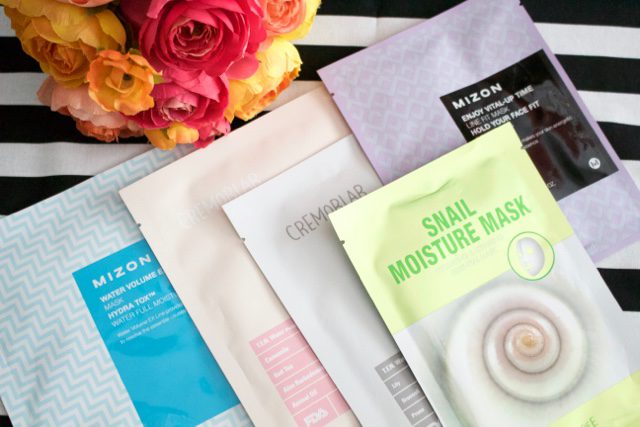 Sheet Mask Bundle $20.00
Give me all of the sheet masks!  This bundle was incredible and I've been so happy that I finally added sheet masks into my skincare routine.  I love sheet makes because they are fairly inexpensive and I can use different masks for different issues I'm having that day.  If you haven't used a sheet mask, you must give them a try! Sure you might look a little odd wearing them, but the benefits of using them are incredible!
The one thing that I think I took away from my 30 Day Korean Skincare Challenge was that following a K-Beauty routine meant using a lot of products, but I loved that time that I was able to spend on myself each day.  Would I normally use this many products on a day-to-day basis, honestly yes.  I've always been heavily invested in my skincare routine and if these products made a difference in my complexion and the way I felt, why not?!?
I've also learned that I want to try more Korean Skincare brands because I've been so impressed with what I was sent that I feel like I want to dig deeper into the brands that are available and continue to keep learning more about this K-Beauty fascination.
---
PROS and CONS of
Korean Skincare
PROS:
I felt more aware of what was happening to my skin daily
I loved the addition of an essence into my routine. Something I hadn't used before being introduced to a Korean Skincare routine.
The products didn't irritate my skin and my overall complexion felt less red and irritated than it normally does.
I now am fully aware that I need to browse and try other K-Beauty brands and products because I'm obsessed.
The routine did take quite a while, but it was worth it to have a beautiful complexion.
I was so impressed with almost all of the products, some more than others, but I especially love the cleansers and sheet masks!
I realize that I want to follow the K-Beauty trends more closely and look into them more. Who knew Snail Mucus was so amazing for the skin?!?
The price points on most of these products are amazing and so much less compared to other products I was using before! Honestly, I was very shocked at how low some of these are priced! #NotComplaining
CONS:
If you're in a hurry, this routine that I was given is pretty intense and time-consuming.
---
Thanks, Peach & Lily for providing me with all of these amazing goodies to try! If you are curious what they'd suggest for your skin, please be sure to email them at hello@peachandlily.com.  They will email you back with a complete skincare routine with products they'd suggest for your concerns.  This is a complimentary service that they offer and it's one I'd highly recommend doing!
My journey with learning more about Korean Skincare is far from over and I'll for sure be back with more information and reviews as I continue to try more products!  Maybe the whole ten to twelve-step routine isn't for you, but you can for sure incorporate some of the products into your routine to give your skin care that extra boost! Korean Skincare products have seriously won me over!

Products were provided for me for review.  All thoughts and opinion are my own.