The one most important lesson I think I've learned in my 30's is that self-care is very important. Not only is it important, I think that it's necessary for me to live my best life. I've had years where I was honestly the absolute worst to myself. Not getting enough sleep, eating garbage food, drinking and so on. As I'm getting older (eeek) I realize that self-care is a must for me.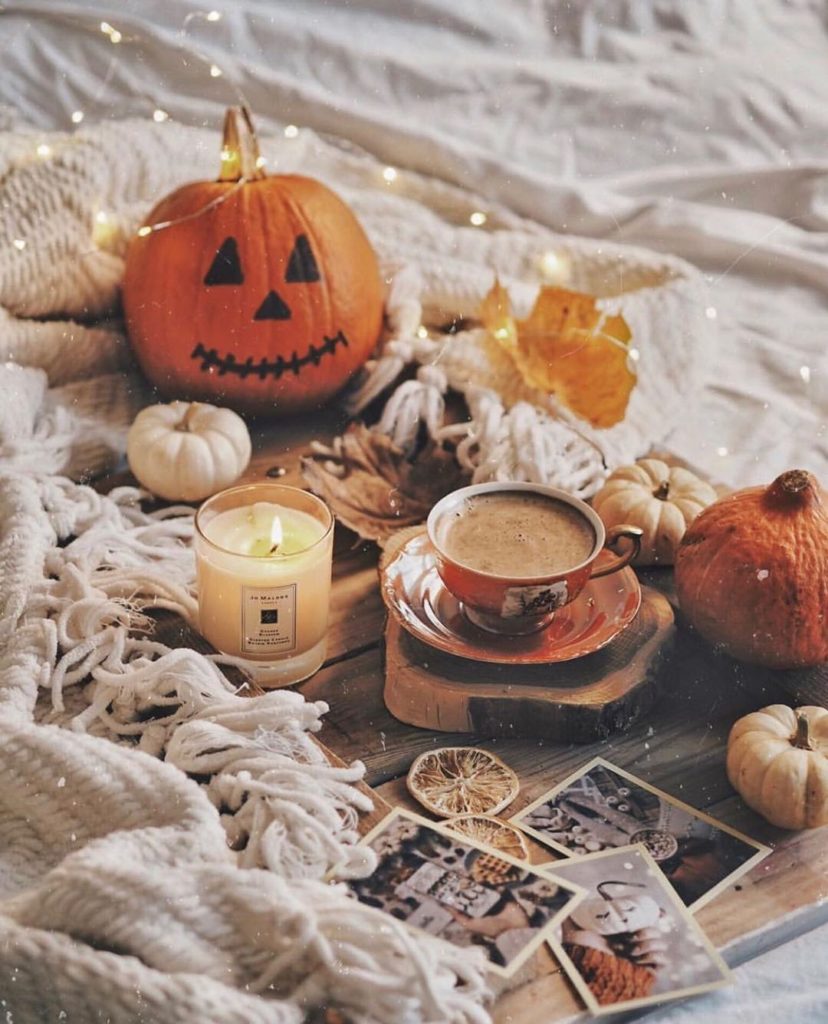 Self-care is different for everyone. I also agree that it's not all about bubble baths and face masks. So today, I thought I'd share what self-care looks like to me and how I make sure that it's a priority in my life. I hope that these tips will help inspire you, as well as encourage you to add a self-care routine into your own daily life.
My Go-To Self-Care Tips
I realize now, at 38 years old, that I have to take better care of myself. When I let myself go, it not only affects me personally, but it also has an impact on my professional life and my relationships with other people. Here are the ways that I've used self-care to better all areas of my life. I stress this a lot but small changes can mean huge changes down the road!
I Need My Sleep
My husband can function on hardly any sleep. He'll go to bed around 12:00-12:30 and wake up around 6:00 and he's wide awake, ready to go. Me on the other hand, I need at least a solid 8 hours of sleep. I used to feel guilty about this, but I can't function with less than that. I also don't nap, he does.
I've learned that we all require varying amounts of sleep in order to be a functional human being. As I always say, you do you! One of the luxuries of working from home is that I don't have to use my alarm daily. I can get up when I want to. I'm not an early morning person, but I try to be up by 8:00 most days. However, if I'm tired, I sleep. I try to pay attention to what my body needs.
Downtime is a Must
The definition of down time is a time of reduced activity or inactivity. I need downtime in order to unwind and relax a bit. Some weeks it seems that we are constantly on the go and never have days where we just lay around and are lazy. I need those days so I try to be better about scheduling them. Yep, I schedule them because that's how important they are to me.
I also need downtime daily. I try to, if at all possible, go to bed about an hour before Rob. I take that time to wash my face, relax and read before he comes to bed. I have a much harder time falling asleep than he does, so I need that downtime to relax and decompress before I fall asleep. When I don't do this, I notice I have a much harder time falling asleep.
Skincare Relaxes Me
I know a lot of people think that a good self-care routine MUST involve a good face mask. Here's the truth, it doesn't! However, I really love taking the time to do a nice skincare routine and applying a face mask. It's the ultimate form of relaxing in my opinion. Shocker, I'm not the biggest fan of baths!
At least two times a week and always on a Sunday, I'll do an extra bit of work to my skincare routine. I'll exfoliate my skin and my lips, I'll apply a face mask, and then I'll sit and read and just let the mask do it's job. The face masks that I use vary, but right now I'm currently loving Drunk Elephant's Babyfacial, Fresh Lotus Youth Mask and the Fresh Rose Face Mask.
After a good masking session, I'll normally rinse off in the shower and apply a hair mask. Sometimes I'll dry my hair before I go to bed, other times, I'll throw it in a hair towel and let the mask do it's job overnight. I also make sure to exfoliate my body and apply a really good lotion.
It's these little things that make me feel like the best version of myself and that helps me feel good about myself. Right!?!?!?
I Read A lot of Books
2019 has really been the year of reading for me. I've discovered that I'm a much happier person with the less tv I watch and instead, reading more books. I share my monthly reading lists on Simply Stine every month AND I also share a book of the month that we discuss on my podcast, Influenced The Podcast.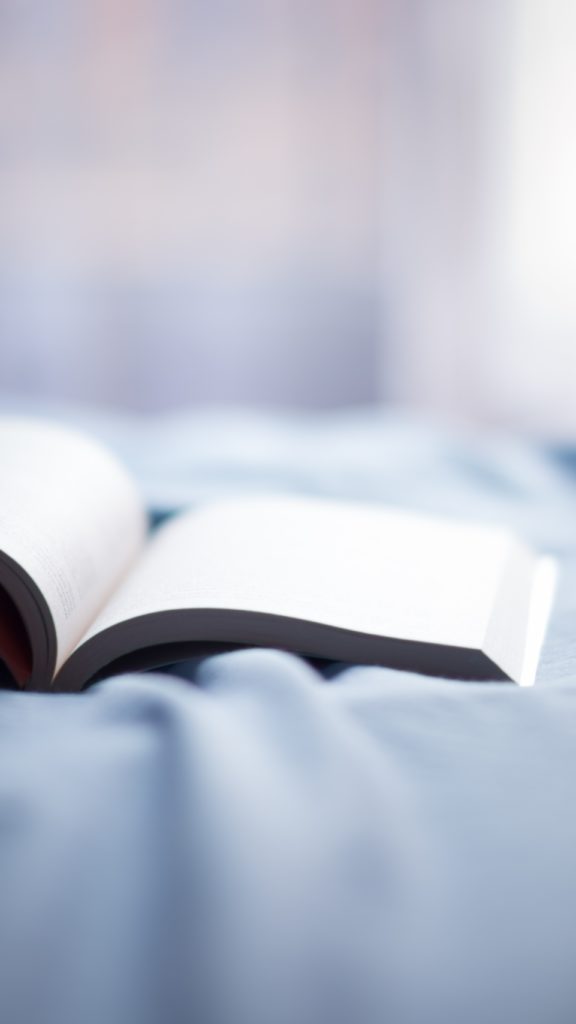 I'm a member of BOTM, where I get to pick a book every month and I have the option to add extra books to my order for only $9.99 per book. The monthly subscription cost is so much less than the actual cost of a hardback book in the store. I love it and it helps keep me books and authors I might not normally have access to available to me. Want to join? If you use this link, I get a free book and you get your first month for $5.00! (affiliate link)
I set a goal of reading 40 books this year and so far I'm at 42! If you want to follow me on GoodReads, I share what books I have my eye on and other books I've read.
When I Eat Like Garbage, I Feel Like Garbage
I shared recently that I was participating in 8 weeks of Faster Way to Fat Loss. What did I take away from that experience? That I need to incorporate healthy food more often in my food choices. That program helped me so much and I felt like I really got a good understanding of some better knowledge when it comes to eating and what my body needs to be healthier. Also, my coach was incredible!
Sure we all love a good pizza night, a glass of wine and a trip to Chick-fil-A every now and then, but when I constantly put fatty and greasy foods into my body, I feel like garbage. I've pretty much given up dairy (for the most part) and that include cutting back on cheese. I won't ever give it up totally, but I do eat it way less than I used to.
It's finding small ways of incorporating more healthy recipes, vegetables and water into my diet that makes me a better person! Eating is a form of self-care you guys and what we put into our bodies does make a difference! Also, I will not beat myself up about having a glass of wine or a piece of candy. Those are forms of self-care as well, ha!
Anxiety Issues
One of the biggest things that I've worked on in the past three years or so is my mental health. I used to think that worrying about everything (and I mean everything) was normal. In fact, I also used to think that it was normal to just want to lay in bed all of the time and cry randomly.
Talking with my doctor about my mental health and starting medication for anxiety has made such a difference for me. Sure, I still worry and I still have issues with depression that I have to keep a watch for, but I no longer feel the constant day-to-day anxieties over the smallest things like I used to. If you're struggling and feel like something isn't right or you're overwhelmed with emotions that don't seem normal, please go and talk to someone. Mental health is such a part of our self-care.
I've talked about this before, but I also use the Calm App to help with panic attacks, anxiety and sleeping. There are so many helpful resources, including guided meditations, sleep stories, calm masterclasses and more. I love this app so much, I ask for it every year from Rob for Christmas.
Outdoorsy A Bit
I'm not the most outdoor enthusiast you'll find, but right now, it's my favorite time of year to take a walk outside and get some fresh air. Every morning, I try to take Zoie for a walk. Even if it's just for twenty minutes. That makes a huge difference in my days. Working from home, sitting inside a house all day and not getting sunlight or fresh air, does take a toll on you.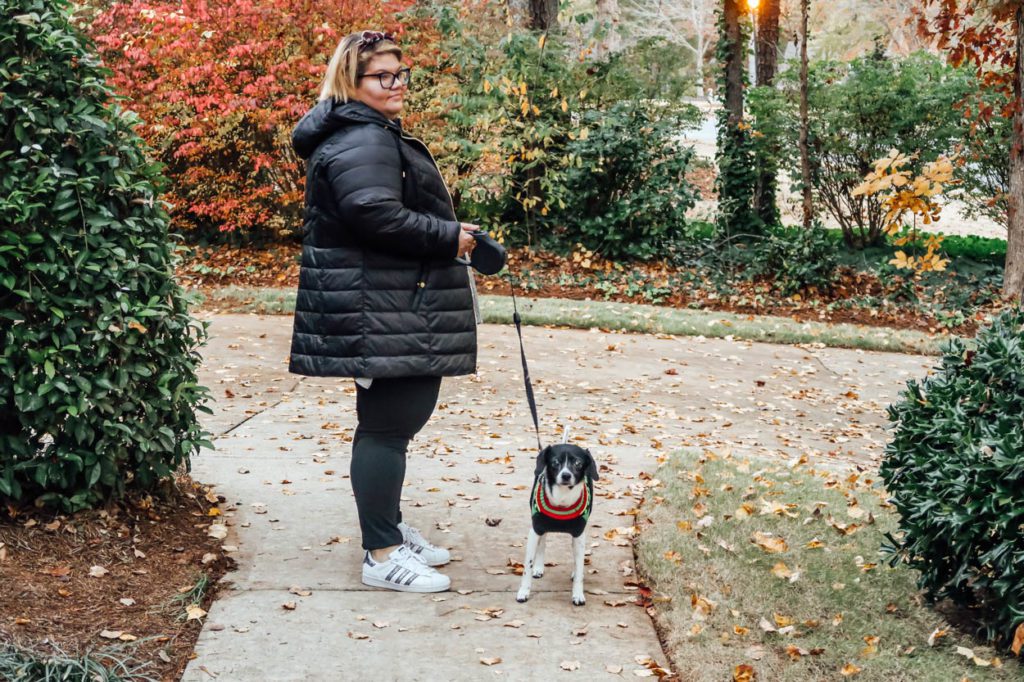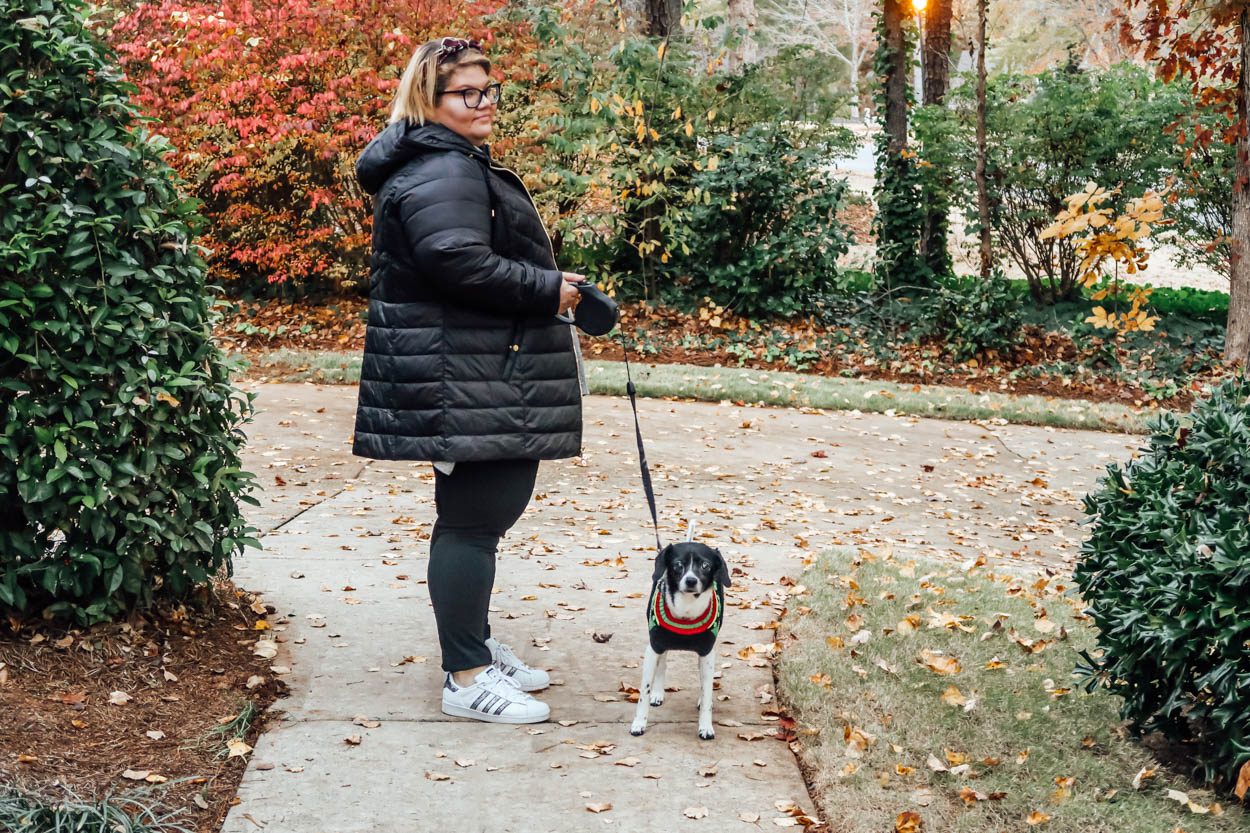 I use that time to just clear my head. Think and sometimes I'll even listen to an audiobook! (Psst…Libro.FM is my new favorite way to listen to Audiobooks!!Use my link to get yourself a free month and you'll be supporting your choice of independent bookstores!) Sometimes I'll call and catch up with a friend. The point is, just getting out of the house, away from situations that can stress you out, can be so helpful! (affiliate link)
Little Things Make a Big Difference
Little things, around the house or the office can make such a difference in your everyday life. It's worthwhile to treat yourself every now and then as improving your day to day activities is a form of self-care!
Ever notice what a good pair of sheets can do to your quality of sleep? I recently "splurged" on these sheets from Amazon and consider my nights changed for good! They cost NOTHING and have made an incredible difference in my sleep. They're soft, hold up nice even after washing them and come in a ton of different colors!
My husband just got a standing desk and he LOVES it. I know a lot of people have issues with sitting all day and have made the change to this type of desk. It's something I think is interesting and self-care can even be something as simple as choosing a desk that can allow you to do better work and feel better in your work environment! *He even got this anti-fatigue mat to stand on and now I want one for the kitchen!
This back massager has been the best accessory I've added to my office. It heats up and the massager has helped me deal with some of my lower back issues I have from sitting all day. Best part about this? It can also be used in your car! It has an accessory to be plugged in. It's incredible! Who says you can't have a moment of self-care while sitting in traffic or at your desk?!?
Using things like DoorDash, Instacart and so on has been incredible. I hate the amount of time it takes to sometimes go to the grocery store. I'll gladly pay someone a nice tip to go for me and deliver my groceries. It's not being lazy, it's using services that are available to me to help me! Taking that stress away that I used to face every Sunday, has been amazing.
Self-Care looks different to everyone, but these are some of the things that I've tried to incorporate into my life that have worked for me. It's all about finding what helps YOU be a better person. Does meditation help you? Does an outdoor walk make you feel less stressed during the day? Making self-care a priority is so important. Just remember, it looks different for all of us.
How Do You Make Self-Care a Part of Your Life?
Shop The Post