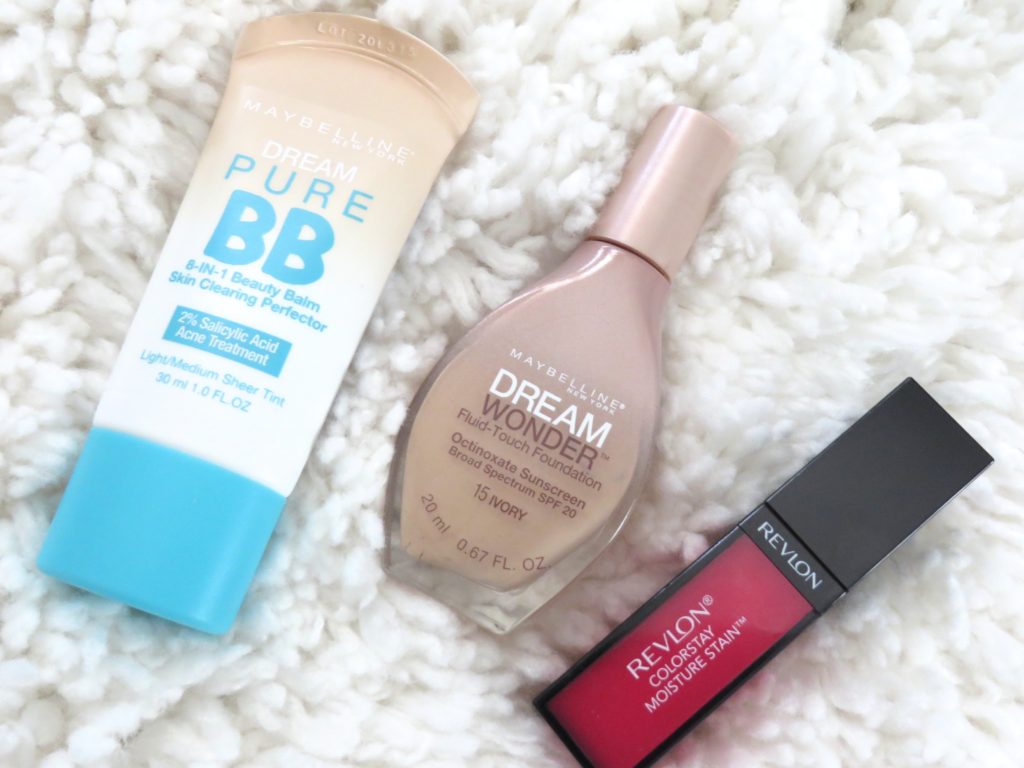 Who doesn't love a mid-week Walgreens Haul? I ran into the store quickly and happened to notice that Maybelline products were on sale buy one get one half off, so I picked up two products that I still hadn't tried yet. The Revlon Colorstay Mosisture Stain is just another color that I wanted and it was on sale for 40% off! SCORE! Those stains are becoming some of my favorite lip products lately. They are so good!! Here's what I picked up…
Maybelline Dream Pure BB 8-in-1 Beauty Balm (Light/Medium) – I still haven't use this yet, but will be giving it a try soon! I'm curious about this one! It seems like it would be great for anyone who breaks out or possibly has oily skin. I'll keep you updated! The thing I'm worried about most with this one is the color. I didn't get Light because I figured it could be too light, but you never know with these.
Maybelline Dream Wonder Fluid-Touch Foundation (Ivory) – I have worn this a couple of times and it's been great so far. It's not what I expected, but in the best way possible. If you like a foundation with pretty good coverage, but don't want it to feel like you are wearing anything, this one might be for you! This one reminds me a bit of Armani's Foundation…..So far its good, but I'll do a more detailed review soon!
Revlon Colorstay Moisture Stain (Barcelona Nights)- I love the Colorstay Moisture Stains. I recently reviewed two of them here. They are super pigmented, but unlike most other stains, they don't leave my lips feeling horribly dry. Instead, they feel really moisturized and the color lasts a seriously long time! I loved that these were on sale. Thinking about it, I should have picked up more, which probably means a trip to Walgreens again.
That was my little haul. I literally had five minutes to shop around, so it was like quick grab and go. I've been having a lot of luck at Walgreens lately. CVS used to be my jam, but Walgreens is slowly taking over. They seem to have the newest products in my area. I like showing you guys my Hauls, only because there are time when I'm trying products out and I'd like to keep you updated on what those are! That way if you have any questions or comments, you can let me know! Also, if there is anything you're curious about- Don't forget to comment below!