An email that includes the words Urban Decay and Holiday is enough to make me one happy girl!  Guess what? It's here! Let me give you a sneak peek of the new Urban Decay Holiday 2013 Collection!! Take a look! Be sure to pay special attention to where some of the items are sold.  A few are exclusive to Sephora or Ulta ONLY!! Get ready, there's a lot!!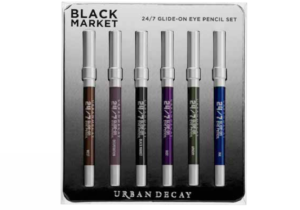 The NEW Urban Decay 24/7 Glide-ON Eye Pencil Set features six of their 24/7 Glide-On Eyeliner Pencils. Love dark, smoky shades? Then this is the kit for you.  These eyeliners are creamy, waterproof and very pigmented.  Here is a description of the shades
*WEST: Dark Brown Pearl
DESPERATION:Deep Taupe-Gray Matte
*BLACK MARKET: Charcoal Black Satin
*RIOT: Smoky Gray Matte With Violet and Fuchsia Micro-Sparkle
*APATHY: Metallic Olive Green Shimmer
*INK: Deep Navy Blue Satin
*NEW AND EXCLUSIVE
$36.00 and available from  select Sephora stores, Ulta and Ulta.com, Macys.com, Beauty.com and urbandecay.com
These limited edition all-in-one palettes includes color for your eyes, lips and cheeks, all in a gorgeous case! These travel-sized palettes are perfect for getaways! These palettes will include 5 Shades of Eyeshadows, 2 Shades of Blush, a Highlighter, a Super Saturated High Gloss Lip Color (FULL SIZED!!) and a travel-sized 24/7 Glide-On EyePencil. Here's a description of the two palettes:
Anarchy: This palette's case is topped with a baroque-inspired design and an embossed silver UD logo.
Eyeshadow:
*Redemption: Deep Gunmetal Satin
*FRAY: Warm Mauve Matte
*Vaporize: Deep Metallic Gray-Taupe Shimmer
PROVOCATEUR: Light Metallic Mauve Shimmer w/ Multi-dimensional Micro-Glitter
*REVOLOT: Bright Metallic Silver Shimmer w/ Silver Micro-Glitter
Blush:
FETISH: Mauve-Pink
QUICKIE: Bright Pink
Highlighter
*CRAZE: Pale Gold Shimmer
Full Sized Super Saturated High Gloss Lip Color
SCANDAL: Bright Metallic Raspberry Shimmer
24/7 Glide-On Eye Pencil
PERVERSION: Blackest Black Matte
SHATTERED: This case features a shattered glass design and a purple embossed UD logo.
Eyeshadow:
*NAMELESS: Medium Gray-Brown Satin
*REMIX: Rich Purple Shimmer with Tonal Micro-Glitter
*SHAKEDOWN: Rich Brown-Gunmetal Satin
*MINOR SIN: Champagne-Pink Satin
*BLEACH: Yellow-Beige Matte
Blush:
*OVEREXPOSED: Dusty Rose
*TEMPER: Soft Baby-Pink
Highlighter:
*GLINT: Soft Pink-Champagne Shimmer
Full Sized Super Saturated High Gloss Lip Color:
LOVECHILD: Cool Pink Cream
24/7 Glide-On Eye Pencil:
ZERO: Zealous Black Cream
These double-layer compacts keep everything organized and prevents the shadows from mixing with the blushes and highlighters. Lift the lid to reveal the first tier, which houses the shadows, the lip color, the eye pencils and a big mirror. The lower tier will hold the blushes and highlighters, along with another mirror.
ANARCHY FACE CASE $44.00 and available at Sephora and Sephora STORES ONLY!
SHATTERED FACE CASE $44.00 and available at Sephora , Ulta, and online at Sephora, Ulta, Beauty.com, Macy's and Urban Decay
Heavy Metal Glitter Eyeliner provides a heavy dose of glam-rock-minus the frequent stints in rehab.  Remember these from a while ago?? These are the same formula as before, just with a hot new look and two new shades.  This water-based build-able liner contains super fine glitter in a clear base that dries super quick and won't move. You can wear these alone or apply it over eyeshadows. Don't be afraid to mix a couple of shades to create a totally new color! Take a look:
MIDNIGHT COWBOY: Beige Glitter
GLAMROCK: Silver Glitter
DISTORTION: Iridescent Glitter
ACDC: Bright Purple Glitter
SPANDEX: Deep Blue-Black w/ Iridescent Glitter
AMP: Light Blue w/ Iridescent Glitter
JUNKSHOW: Bright Pink w/ Iridescent Glitter
The glitter is suspended in a gel, so it won't separate in the bottle. So no need to shake the bottle! Peach and Cucumber extract condition the skin, while carrot extracts smooths and softs.
$19.00 and available from Sephora, Ulta and Select Macy's Stores. Online at Sephora, Ulta, Macys, Beauty.com, and Urbandecay.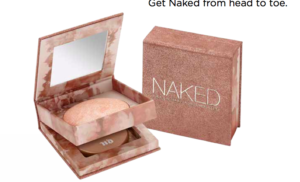 Urban Decay has the perfect description of this product:
" Ever wanted to get that gorgeous Naked flush all over? This Soft, Glowing Beige powder contains a sophisticated, microfine shimmer worthy of the Naked name. Dust on the naked Illuminated Shimmering Powder anywhere you want to create an instant Naked glow.  This smooth, silky powder contains light-reflecting particles that create a luminous, radiant look. Like the perfect quickie, it gives you a sexy, just-finished flush that will have people asking what (or whom) you've been doing."
This product comes in a beautiful rose-gold box (think Benefit Beauty Blushes. It's very similar packaging, which I happen to love.)It's small enough to fit in the palm of your hand and includes a  mirror and brush, which is housed in a separate compartment underneath the powder. I'm really curious to see how the brush is with this product.  This is a lightweight, shimmery powder that is baked on a terra cotta disc for 24 hours and then hand-finished, just like the Baked Bronzer.  Baking the formula gives the naked Illuminated Shimmering Powder just-enough shimmer and doesn't give off the metallic look of cheap formulas. This product is going to give you the color payoff of a loose powder, but in a pressed powder formula.
I'm very excited to try this product! I have loved the Naked line of products Urban Decay has released and I'm sure this one will be a very popular item as well.
$29.00 and is available ONLY at Ulta stores or online and Urban Decay.
Do you remember the super popular Ocho Loco Eye Pencil set that launched last year? I didn't pick it up, but I do remember that it was sold out everywhere! Urban Decay was getting so many requests for the palette (yes, a year later) so they created a follow-up. How gorgeous is the packaging? X-Rayed flowers and a bright neon green sharpener.  I want to get this and frame it, it's so damn cute!
This limited-edition (that means hurry up and buy it ASAP, before it sells out) set features a dark, edgy rainbow of eight FULL SIZED 24/7 Glide-On Eye Pencils, including 5 new shades. Urban Decay calls this a true "collectors item." Remember when I said to buy this ASAP?? Ocho Loco means "Crazy Eight" in Spanish.  Perfect description for this set. I love the 24/7 Glide-On Eye Pencils, not just for their amazing lasting ability, but also for their packaging.  I can easily see the color of the pencils thanks to the shade-matched barrels.
Colors included in this set:
ROACH: Deep Copper Brown Shimmer
*TWICE BAKED: Rich Brown Satin w/ Gold Micro-Sparkle
*CRAVE: Deepest Brown-Black Matte
PERVERSION: Blackest Black Matte
DEEP END: Bright Metallic Peacock Shimmer
*MARS: Bright Metallic Green Shimmer
*ULTRAVIOLET: Bright Blue-Violet Shimmer
*TORNADO: Dark Eggplant Pearl
$59.00 for 8 full sized 24/7 Glide-On Eye Pencils is saving you a ton of $$. Purchasing them individually (which you can't because 5 shades are exclusive to this set) would cost you $152.00! Plus, you also get a never before seen Neon Green GRINDHOUSE DOUBLE BARREL SHARPENER, which is again, exclusive to this set.
$59.00 and is available ONLY AT Sephora and sephora.com
Oh remember the good ol' days of searching for the original Vice Palette? Chances are, if you didn't pick up that palette as soon as it was even rumored to happen, you didn't get it.  So Urban Decay followed up with the Vice 2. WOW! Even the packaging is super gorgeous. It's an abstract orchid design that is applied with a special process, so that means no 2 palettes are the same! It also features a huge mirror and a full sized-brush.
The Vice 2 Palette features 20 (YES, 20) ALL NEW Eye Shadow Shades. Urban Decay is already letting us know that this will SELL OUT! So that means, again, GO GET IT ASAP!!! Like right now…
SMOKEOUT: Dark Taupey-Black Satin
LOVESICK: BLack Matte w/Iridescent Mirco-Glitter
COAX: Medium Metallic Pink w/ Golden Iridescent Micro-Sparkle
X-RATED: Baby Pink Satin
PRANK: Deep Navy Matte w/ Turquoise Floating Pearl
MADNESS: Bright Metallic Blue Shimmer w/ Blue Micro-Glitter
STRIKE: Antique gold shimmer w/ silver mirco-glitter
STASH: Deep Olive Green Shimmer w/ Iridescent Micro-Sparkle
POISON: Charcoal Satin w/ Iridescent Micro-Sparkle
RADAR: Metallic Brown Shimmer w/ Iridescent Micro-Gitter
DAMAGED: Bright Metallic Emerald Shimmer
VOODOO: Metallic Purple Shimmer w/ Iridescent Purple Micro-Glitter
BETRAYAL: Bright Purple Satin w/Blue Shift
DERAILED: Medium Metallic Taupey-Brown Shimmer
DOPE: Warm Champagne Satin
TOXIC: Metallic Copper-Pink Shimmer w/ Tonal Micro-Glitter
HABIT: Light Nude Matte
AMBUSH: Metallic Brown Satin
REWIND: Medium Brown Matte
The Vice 2 Palette also comes with a double ended Good Karma Shadow and Crease Brush, which is actually a really nice brush. I got this brush in my Naked 2 Palette and use it quite often.
$59.00 and is available from Sephora, Ulta and Select Macy's Stores. Online at sephora, Ulta, beauty.com, macy's and urbandecay.com
What are you most excited to pick up? Have you placed an order yet? I'd love to hear what you guys are thinking of the new collection!! The Holiday's are here!!! Stay tuned for more Holiday Exclusives!!
-Simply Stine
**All images are from Urban Decay.  They were provided to me in a Press Release.