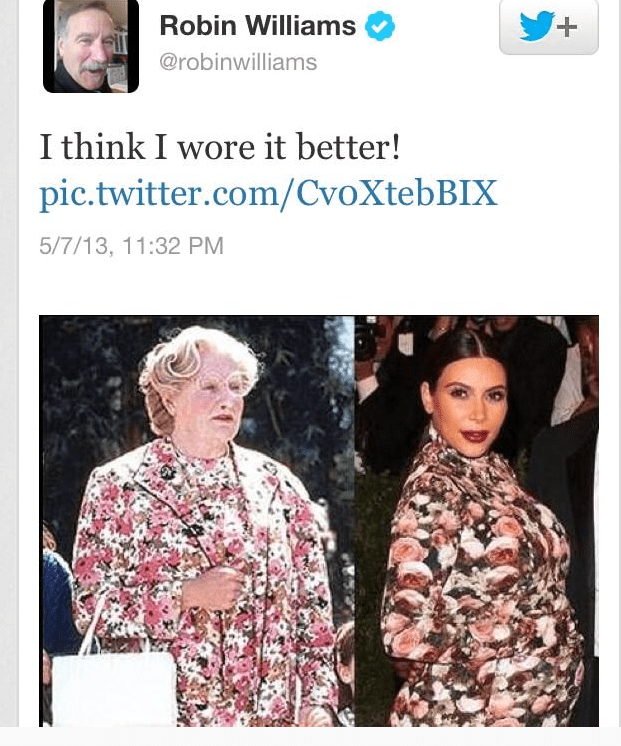 Image Source
Today's Truthful Tuesday post is all about Robin Williams.  He was an actor that people loved.  It would be impossible for me to not talk about his amazing list of accomplishments when it comes to his acting career.  Dead Poet's Society, Aladdin, Mrs. Doubtfire, The Birdcage, Good Will Hunting, August Rush, Patch Adams, What Dreams May Come, Jumangi, Toys, Ferngully, Hook, The Fisher King, Awakenings, Good Morning Vietnam and so many more.  This isn't even talking about his career in the TV industry (Mork & Mindy) or his stand-up comedy accomplishments.  Robin Williams also supported a variety of Charities including Comic Relief, The Reeves Foundation, St. Jude's Hospital, The USO Tours and so many others.  His entire life was about making me people laugh and I think that this one hits us all.
I remember watching The Birdcage with my ultra-conservative grandmother. I had never seen her laugh so hard. Every single time I watch that movie, I remember how a movie about gay men was something that even made her laugh.  Seriously though, that scene when he is trying to teach Nathan Lane's character how to be more like a "man." Perfection.
Since it's my Truthful Tuesday post, I want to be truthful.  I lost my Uncle to suicide.  He was the funniest guy I knew.  He could make you laugh in a second.  So I pray for Rob Williams family and friends.  It's a tragic and horrible way to lose someone you love.  Make sure that if you need to talk to someone, seek help.   Depression is a serious illness that affects so many people.  This is just another example of losing another great one because of this disease.
These are some of my favorite movies that Robin Williams was in.  What was yours?
"
It's so difficult to describe depression to someone who's never been there, because it's not sadness. I know sadness. Sadness is to cry and to feel. But it's that cold absence of feeling— that really hollowed-out feeling.

" -J.K Rowling