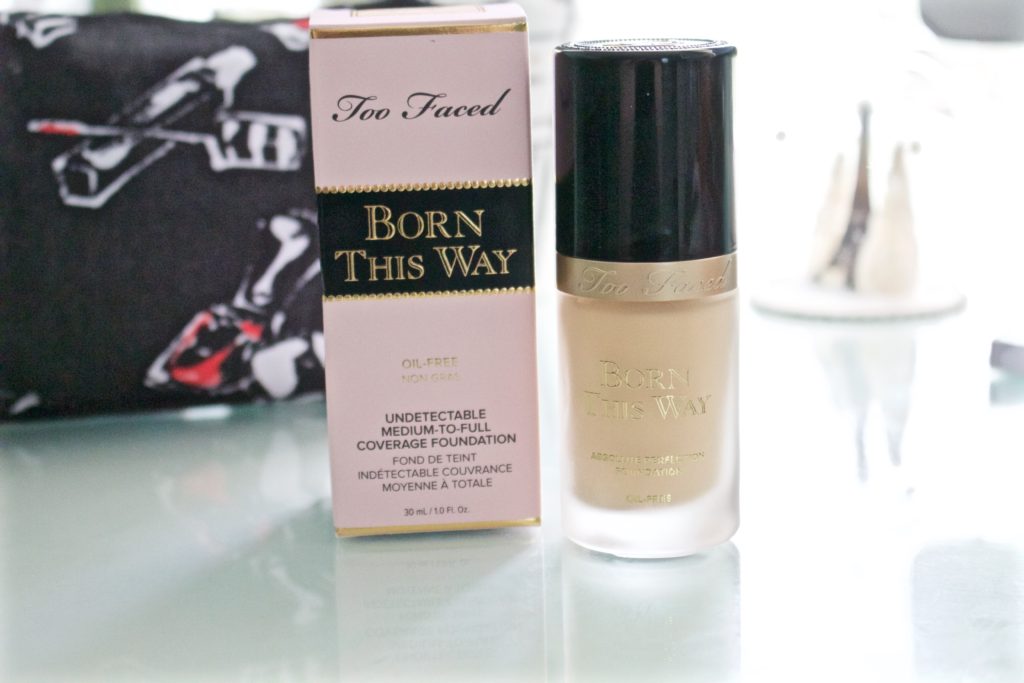 I haven't been this excited about a foundation launch in a long time.  The new Too Faced Born This Way Foundation has seriously impressed me way more than I thought it would.  I've had it now for about two or three weeks and I've used it over and over since I brought it home. Putting my normal go-to's aside.
Too Faced Born This Way Foundation is an oil-free foundation that delivers medium to full coverage.  I love this foundation because it offers me a really good amount of coverage, but it doesn't feel heavy on the skin at all.  It's as if you were born with amazing skin, hence the name Born This Way.  Clever, Too Faced!
This foundation feels great on the skin thanks to the coconut water which helps the moisture levels in the skin, alpine rose which brightens your complexion and also the hyaluronic acid that will help fine lines and wrinkles.  I have what I'd consider combination, sensitive skin and I've worn this with and without a primer.  For me, going with a primer ensures the longest wear with this foundation and even with primer on, I still noticed my pores popping up later in the day.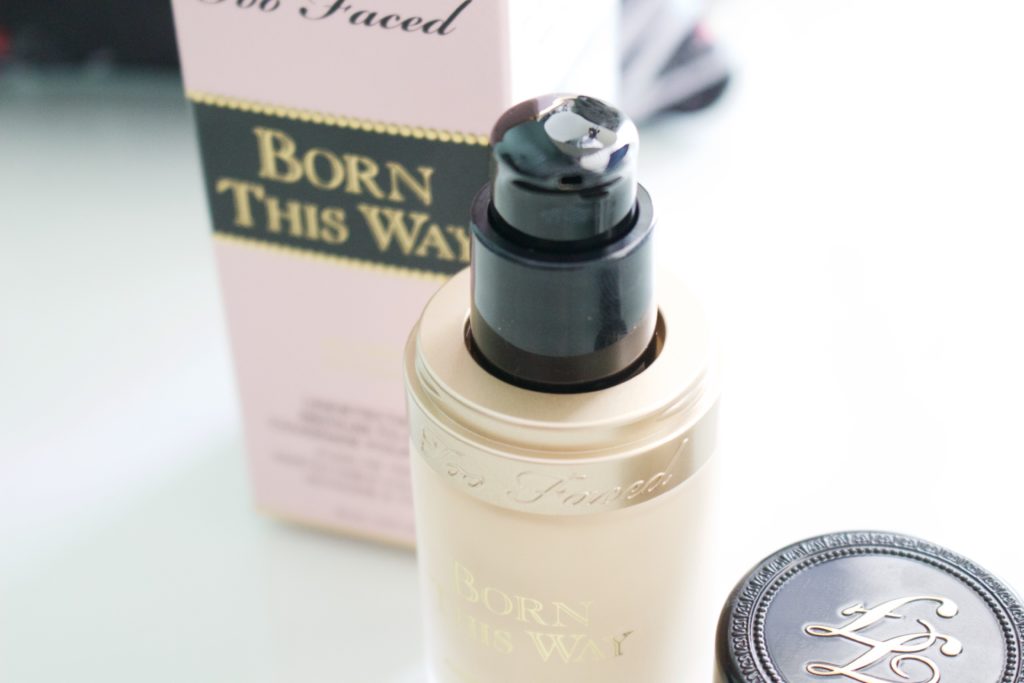 A good piece of advice with this foundation is that you really need just a very small amount of product to even get a medium coverage.  A little bit of this goes a really long way! I typically apply a dot on both cheeks, forehead and my chin. That will give me a nice medium coverage, but if I want more, I just go over the area one more time and I've got a nice full coverage foundation look.  I wear the shade Vanilla  (fair/light with neutral to pink undertones) and it's a perfect match for my skin tone right now.  There are a decent amount of shades to select from (12 I believe) so you should be able to find a good match.  IF NOT, they are releasing new ones this Fall. Both lighter and darker shades!
I've applied this with a foundation brush, sponge and my fingers.  I prefer the sponge to be honest.  I like the natural finish it provides, but a good foundation brush (one that is not so dense) that allows you to really buff it into the skin will do the job as well!  It doesn't seem to set into the skin too quickly, so you have some time to really work this into the skin and blend it nicely. You'll look at your face and wonder "where is the foundation" and that's because this foundation mimics "good" skin so well, that it appears that you aren't wearing any foundation.
[line]
PROS:
Incredible coverage from just a small amount of product
Gives a very natural "born with this skin" finish
Good selection of shades available (more coming soon)
Glass packaging with a pump
Price is not too high and the bottle will last a long time
No scent that I noticed
CONS:
In really hot, humid weather this wasn't the longest lasting on me (but it was seriously hot!!!)
I did notice some issues with my pores (way later in the day)
1-10 Rating:
I'd give this a 8.5!  The only reason I'd not give it a ten was because in the super hot heat and humidity, it didn't last as long as I wished it would have, BUT that doesn't mean I don't love this foundation any less. I did happen to notice some issues with my pores, even with primer, but it wasn't until about 7.5 hours after I had first applied the foundation. I love the finish of this foundation and the coverage is fantastic.
[line]
I filmed a video of me using this foundation.  It was a quick, not so greatly filmed video, but I just wanted to get one of me actually using the product before I ran out of time! I'll list the products that i used below as well!
[line]
Products used for this look:
Too Faced Born This Way Foundation (Vanilla)
E.L.F. Makeup Mist & Set Spray
Milani Romantic Rose
The Body Shop Honey Bronzer 01
theBalm Mary-Lou Mainzer
Sonia Kashuk Brightening Powder
Bobbi Brown Skin Smoothing Pore Perfector
Urban Decay Baked Skin Concealer (Fair/Neutral)
Sigma Brushes: F60, F30 and F40
Real Technique Brushes: Multi Task Brush, Stipping Brush and their Miracle Complexion Sponge
Beauty Blender (Mini)
Anastasia DipBrow Pomade in Soft Brown
YSL Babydoll Mascara
Laura Mercier Artist Palette
Kat Von D Lovesick Liquid Lipstick (Seriously obsessed with this lately!!)
[line]
Too Faced has really impressed me with the Born This Way Foundation.  I haven't loved a foundation this long in quite some time.  I love the finish of the makeup and I love that it actually looks like my skin.  I will probably have to pick up a lighter shade for the Fall and Winter, but for right now, Vanilla is working perfectly for me! If you're in the market for a new foundation and you're looking for an oil-free, medium to full coverage product; I think you will really enjoy this one!
Too Faced Born This Way Foundation retails for $39.00 for 1 fl oz.

Affiliate Links Included