It's that time of year again when I am transitioning into my fall/winter skincare routine. For me that means more exfoliation and lots of hydration. I have been using this peeling gel and it's impressed me so much that I wanted to devote an entire post to it.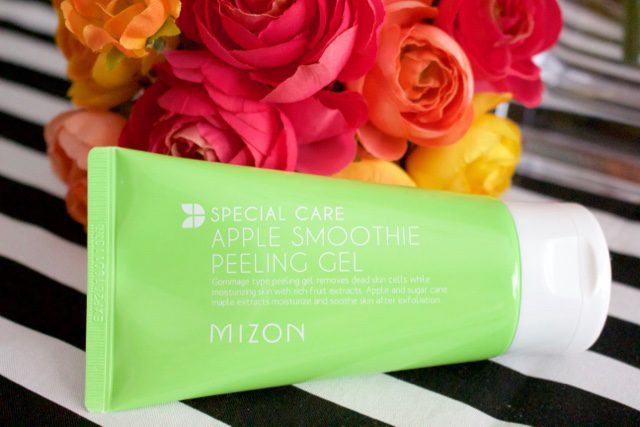 Peach & Lily sent me the Mizon Apple Smoothie Peeling Gel and it's been love ever since I first used it. If you're like me and you suffer from extra sensitive skin, but you're still wanting to get some exfoliation and help with pores and pesky skin, this is the product for you. Even if you don't have sensitive skin, this is a product for you. It's great for all skin types.
The Mizon Apple Smoothie Peeling Gel features natural papaya extract which help to "eat away" at the dead skin. It also contains apple extract (natural AHA) which helps to exfoliate the skin, leaving it soft and radiant. There are no microbeads or harsh chemicals in this formula.
For best results, use this peel two to three times a week. I take a small amount to clean, dry skin and rub it in circles on my skin. I continue massaging the product into my skin until I start to feel the product ball up on my skin. Don't be concerned when you see this happen, it's totally normal! I leave it on for about two minutes and then I rinse with warm water. Afterwards, my skin is super soft and so much more clear and brighter than I started.
For under $20.00, the Mizon Peeling Gel has taken care of numerous issues I struggled with when it came to my skin. I no longer have to worry about having dry patches on my skin and my complexion seems so much more radiant and soft. This is a great product to add to your skincare routine, especially now, as a lot of us will start to struggle with dry patches and irruptted skin as it gets colder!

Product sent to me for review. All thoughts and opinions are my own.
[show_shopthepost_widget id="1967227″]