Ready for a totally random list of five things I'm loving right now? Today is your lucky day. I've seen this trending on Instagram and thought I would just make a blog post out of it. Here are five things I'm loving right now, in no particular order.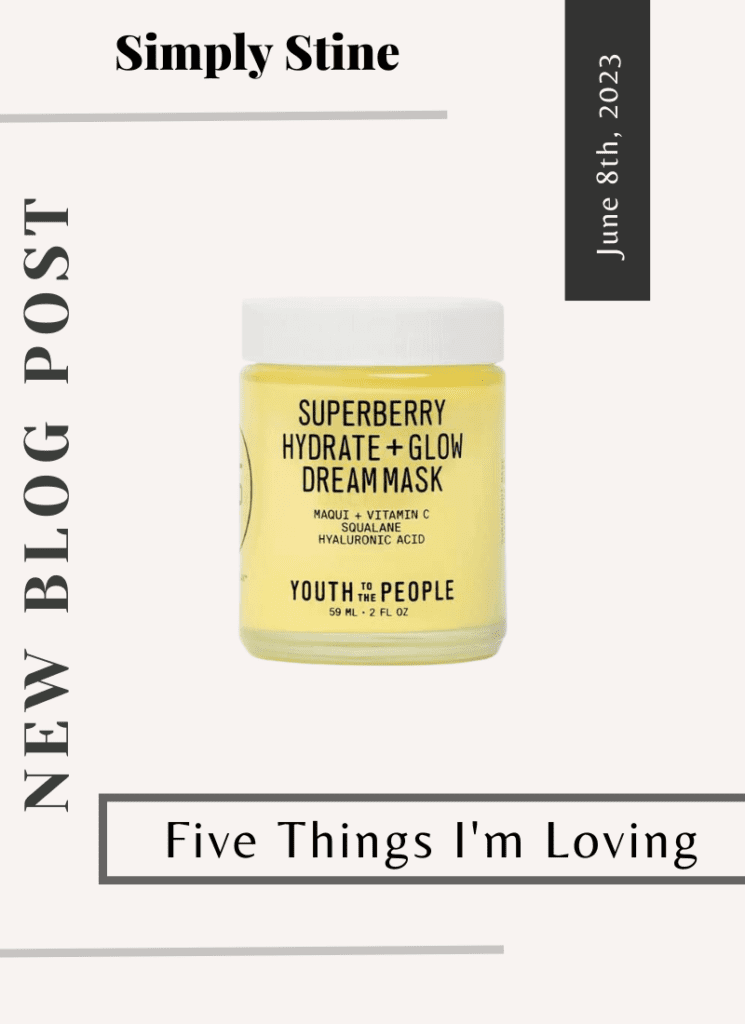 This moisturizer is fantastic. I had seen Meg O talk about it on her social media for so long that I finally picked it up. For me, I probably don't ever need to try a new moisturizer ever again because this is legit amazing. This is a lightweight moisturizer that is full of great ingredients (ceramides, hyaluronic acid, etc) that hydrate your skin. It's perfect for those with sensitive skin types as well since it's fragrance-free and doesn't contain the usual ingredients that can really irritate the skin.
The consistency of this is a gel cream, so it's somewhat of a runny texture. It dries down pretty quickly and doesn't leave my skin greasy at all. I was using a way more expensive product that is known to be for sensitive skin types and this is so similar for under $15.00.
I have been LOVING my Scribd membership. It has everything from e-books, audiobooks, magazines and more. Right now I'm listening to Fourth Wing, which is a super popular book right now. I've read (and listened) to everything from Taylor Jenkins Reid, Sierra Simone, Lauren Asher, and more. *I finished Fourth Wing and OMG it's so good!*
I pay for this membership (not free!) and find it to be worth every penny. It's $120 a year or $11.99 a month. Right now, if you use my link, you can get 60 days for free! I believe I earn a month for free as well. If you're a reader, this is so worth it! I'm beyond impressed with it.
I really think that a good setting spray can make a huge difference in your makeup look lasting; especially on those hot summer days. I have used so many makeup setting sprays and I have to say that I think that the Milani Make It Last Setting Spray is very similar to (the way more expensive) Charlotte Tilbury Makeup Setting Spray. I like to use this before and after I apply my makeup. It helps to lock in the products and for the most part, I can get a pretty long wear out of my makeup, even in the humidity!
Some tips for applying a makeup setting spray:
DO not spray super close to your face. We just need to mist the face, not soak it.
I typically apply four sprays of this per application and use a fan (I have a small one at my makeup desk) to dry it.
Some makeup sprays work better for me than others. There are different finishes available (matte, dewy) so find one that works best for your skin type.
Every.Single.Time. I wear this lotion someone comments on how good I smell. Even my FIL who never likes the way anything smells complimented me when I was wearing this. I bought this because someone on IG commented that they loved how it made their skin look in the sun. I had no idea how it smelled and blind bought it during the Sephora Sale. I'm really glad I did.
I love the original Bum Bum Cream by Sol de Janeiro. This smells totally different. It has tuberose and leite de coco for fragrance. Someone said that they thought it reminded them of Baccarat Rouge 540 and I think I can see the similarity. It's a warm fragrance, but also floral?!?
NOW HERE'S THE KICKER. This doesn't illuminate like I thought it would. When I first used it, I didn't notice anything until I was in the sun and I noticed that my skin had a bit of sparkle to it. So in that sense, I was a tad bit disappointed in it. However, I love the smell so much and it really does leave my skin hydrated. I think I'd pair this with an oil first if I really wanted my skin to illuminate.
It smells fantastic and I'm loving it at the moment.
I'm not really a person who typically enjoys tonics, seltzers or anything like that. Give me a cold can of diet coke any day over sparkling water, etc. One day, I randomly picked up the Tropical Punch flavor of Olipop at Publix and fell in love. It's like fruit punch and took me back to my childhood where we crushed Hawaiian Punch. So I continued my taste test, which I've shared on IG, ranking the flavors.
Olipop combines botanicals, plant fibers, and prebiotics. I'm not going to get into any of that, but it's a good alternative to slamming back Diet Coke all day long. I'm currently searching for their new Watermelon flavor, which I've yet been able to find.
The Lemon Lime, Grape, Tropical Punch, and Orange are my favorite. They have quite a few flavors to choose from! They are in the refrigerated section at most of my stores. I tend to pick mine up at Fresh Market, Whole Foods or Target.
Other Items That Almost Made It…..
Shop The Post