I love Sunday's because it's a day where I get to be creative and have fun in the kitchen. My husband watches either the Chicago Bears or the Atlanta Falcons play football and it's been a tradition that I make snacks for the games. It's something I love doing and it's been fun coming up with a new recipe to prepare for gamedays. I thought rather than keeping those recipes to myself, that I'd share them with you!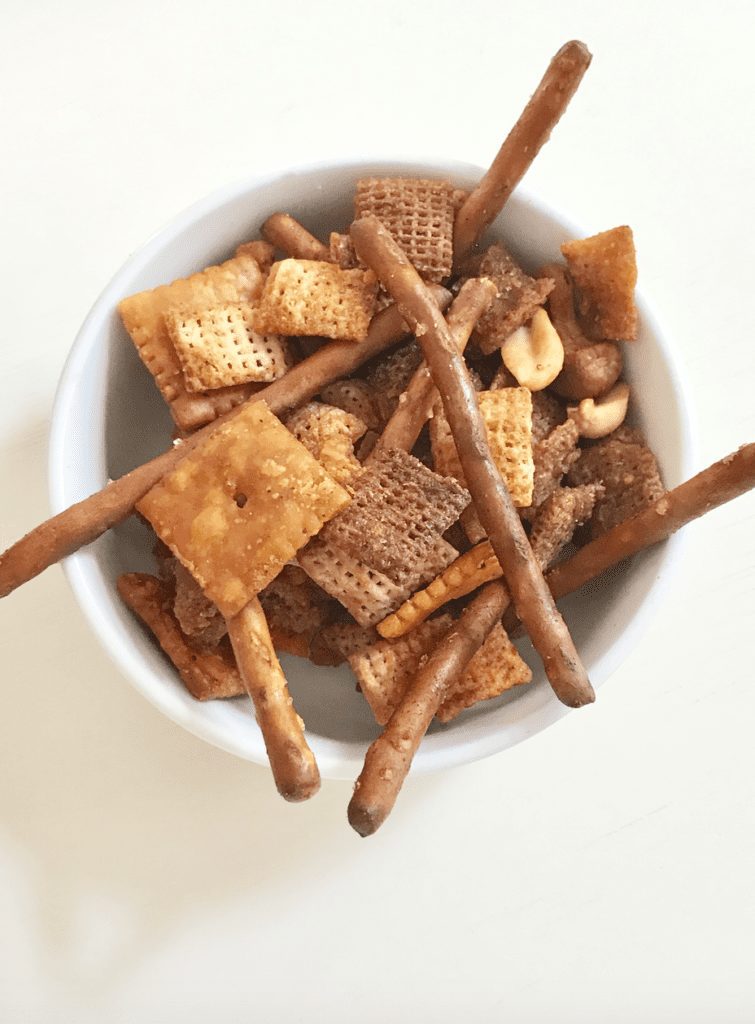 The Best Buffalo Chex Mix Recipe
One of the recipes that I've been preparing lately has been my Buffalo Chex Mix Recipe. It's tastes so good, not spicy at all and it's so easy to prepare. It doesn't involve that many ingredients and it can be prepared in under 30 minutes. It also goes great with just about everything you'd normally be snacking on. Actually, I'm having some now, ha! It's so good! This would be a great Thanksgiving or Christmas snack to have on hand!
The Best Buffalo Chex Mix Recipe
Ingredients
3 Cups Corn Chex Mix
3 Cups Rice Chex Mix
1-2 Cups of Pretzels of your choice (I use sticks)
1 Cup Mixed Nuts
1 Cup (or more ) of Cheese-Its
6 TBSP Butter
3 TBSP Buffalo Sauce (add as much as you'd like, this keeps it pretty mild)
2 tsp Seasoning Salt (I've used Ranch Mix before also and it's great)
Instructions
Melt the butter and add in the buffalo sauce and the seasoning salt. Stir to mix together.
In a large bowl (microwave safe), add the cereal, cheez-its, pretzels, mixed nuts in a bowl and pour in the butter mixture and stir. Microwave for two minutes or so.
Take the mixture and place on a large baking sheet and broil on high for about five minutes. Make sure to keep an eye on the mixture. You just want it crispy enough, but obviously not burnt.
Allow to cool before eating!
https://www.simplystine.com/the-best-buffalo-chex-mix-recipe/
This recipe is easy to prepare and great to have on hand for snacking purposes! I feel like it's the type of recipe where you can really personalize it to your liking. Sometimes I don't add in pretzels, but I'll add in more mixed nuts instead.  I just try to work with what I have on hand and go from there.  So feel free to have fun with the ingredients! Enjoy!