Have you put together your Summer reading list yet? I'll be going to the beach soon and I need some good beach reads so I decided to share the books that I came up with that I'm hoping to finish by the end of Summer. I've got the typical romantic beach reads and also some good suspenseful books as well!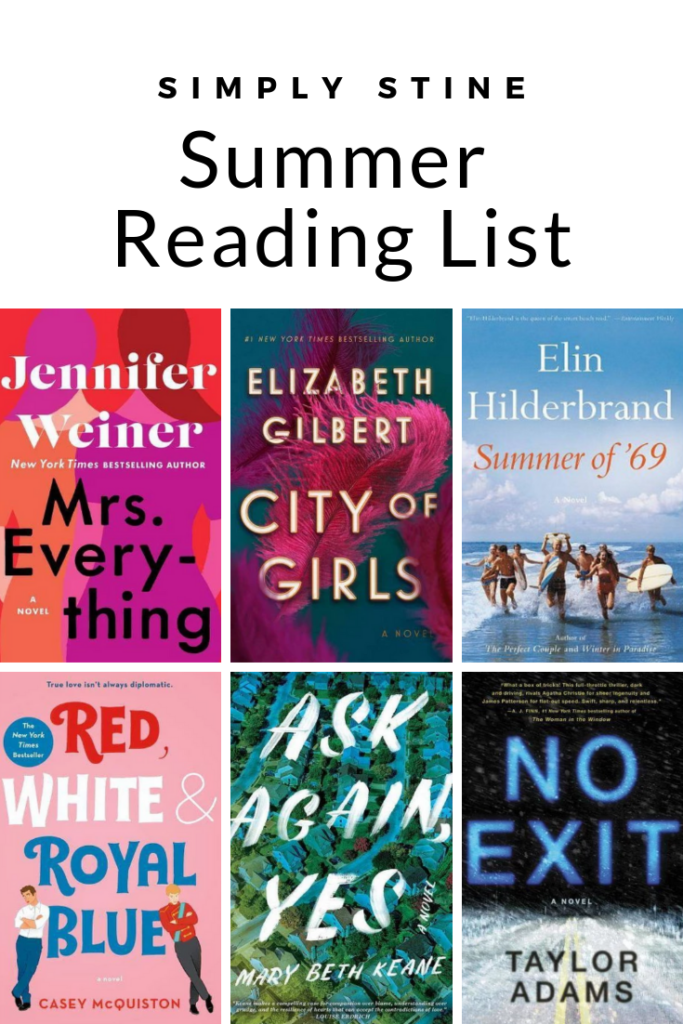 This was one of my latest Book of the Month picks and I'm excited to get into it! I have previously read books by Elin Hilderbrand before and I feel like she is queen of a good beach read.
Plot Summary:
Welcome to the most tumultuous summer of the twentieth century. It's 1969, and for the Levin family, the times they are a-changing. Every year the children have looked forward to spending the summer at their grandmother's historic home in downtown Nantucket. But like so much else in America, nothing is the same: Blair, the oldest sister, is marooned in Boston, pregnant with twins and unable to travel. Middle sister Kirby, caught up in the thrilling vortex of civil rights protests and determined to be independent, takes a summer job on Martha's Vineyard. Only-son Tiger is an infantry soldier, recently deployed to Vietnam. Thirteen-year-old Jessie suddenly feels like an only child, marooned in the house with her out-of-touch grandmother and her worried mother, each of them hiding a troubling secret. As the summer heats up, Ted Kennedy sinks a car in Chappaquiddick, man flies to the moon, and Jessie and her family experience their own dramatic upheavals along with the rest of the country. 

My first experience with Jennifer Weiner was when I read her book, Good In Bed. It's been a long time, but I remember I loved her style of writing. I was excited to see all of the buzz behind her newest release, Mrs. Everything.
Plot Summary:
From Jennifer Weiner, the #1 New York Times bestselling author of Who Do You Love and In Her Shoes comes a smart, thoughtful, and timely exploration of two sisters' lives from the 1950s to the present as they struggle to find their places—and be true to themselves—in a rapidly evolving world. Mrs. Everything is an ambitious, richly textured journey through history—and her story—as these two sisters navigate a changing America over the course of their lives.
Raise your hand if you loved the book (and movie) Eat, Pray, Love?!?! A lot of people did and she's got a new book out called City of Girls, which has been receiving a ton of great press. I'm VERY interested to read this book!
Plot Summary:
In 1940, nineteen-year-old Vivian Morris has just been kicked out of Vassar College, owing to her lackluster freshman-year performance. Her affluent parents send her to Manhattan to live with her Aunt Peg, who owns a flamboyant, crumbling midtown theater called the Lily Playhouse. There Vivian is introduced to an entire cosmos of unconventional and charismatic characters, from the fun-chasing showgirls to a sexy male actor, a grand-dame actress, a lady-killer writer, and no-nonsense stage manager. But when Vivian makes a personal mistake that results in professional scandal, it turns her new world upside down in ways that it will take her years to fully understand. Ultimately, though, it leads her to a new understanding of the kind of life she craves – and the kind of freedom it takes to pursue it. It will also lead to the love of her life, a love that stands out from all the rest. 
Now eighty-nine years old and telling her story at last, Vivian recalls how the events of those years altered the course of her life – and the gusto and autonomy with which she approached it. "At some point in a woman's life, she just gets tired of being ashamed all the time," she muses. "After that, she is free to become whoever she truly is." Written with a powerful wisdom about human desire and connection, City of Girls is a love story like no other.
This book has been mentioned several times by other ladies I know who love to read like I do. After reading the summary of the book, it looks very good! Have you read it?
Plot Summary:
Francis Gleeson and Brian Stanhope, rookie cops in the NYPD, live next door to each other outside the city. What happens behind closed doors in both houses–the loneliness of Francis's wife, Lena, and the instability of Brian's wife, Anne, sets the stage for the explosive events to come.
Ask Again, Yes is a deeply affecting exploration of the lifelong friendship and love that blossoms between Kate Gleeson and Peter Stanhope, born six months apart. One shocking night their loyalties are divided, and their bond will be tested again and again over the next 40 years. Luminous, heartbreaking, and redemptive, Ask Again, Yes reveals the way childhood memories change when viewed from the distance of adulthood–villains lose their menace and those who appeared innocent seem less so. Kate and Peter's love story, while haunted by echoes from the past, is marked by tenderness, generosity, and grace.
This is a good thriller that I've been seeing a lot of buzz about. I don't read a lot of thrillers, but sometimes I like to share up my book types and read something that will keep me on the edge of my seat guessing. I think this book has huge potential to do that!
Plot Summary:
From the moment Lucy met her husband's mother, she knew she wasn't the wife Diana had envisioned for her perfect son. Exquisitely polite, friendly, and always generous, Diana nonetheless kept Lucy at arm's length despite her desperate attempts to win her over. And as a pillar in the community, an advocate for female refugees, and a woman happily married for decades, no one had a bad word to say about Diana…except Lucy.
That was five years ago.
Now, Diana is dead, a suicide note found near her body claiming that she longer wanted to live because of the cancer wreaking havoc inside her body.
But the autopsy finds no cancer.
It does find traces of poison, and evidence of suffocation.
Who could possibly want Diana dead? Why was her will changed at the eleventh hour to disinherit both of her children, and their spouses? And what does it mean that Lucy isn't exactly sad she's gone?
This looked like a fun read and I love that the two main characters represent a gay romance! It's not something I see a lot of in books. Anyways, I have always loved books like the Royal We, so I thought this was an interesting spin on another royal romance book!
Plot Summary:
What happens when America's First Son falls in love with the Prince of Wales?
When his mother became President, Alex Claremont-Diaz was promptly cast as the American equivalent of a young royal. Handsome, charismatic, genius—his image is pure millennial-marketing gold for the White House. There's only one problem: Alex has a beef with the actual prince, Henry, across the pond. And when the tabloids get hold of a photo involving an Alex-Henry altercation, U.S./British relations take a turn for the worse.
Heads of family, state, and other handlers devise a plan for damage control: staging a truce between the two rivals. What at first begins as a fake, Instragramable friendship grows deeper, and more dangerous, than either Alex or Henry could have imagined. Soon Alex finds himself hurtling into a secret romance with a surprisingly unstuffy Henry that could derail the campaign and upend two nations and begs the question: Can love save the world after all? Where do we find the courage, and the power, to be the people we are meant to be? And how can we learn to let our true colors shine through? Casey McQuiston's Red, White & Royal Blue proves: true love isn't always diplomatic. 

I've been told that this is an easy read that will have you hooked as soon as you start reading it. My MIL read it and enjoyed it, as well as several other friends. I've heard it's very creepy, but a great Summer read.
Plot Summary:
A kidnapped little girl locked in a stranger's van. No help for miles. What would you do?
On her way to Utah to see her dying mother, college student Darby Thorne gets caught in a fierce blizzard in the mountains of Colorado. With the roads impassable, she's forced to wait out the storm at a remote highway rest stop. Inside are some vending machines, a coffee maker, and four complete strangers.
Desperate to find a signal to call home, Darby goes back out into the storm . . . and makes a horrifying discovery. In the back of the van parked next to her car, a little girl is locked in an animal crate.
Who is the child? Why has she been taken? And how can Darby save her?
There is no cell phone reception, no telephone, and no way out. One of her fellow travelers is a kidnapper. But which one?
Trapped in an increasingly dangerous situation, with a child's life and her own on the line, Darby must find a way to break the girl out of the van and escape.
But who can she trust?
I LOVE the Handmaid's Tale (book and series) so I'm so excited for this book to release in September. If you haven't read the book or watched the series, I think it's an incredible book to lose yourself in and the show is equally as magnificent. Also, as a woman, I think this is an important read!
Plot Summary:
When the van door slammed on Offred's future at the end of The Handmaid's Tale, readers had no way of telling what lay ahead for her—freedom, prison or death. 

With The Testaments, the wait is over. 

Margaret Atwood's sequel picks up the story fifteen years after Offred stepped into the unknown, with the explosive testaments of three female narrators from Gilead. 

"Dear Readers: Everything you've ever asked me about Gilead and its inner workings is the inspiration for this book. Well, almost everything! The other inspiration is the world we've been living in." —Margaret Atwood
Did you miss my Simply Stine Reading List from May 2019?
Check it out!
Shop My Summer Reading List