I've received quite a few messages that you guys need some stocking stuffer gift ideas. I GOT YOU! I reached out to my Instagram audience and even asked for their suggestions. I put together stockings for my mom (except this year I did 25 days of advent gifts instead, but basically stocking gifts) my nieces and nephews, my husband, and my in-laws. I feel like I've got the process down! So let me share what I typically include in stockings.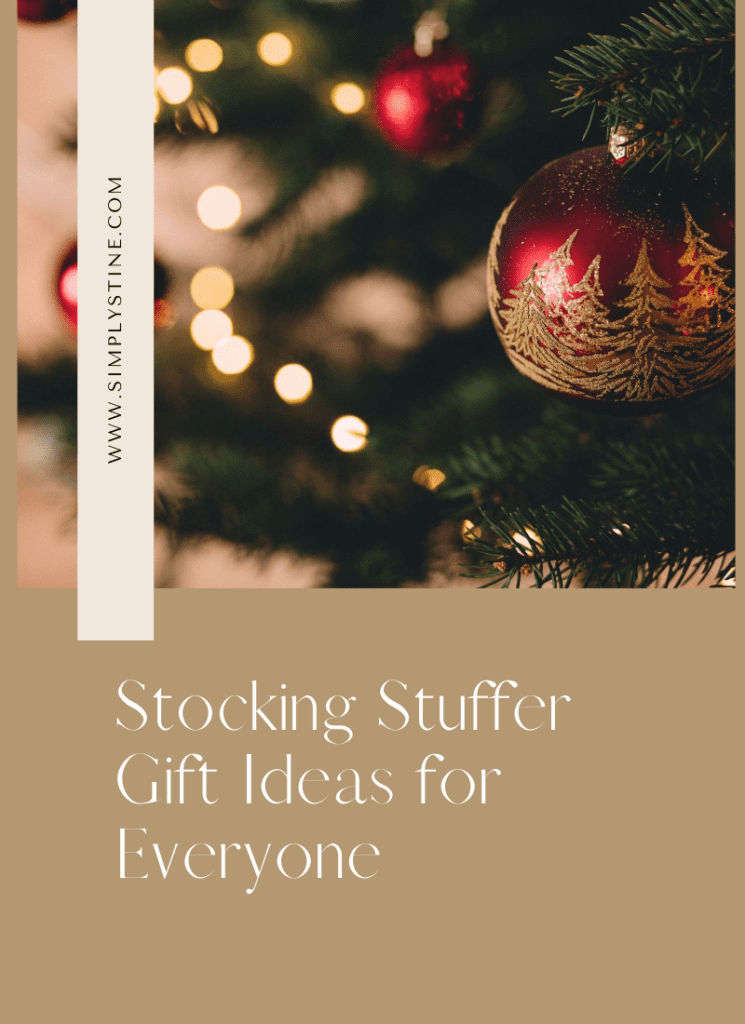 My mom (and MIL) put together a stocking that I look forward to every single year. Even Rob looks forward to them. It's nothing fancy, but every year they're consistently one of my favorite gifts I receive. They include things like deodorant, lotions, lottery tickets. post it notes, ornaments, candy from the local candy store, hair masks, etc. If they ever say they aren't doing stockings, I will throw the biggest fit you've ever seen. HA!
Stocking Stuffer Gift Ideas
Since I have so many stocking stuffer gift ideas, I'm just going to list each item on a list. I'm not going to go into major detail, otherwise it would take me weeks to finish this post. These ideas work for a variety of people and all budgets. Remember, just have fun putting these together and I think the person who is receiving the gifts will appreciate it more than you know!
Gift Cards (coffee, lunch, gas, favorite stores)
Lottery tickets (These are a hit with out family. My husband looks forward to these every year)
Socks
Toiletry items (think shampoo, toothbrush, hair masks, deodorant, body wash, perfumes)
Candy
Hand sanitizer and face masks (YEP)
Pens (I live for a good pen)
Flashlights (My husband gets very excited about a new flashlight, ha)
Stickers (kids love them, even adults! Great for planners, etc)
Seasonings and sauces if they grill (small sizes) (This is one of my favorite brands to use, small business)
Ornament
Hairbrush (The Wet Brush is so good!)
Small games (think dollar section at Target, etc)
Crayons and Markers
Makeup (Lip products, makeup brushes, mascaras, eyeliners, etc)
Coupons for babysitting (If you're a grandmother, aunt, etc)
Books (Or even book accessories)
Hand Soaps
Diamond Cleaner (This thing works!)
Candles or oils (This is a favorite candle brand I love supporting!)
Snacks (Nuts, Meats, chips, drinks, etc) (I once gave my nephew salami and he loved it and hugged it, ha)
Batteries
Pokemon Cards (My Niece is still obsessed)
Phone cases (if you know what they have and you can find a good deal)
Scrub Daddy/ Scrub Mommy (share your favorite products with others)
Pins (Our local bookstore has such a great selection)
Pictures (Even if you have your little ones draw something for your parents, etc)
Mints, Gum
Coffee (Great time to support small, locally owned coffee places)
Coffee Mugs
Wine/Beer (I go to the beer store and look at labels and choose for my husband and brothers, ha)
Travel sized liquor for cocktails (Print out a recipe card and voila, a chic stocking stuffer OR gift!)
Chocolates (My husband loves the Chocolate Covered Oreos from my hometown candy store)
Reading Glasses (Have parents that lose them constantly?!?)
Sock locks (always a favorite in our family)
Bath Bombs
Baby Doll Accessories (if you have a toddler and she loves baby dolls)
Chapstick
Stuffed Animal (They make small ones!)
Poo Pourri (A MUST and always a big hit)
Travel tissues, wipes
Fancy Laundry Detergent (they make small bottles and it's always a hit)
Water Bottles
Bookmarks for the readers
Ubereats, DoorDash, GrubHub gift cards
Chip Clips (I mean, a gift that keeps on giving)
Bath Salts (Epsom salts, etc)
Skincare (Face Masks, Eye Patches)
Puzzles, Sudoku books
Funny drinking glasses (Kids would love this)
Hair accessories (Bows, Headbands, etc)
Homemade cookies, candy (if you're on a budget, this is a great option!)
Car Wash gift card
Do you get sample size products with orders from places like Sephora? Those make great stocking stuffer gifts (perfumes, skincare samples, makeup samples)
Nail Polish (and accessories)
Tea (IF they enjoy tea)
Honestly, when it comes to stocking stuffer gift ideas, you can go crazy. To me, there are so many things that you could get, no matter what budget. So have fun with it and just think of the person that you're shopping for. At the end of the day, they will appreciate everything that you pick out! At least they should, ha. If you need some gift inspiration, check out my 2021 Holiday Gift Guides! If you have any good suggestions, please comment below!
Shop The Post