Sprinkles Cupcakes are finally in Atlanta! I have been waiting to say (and type) that sentence for so long! I got the honor of attending a free preview event today and I snapped some pictures so you guys could see what it's all about! I L.O.V.E. Sprinkles. It's been a favorite of mine for a long time. Since we didn't have any stores around Atlanta, I would beg people, mainly my mother-in-law, to bring me some home if they were traveling and there was a Sprinkles location near them. Yes, I will beg for a good cupcake. No questions asked!! Now, thank goodness, I don't have to beg for a cupcake and in fact, I can drive myself to Lenox Square Mall at 3AM and get a cupcake if I want because they have a Cupcake ATM! GENIUS!!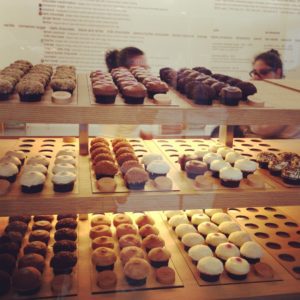 I did have to stand in quite a long line today to get some cupcakes, BUT it was totally worth it and I'd do it again if I had to. There were two separate lines going on today. One for cupcakes and the other for ice cream. I had never had the Sprinkles Ice Cream before, but I got to finally try it today and it was so yummy. It wasn't overly rich and sweet, it was just perfect. So get ready to drool at my yummy pictures and get yourself familiar with Sprinkles if you haven't already!!
The cupcakes are so good! Not crazy sweet or fake tasting, which is a huge plus for me. I picked up a Red Velvet and German Chocolate. PLUS, they let me go through the line again when I was standing with my friend who arrived late and told me to get more! So I got two Dark Chocolate Cupcakes with sprinkles. I DIDN'T eat them there. I was nice enough to bring some home for my family.  As far as ice cream, they have a ton of flavors! I tried the Cap'n Crunch and thought it was delicious, but I decided on a Sprinkles Sundae which had a Full Sized Cupcake with a scoop of ice cream. I got the Peanut Butter Chip Ice Cream with a Dark Chocolate Cupcake. It was a taste of heaven in a Sprinkles cup. DELISH!! They also have cookies now also! I didn't get to try any because they had sold out, but I did see the "display" cookies which looked amazing.
If you live in Atlanta, get yourself some Sprinkles! It's right inside Lenox Square Mall by the Nike store and the soon to be Cheesecake Factory. They have pretty awesome hours and are open pretty late, which I LOVE!  I have quite a few local favorites as far as cupcakes are concerned, so I'm curious what you guys think of Sprinkles vs. your local favorites?? I really enjoy Sprinkles and will be a regular customer. They have quality ingredients and their products are yummy! I'm also really stupidly excited about this Cupcake ATM. Like I'm going to make my husband drive me to the store one night, late, just because I can. Who doesn't want a random cupcake at 2 or 3 AM occasionally. Sprinkles has several locations throughout the US, I'll put their link up below so you can get all of their information.
I was invited to the Sprinkles Preview Event and I was provided with complimentary cupcakes and ice cream, BUT all thoughts and (delicious) opinions are my own.