If you are looking for some new cream blushes to add to your makeup collection, you MUST give the new Maybelline Face Studio Master Glaze Blush Sticks a try! I picked up shade #50, Make A Mauve, the other day on a whim and I was blown away by how creamy and pigmented these are for a drug store product. I LOVE a good cream blush because they tend to last longer on my skin and I can build up the color to get the results I want.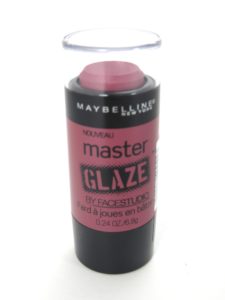 The Maybelline Master Glaze Blush Sticks feature glazed pearls and shea butter, which really allow for a very pigmented product and very easy application. When I first picked up the product, I thought this seemed like an expensive drug store product, BUT, since using them I've changed my mind. I did a generic search on Sephora's website for cream blush sticks and the search generated 3 results. Each of the products it found were easily at least $20-$30. They were bigger in size, but I purchased this product for just around $10.00. I like that I can get 2-3 of the Maybelline products for the same price as one of the products I found on Sephora's website.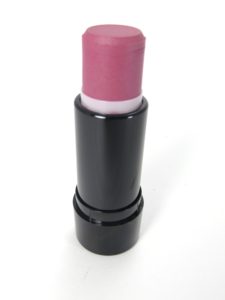 I found the easiest way to apply the product is to either start at your cheekbone and blend up or to apply with your fingers and build up to the desired color you want. I've also used this blush with a stippling brush and have gotten great results.  At first the color seems very bright and bold, BUT, you must remember to blend, blend, blend.  You can also use this product on your lips and eyes for a quick pop of color!  I love the color that I purchased, Make A Mauve.  It's a really pretty Mauve color that I can use both on my cheeks and my lips. Once the product has been applied, it doesn't feel dewy or "wet" on the cheeks or lips. It's barely noticeable on the skin as far as touch is concerned.
The whole collection contains six different colors that all look absolutely beautiful. I know for sure I'm going back to pick up Just-Pitched Pink and Coral Sheen. I snapped a quick picture of me below, wearing the Blush Stick on my lips and my cheeks. This was a barely any makeup day, but I wanted to show you the results! I've also got on the new Maybelline Master Hi-Light product.
Maybelline has been impressing me like crazy lately! I also picked up the Master Hi-Light in Nude and it's really impressive. I'll have that review for you guys this week as well.  I love it when drugstore products work out and I can save myself some money. If you are a fan of cream blushes and want to add more, give this product a try! If you have never used a cream blush before, GIVE THIS A TRY! Get the point? HA!! This is a fantastic way to give your skin a pop of color and maybe change up your look a bit. I'll snap some pictures of me when I purchase the other colors, so make sure you are following me on Instagram!
[disclaim][/disclaim]All products mentioned in this post were paid for by Simply Stine. All thoughts and opinions are my own.