"This post was sponsored by Madam C.J. Walker Beauty Culture all thoughts and opinions are my own."
Who doesn't want silky smooth, shiny hair? If you ask me, that's one of my main goals that I strive for daily. #HairGoals Since this blonde doesn't come naturally to me (HA!) and my hair isn't always straight and smooth, I have to rely on products to help get me the silky locks I aim for. I also have to use styling tools that can really do a number on my hair. Hello, frizz!!! Lately I've been treating my hair to four products from Madam C.J. Walker Beauty Culture and my hair has been signing the praises! The products that I've been trying not only smell delicious, but they do a magic spell on my hair. Seriously! I haven't seen my hair this smooth and shiny in a long time. I thought I'd give you a little information on my hair routine and how I've been incorporating the Madam C.J. Walker Beauty Culture Products into my routine!
Step One
Dream Come True Wonderful Scalp Exfoliator
If you suffer from dry scalp issues from time to time, you are not alone! Sometimes I get a little trigger happy and use my Dry Shampoo a little too much and I end up having a dry, irritated scalp with a lot of product build-up. This Scalp Exfoliator from Madam C.J. Walker Beauty Culture is meant to revitalize, rebalance and cleanse the scalp. This formula features White Flower and Warm Vanilla, Shea Butter, Olive Oil, Coconut Oil and Salicylic Acid.
To use, II add a small amount to my dry hair and massage directly onto the scalp only. Leave on for up to twelve minute and rinse! Follow up with your shampoo and conditioner. I have been using this about once a week or when I notice any flakes on my scalp. I think this might be the star of the product line in my opinion! I get really sensitive with products and product build up and my scalp sometimes feels like it's on fire. Since I've been adding this to my normal hair routine, I haven't noticed any dry scalp as of lately! I'm going to keep using this and see, especially in the Winter, if this helps to calm down my Dermatitis.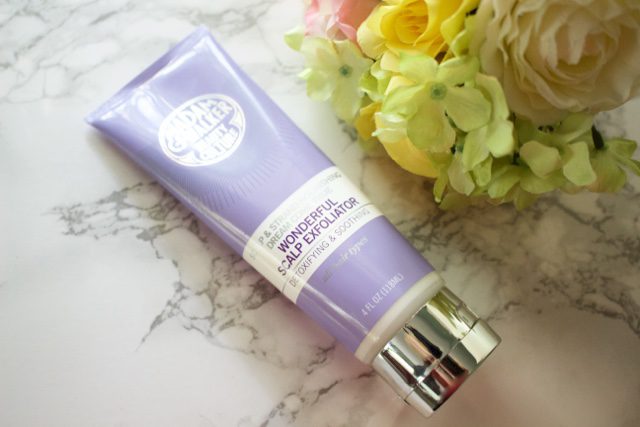 Step Two
Brassica Seed & Shea Oils Silkening Shampoo
A gentle, sulfate-free cleanser for really smooth hair! This shampoo features Brassica Seed, which is a natural alternative to Silicone, gives the hair it's smoothness and shine that we're always looking for. It also features Shea Oils help to hydrate and protect the hair from heat damage without leaving behind product on the scalp or weighing the hair down. Oat Pepties are used in this to help strengthen the hair as well as Sage, which helps to support a healthy scalp. The one thing that I love about this product line is the scent. It features Spun Sugar and Red Velvet Cream. It smells so good!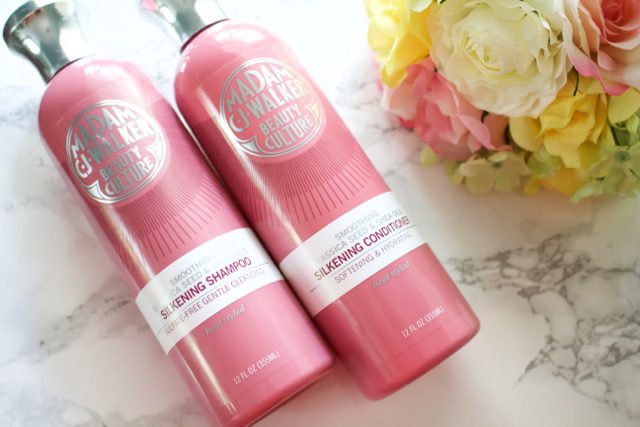 Step Three
Brassica Seed & Shea Oils Silkening Conditioner
I love this conditioner. It's not super heavy, but it moisturizes my hair perfectly and leaves it so smooth! It features all of the same ingredients we love in the Shampoo, but also Jojoba for an added slip for simple styling and Provitamin B5 to help block moisture and keep the hair shiny. I leave on for up to three minutes and rinse. I really love this conditioner because it doesn't leave my scalp irritated or with any built-up product reside. That's a major problem I have with a lot of conditioners.
Step Four
Brassica Seed & Shea Oils Silkening Blow Out Creme
We all use a blow dryer (well, most of us anyways) and that can be so damaging to our hair! Since I have the craziest waves ever, I have to blow dry and normally flat iron my hair. Since I started using this Blow Out Creme from Madam C.J. Walker Beauty Culture, I've noticed that I can skip the flat iron, which has NEVER happened. This Blow Out Creme leaves my hair soft and as soon as the heat hits my hair, it just seems to magically remain smooth and shiny. Not any of the crazy waves and frizz that normally happen when I blow dry. This bottle is serious magic. Plus, it features the Spun Sugar and Red Velvet Cream, so it also smells like dessert!
I love to use this regardless of whether or not I'm going to be heat styling my hair that day or not. When I do style my hair, it is incredibly smooth and I notice that when I flat iron my hair, I can tell it's protecting my hair. Plus, that smoothness lasts longer! Even when I curl my hair, it helps the curls look that much more smooth and shiny.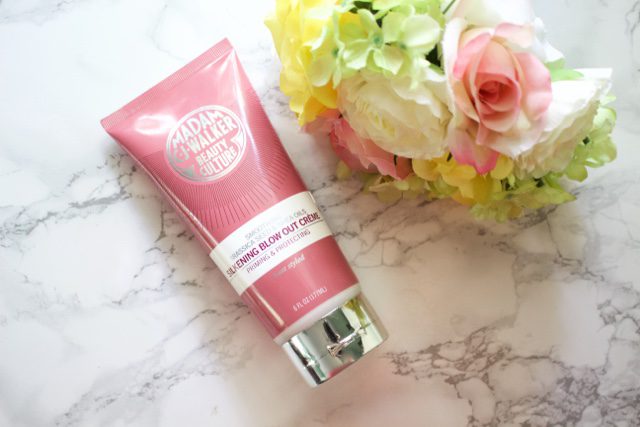 Step Five
Enjoy your lovely locks and watch as people admire the smoothness of your silky hair!!!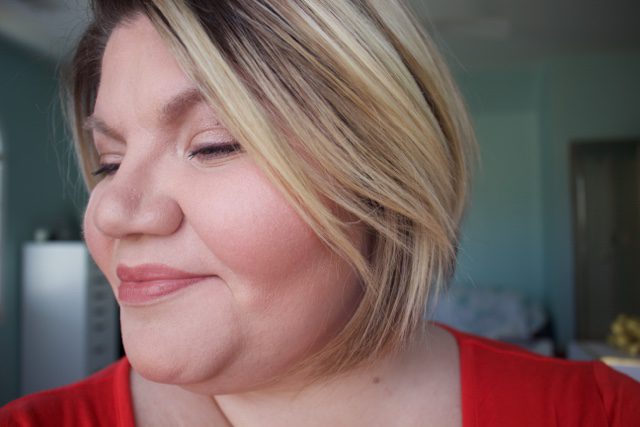 The Madam C.J. Walker Beauty Culture brand is using some impressive technology to make sure our hair is looking it's best! They use Dual Encapsulation Oil Technology which means that the products are infusing the hair with two natural oils. One to help repair the hair and the other will help to style the hair and to deliver nourishment wherever the hair needs it the most. Tiny microspheres infuse the hair with time released nutrients to boost the conditioning benefits! That means it's also going to help extend the smoothness of your hair!
The one thing I realized when researching this brand was that the products are meant to do more than just to cleanse and condition your hair, but also to help in the styling of your hair and to keep that style long-lasting. I love the ingredients and technology behind the company and I am really interested in learning and trying more of their products! Especially the Coconut & Moringa Oils as Summer is about to hit us hard here in Georgia and that means lots of humidity and frizz! Below are some of the other product lines that are available:
–
Dream Come True
– Mend damaged hair with strengthening formulas (Scalp & Strand Nourishing)
–
Jamaican Black
Castor & Murumuru Oils
– Add definition to curls and
coils with intense hydration (Curl Defining and Moisture-Sealing)
–
Coconut & Moringa Oils
– Block humidity for a frizz-free finish (Frizz Fighting/Humidity Blocking)
–
Brassica Seed & Shea Oils
– Protect and smooth hair for a silky, soft finish (Smoothing/Style Extending)
If you're wanting to purchase products from the Madam C. J. Walker Beauty Culture product line, please note that they are available to purchase at some Sephora stores or online on Sephora's website. I was lucky enough to discover that my local Sephora Store carried the entire product line and had everything in stock! That means my hair will be looking extra good this Summer!

This post was sponsored by Madam C. J. Walker Beauty Culture.
All thoughts and opinions are my own.