You probably remember me posting recently that I had a little fun at Sephora on Valentine's Day.  I was mostly excited about the GlamGlow Super Cleanse Face Wash and the Foreo Luna Mini that I picked up. I told you, I'm really, really into new skincare and finding out how the new products and gadgets work!   Well it's been almost 3 weeks and I've got some updates that I thought I'd share!
When I saw that the GlamGlow cleansers were available I got really excited.  I was really interested in them because I absolutely love the GlamGlow Mud Masques. They offer different ones, but I love the original mud masque for getting rid of blackheads and other impurities in my skin and the hydrating one.  It's fantastic at giving me moisture back to my skin. So when I looked into the cleansers, I thought I'd first try the Super Cleanse Face Wash because it seemed to be the one geared towards helping me get rid the impurities in my skin.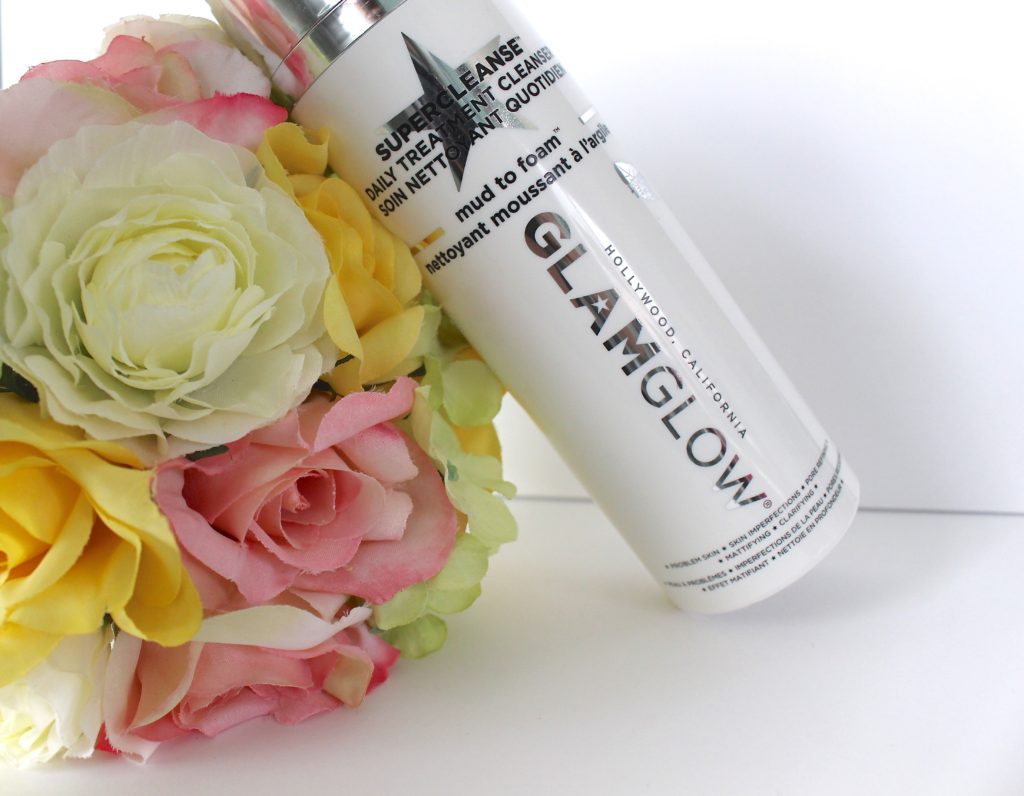 Now. I have numerous skincare brushes, BUT I'm always curious about the others that are out there.  I love my Clarisonic. I really do. I don't have any issues with break outs like some people do when using it, my ONLY complaint is that I hate having to spend money on the brush heads over and over. It gets pricey.  That doesn't mean I don't love it because I really do.  However, I was in Sephora and talking to several store employees I often visit, I got to talking about the Foreo Luna Mini Facial Cleansing Device. They both raved about it and gave it nothing but amazing reviews.  They suggested that I try it because I was complaining about having to repurchase the brush heads for my Clarisonic.  The Foreo Luna Mini is a T-Sonic Facial Cleansing Device that doesn't need replacement brush heads! YAAS!!! It retails at $139.00. Not cheap at all, but it could possibly end up being cheaper than my Clarisonic because of the price of brush heads I constantly have to buy.
So how did these items work for me? First of all, I thought I'd share a little background on my skin and the issues I have with it.  I have a sensitive/combo skin type.  I have enlarged pores, I suffer from redness on my face.  I'm also noticing lines creeping up on me. All of the fun stuff, right? HA!  So my main concerns are finding products that work with my combination skin type (some areas dry, some areas are oily) and also trying to find products that don't irritate my skin because of my sensitivities.  I also need a skincare routine that helps with my pore issues and also helps calm down my redness.  PLUS, for years now, I've been using anti-aging products to help prevent and slow down this aging process. So I've got a lot of issues going on!
[line]
GlamGlow Super Cleanse Daily Treatment Cleanser
I have found that the GlamGlow Super Cleanse Daily Treatment Cleanser is a really good cleanser BUT this cleanser is a little too active for me to use daily.  Instead, I need to only use it a couple times a week.  I used this for about three days in a row at first and realized that my skin was not enjoying that at all, ha!  I was also using it with my Foreo Luna Mini device.  I'm still doing this, when I use it, but I'm just not using this combination daily.  For me, using the cleanser a couple of times a week seems to be ok.  **This is why I had to use the CeraVe cleanser for a while because using this cleanser and skincare cleansing tool really, really irritated my skin at first.  It was just too much for my sensitive skin to process, ha!  Everything has calmed down now and so far I'm enjoying it.  My skin seems to be so much softer and I notice that it has helped clear up any break outs that I'm having (yes, I have recently) faster and overall, it just seems to do a nice job of deep cleansing my skin.  The one thing I don't like about it? It's black just like the masques and it gets so dirty! My hands are black after using it and it ruins my wash cloths, ha!  Not that this is a major irritation, but it's more of a nuisance. So for that reason, I tend to use this in the shower.
 Here's some thoughts and tips on the GlamGlow Super Cleanse Daily Treatment Cleanser:
1. Apply this to DRY SKIN. I use about 2-3 pumps and work it over my face.  Slowly add water to the cleanser to activate the "mud to foam" process. Rinse!
2. It says it foams, but honestly, I'm not going got say this is going to foam like you are used to.  It is a mud cleanser after all. It also doesn't have any sulfates or anything so that does make a difference! I'm still playing around with it to see if this changes because some days I feel like it foams more than others??
3. I feel like this can be a little on the drying side.  I tend to use this at night, followed by a toner, hydrating serum and a good moisturizer. Like I said, for me, I use this 2-3 times a week max! Pay attention to what your skin does when using it. If it's too drying, cut back on how often you are using it!
4. My skin went a little crazy at first when using it, but it slowly started to mellow out once I stopped using this daily. So if you notice break outs (I did) realize that this is a deep cleansing face wash. It's meant to get rid of impurities in your skin. So break outs and other issues are going to be normal at first! Stick with it and let it do it's job.
5. Yes, there is an odd scent in this cleanser, but if you're familiar with the masques, you'll instantly recognize it.
6. This is great for enlarged pores, dissolving makeup and helping with oily, clogged skin types!
7. I was cautious about using the GlamGlow cleanser with my Foreo just because I didn't want to have any issues with the silicone, but the ladies at Sephora assured me it was ok. I'm still checking into this!
Ingredients in the GlamGlow Super Cleanse Daily Treatment Cleanser:
-TEAOXI® Technology (Eucalyptus Leaf Powder): Delivers natural eucalyptol, natural linalool oil, and powerful flavonoids to soothe and treat skin.
-K17 and Mediterranean Clays: Detoxify, refine skin texture, and balance problem-prone skin.
-Bamboo Charcoal: Provides balanced replenishment to the skin with essential bamboo minerals.
-Black Cumin Seed Extract: Provides antimicrobial and antioxidant properties to help provide a more clear complexion.
Would I repurchase? 
I think so! I mean I honestly think this cleanser will last me a really long time, so I can justify the price.  I only use 2 pumps most nights when I use it, so I can justify the price. Plus, I can actually notice that it's doing what it says it will do. I feel like it's improved my skin texture, brightened my complexion and it's helped clear out some of my enlarged pores. Yes, I did break out when I used this, but I think it's just getting rid of a lot of the built up junk that has been sitting in my pores!   I'm really curious about the other cleansers that they have, especially the hydrating one!
[line]

Now let's talk about the Foreo Luna Mini Skin Cleansing Device.
The Foreo is a skin cleansing device unlike anything I've ever used before.  It doesn't have a brush head that features nylon bristles, instead it is a silicone cleansing tool that features T-Sonic pulsations (8,000 per minute) that help to loosen those impurities trapped in your pores.  Think blackheads, oil, dead skin cells and dirt. GROSS! It has "touch-points" that deeply cleanse the skin.  There are two sides to this brush. One side features the gentle Touch-Points that are best used on sensitive or dry skin types  The back of this device features more aggressive, thicker Touch-Points that will help to deeply cleanse oily skin types.  It pulses and lets you know when to move onto the next area on the face (4x at 15 seconds each section) and you'll have your skin cleansed in one minute flat with this device. It comes in 5 different colors, I picked up the Magenta one but it took me a minute to really figure out which one I wanted. HA. #struggles
I really like that the Foreo Luna Mini is nonporous and resits bacteria.  That was one issue I had with the brush heads on the other devices.  This is said to be 35x more hygienic than regular cleansing devices.  It is also waterproof, so it's safe to use in your shower.  It's got an amazing battery (so they say, I haven't been able to test this yet) that last up to 300 uses BEFORE NEEDING TO BE CHARGED.  WHAT?!?! That's crazy, but I like it!  It is easily charged by USB.  I love the size of the Foreo Luna Mini.  It easily fits into my hand and is small enough to even travel with.**It also has a 2-year warranty.**
The Foreo is suggest to be used twice daily, but for my skin type, I can't use it that much. My skin was too sensitive after using it daily.  I have cut it back to every other day unless I need to use it more. That's worked perfectly for me.  I've also realized that you don't really need to do a lot of work with this device.  I get my skin wet, put on my cleanser and start using the Foreo (get the device wet also) on my cheeks, my forehead and nose and then my chin area.  I also use it on my neck for a couple of seconds.  I tend to use long strokes back and forth with this, rather than a lot of small circles.  I'm not sure what the best way of application is, but that is working for me.  After I'm done using it, I rinse it off and set it aside to dry.
QUICK FAQS ON FOREO
---
What is unique about FOREO devices?
Made from soft, smooth silicone – the first of their kind
Organically designed, the nonabrasive brush surfaces are ultra-gentle and pleasant to use on the skin
T-Sonic™ technology – transdermal sonic pulses – rather than the standard oscillation of most facial brushes on the market
Do not use clay-based, silicone-based, or grainy cleansers, exfoliators, or scrubs—they may harm the soft silicone touch-points.
 Would I repurchase ?
I keep going back and forth on this.  I'm still using this and trying to form a concrete opinion on it.  It took me using it to realize that I can't use it daily, especially not twice a day.  While it's gentle, it wasn't agreeing with my skin using it that often.  Like I said, I was using this with my GlamGlow cleanser, but I've also used this with several other cleansers to see how they worked with it.  I don't always use a cleanser that foams, so I have to make sure I've really got a good amount of product on my face before I use the Foreo.  I've learned to be pretty soft handed with the Foreo when I use it.  I try to not be aggressive when I use it, but instead I kind of let it glide over my skin.  I do love the shape of this device. It's excellent at getting areas around my nose and eyes, that used to be kind of difficult with my other skincare brushes.  I also love the size of it. It's small and doesn't require constant charging.  I'm still seeing how this is with my skin. Some days I really, really love it and then other days I feel like it's just ok.  However, I haven't returned it. I'm still using it and I plan to keep doing updates on my skin after I hit the 4 week mark and so on.  I think that I just need to find the routine that works for me with this device.  I don't want to use it too often, but I still want to make sure I'm using it enough to see results.  Does that make sense? HA. So keep holding on to see what happens when I've used it a little bit longer. Sometimes with skincare especially, you have to really work with the itms to allow them time to work on your skin.
[line]
I know that was a lot of information to take in, but I wanted to really share all of my thoughts on both products.  If you have any questions at all about anything I was talking about, comment below or send me a message and I'll get back to you.  I know a lot of people have been really curious about both of the products I was talking about.  OR if you have used either of these products and can offer any insight on them, let me know! I'm always curious about what is working or not working for you.
GlamGlow Super Cleanse Daily Treatment Cleanser $39.00
Foreo Luna Mini Skin Cleansing Device $135.00
Affiliate Links Included. Not a sponsored post.