Influenster recently sent me the most amazing package ever and I wanted to share the goodness with you guys. Giorgio Armani Beauty recently launched their Eye Tint Smoky Neutral Collection and you guys, it's incredible!
This innovative formula transforms from liquid to solid, instantly adhering to the eyelid while providing 16 hours of smudge- and crease-proof wear. Formulated with a hold booster, a creamy polymer with glycerine that allows pure color pigments to blend together seamlessly and stay on lids, this tint is infused with a color vibrancy booster, which is enriched with natural pigments and pearls. This unique complex works together to evenly disperse high-density color. This eye tint features dynamic runway-inspired shades that can be used as an eye shadow or eyeliner, or layer them together for natural to glamorous looks.
I received three eye tints to review.  Fur Smoke, Gold Ashes and Nude Smoke.  Fur Smoke and Nude Smoke are both mattes, while the Gold Ashes is a shimmer finish.  I am pretty much obsessed with the colors that were sent to me as I love nude eyeshadows.  If nudes aren't your thing, then there are twelve shimmer shades available and six matte shades total to choose from.
If you're new to a cream eyeshadow formula, then you'll want to make sure that when you apply a cream shadow, you are prepared to blend very quickly.  Same goes for this formula.  You need to blend very, very quickly before these set into place.  These are some of the most pigmented cream shadows that I have used before.  Not that I haven't liked the previous ones that I used before, but these are just a totally different formula.  They are almost liquid like, but set to a powder finish.  They do a take a bit of time to dry, so be aware of that.
I really like the packaging of the eye tints and especially the applicator. Since the applicator is bended, it's really easy to get to the inside of the corners of the eyes and along the crease. I think that it tends to pick up a lot of product, so I tend to wipe off the applicator along the top of the package before applying to my eye or I'll add a small amount to my hand and apply from there.  I think you can get away with applying this with your fingers, especially the nude colors, but for the darker shades, I think it would be best to blend with a makeup brush to get a more even finish.
Overall, I really enjoy these.  They retail for $39.00 which is a little high, but nothing I wouldn't expect for Giorgio Armani as it is a high-end beauty brand. I like the formula and so far I haven't had any issue with it creasing my eyes at all!  If you're in the market to splurge on some new makeup, I'd definitely consider these!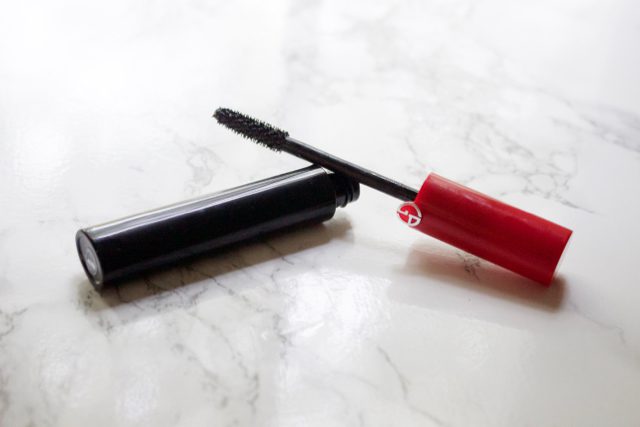 Thanks to Influenster for also sending the the Giorgio Armani Eccentrico Mascara.  Overall, I wasn't impressed with this formula only because it just did nothing or my barely there lashes.  However, I do really love their Eyes To Kill formula and think it's probably one of my go-to mascara formulas.
The Eccentrico Mascara is supposed to be a long-wearing mascara that gives lots of volume and separation to the lashes, but for me, it just didn't work.  I think that formula seemed to wet and heavy for my lashes.  I'll stick with my Eyes to Kill formula instead!
I used Nude Smoke all over the eye as a primer.  I love that  color because it's just enough color to make my eyelids even and hide any imperfections.  I then took Fur Smoke along the crease and the outer edges to deepen up the look a bit. You can see how dark Fur Smoke appears, but once it's blended it really "calms down" and turns into the most beautiful warm brown.  On my lower lid I applied the Gold Ashes shadow to make my eyes pop.  It really is the most beautiful shadow and I can see myself using this a lot more than I thought I would!
[show_shopthepost_widget id="1993139″]