When I chose You Are A Badass by Jen Sincero I really was hoping for this book to THE book I've been needing to read all of my life. You know, the one that lights that fire underneath you, the one that inspires you to become a better version of yourself and the one that gives you hope that you'll make it in the end. I've read it and I've got some thoughts I want to talk about with you today!
"Watching someone else totally go for it can be incredibly upsetting to the person who's spent a lifetime building a sold case for why they themselves can't."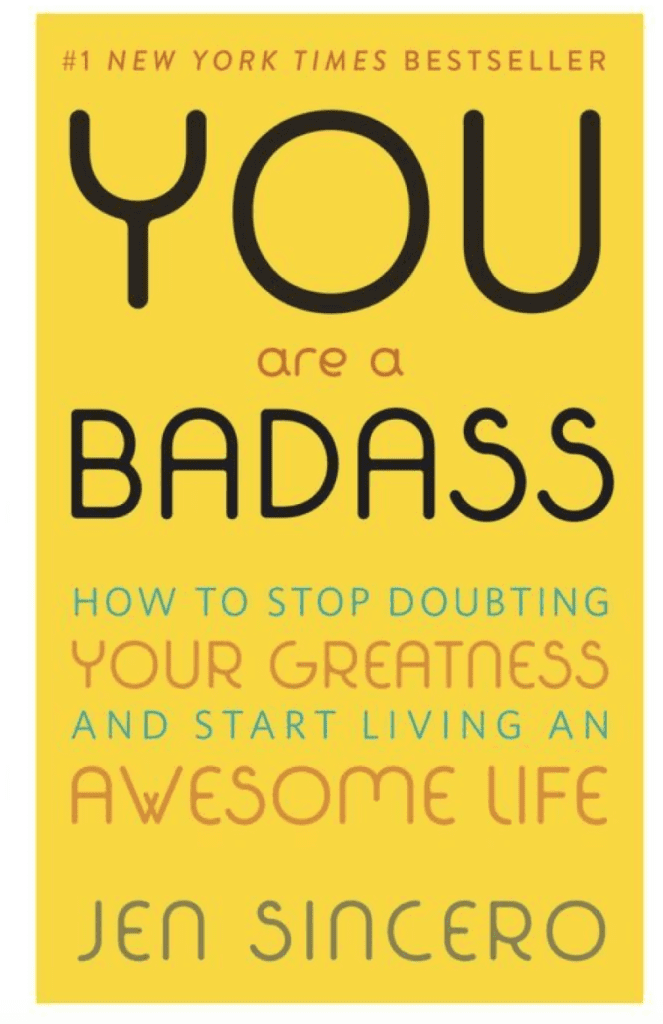 I want to believe that I am a badass, I really do. On some days I feel it more than others, but I wanted this this book to really make it more of a permanent thought in the back of my brain, instead of just an occasional thought and in some ways it really did! I took notes while reading it and decided that I had some passages that I wanted to share from it, so you'll see those in this post.
While I enjoyed reading this book, I felt like I had already read it. Remember that book The Secret? You Are A Badass is very similar in a lot of ways. It's been a long time since I've read The Secret, but from what I remember it's pretty much all about putting what you want out into the Universe. Right?!?! Let's say you want a car. You need to put that desire and wish out into the Universe. Ask and you shall receive kind of thing.
Her style of writing is great and I enjoyed this book, but towards the end, it just got a little redundant for me. I get it. If I change my thoughts and focus more on myself, I'll be a better person. However this whole "Universe/God" thing got to be a bit much for me. Don't get me wrong, I think that it's great to have a spiritual part of your life. Whether that means you believe in God or The Universe, whatever. Meditate, Pray and whatever else you do that brings you comfort and guidance in your life, but that can only take you so far.
Let's take my Blog for example. If all I did was meditate and put out into the world that I wanted it to be successful, I don't know how far I'd get. I mean, it would be amazing if it was only that easy, but I still have a lot of hard work to put into it. Sure, having positive thoughts about it and forming good relationships with those in similar situations is great, but I still need to work my butt off to be successful. I don't think it's just gonna happen for me if I meditate about it everyday. #IWish
The one thing I did love about this book is that it really talked a lot about self-love and working on getting the negative out of your life. It talked about putting yourself as a priority and building relationships with people who uplift and inspire you instead of tearing you down. THIS was the highlight of the book for me. Her suggestions on changing the way you see yourself was incredible. Here was one of the passages from that chapter that really, really hit me hard:
"Instead, try seeing yourself through the eyes of someone who admires you. They get it. They believe in you leaps and bounds. They aren't connected to your insecurities and negative beliefs about yourself. All they see is your true glory and potential. Become one of your die hard fans, look at yourself from the outside, where all your self doubts can't crawl all over you, and behold what shines through."
So You Are A Badass wasn't a huge game-changer for me, BUT it was still a good read. I think that this book taught me to keep on fighting for myself and the goals I have set in place for my life and to never apologize for what I believe in and want. I might try meditating a little bit more and focusing on putting more positive thoughts out into the world more often, instead of doubt and fear. I can't say it was a total waste of time at all to read, it just wasn't exactly what I was hoping for?!?!
I wanna know. What did you think about this book? Did it make you feel like more of a badass? Did it inspire you to change anything about yourself? Were you like me and took notes? I'd love to know your favorite quote from the book or passage. PS Here is my favorite quote from the book and some others I really enjoyed reading and took note of.
"There's nothing as unstoppable as a freight train full of fuck-yeah!"
"If you're the kind of person who puts everyone else's needs first, start putting yours up front. Those who are used to you being their personal assistant will still love you, even though they'll be somewhat grouchy about you not waiting on them hand and foot anymore. You aren't a selfish person for taking care of yourself, just a happier one."
"Comparison is the fastest way to take all the fun out of life."
"What other people think about you has nothing to do with you and everything to do with them."
"The moment you decide to forgive and let your negative feelings melt away, you are on the road to freedom."
"A lot of the time the people we need to kick to the curb happen to be those we love, or at least like a lot, for their decent qualities. Hence ye olde cult can really get in our way when trying to do the right thing. Stay strong and see it as being nice to yourself of being meant to them. Remembering that you are rising up to the highest version of yourself instead of shrinking down to their level."
"When you up-level your idea of what's possible, and decide to really go for it, you open yourself up to the means to accomplish it as well."
---
And the book I chose for February to read is…….
Shrill….Notes From A Loud Woman
I chose this book because honestly, I had it on my bookshelf from last year and I had forgotten about it. I read about this book from my Book Of The Month Subscription and I remember reading a sample of the first chapter or so and laughing my butt off. She had a clever way of writing that made me laugh about topics I wouldn't normally laugh about. So I feel like this might be the type of book we need right now. A book written by a strong and seriously funny woman, telling her story.
Here's the description of Shrill from Goodreads:
Coming of age in a culture that demands women be as small, quiet, and compliant as possible–like a porcelain dove that will also have sex with you–writer and humorist Lindy West quickly discovered that she was anything but.
From a painfully shy childhood in which she tried, unsuccessfully, to hide her big body and even bigger opinions; to her public war with stand-up comedians over rape jokes; to her struggle to convince herself, and then the world, that fat people have value; to her accidental activism and never-ending battle royale with Internet trolls, Lindy narrates her life with a blend of humor and pathos that manages to make a trip to the abortion clinic funny and wring tears out of a story about diarrhea.
With inimitable good humor, vulnerability, and boundless charm, Lindy boldly shares how to survive in a world where not all stories are created equal and not all bodies are treated with equal respect, and how to weather hatred, loneliness, harassment, and loss–and walk away laughing. Shrill provocatively dissects what it means to become self-aware the hard way, to go from wanting to be silent and invisible to earning a living defending the silenced in all caps.
I hope you'll join me in reading Shrill! I look forward to seeing what we think about it and if it lives up to is rave reviews I've been seeing when I researched the book. Plus, I just need a book that will make me laugh. If you want more information or to connect with our small, but growing group members, click here to visit the Goodreads page!