Whew you guys, this post is so behind and I apologize for that. I hate saying this constantly, but life has been busy. Don't worry, I'm still reading! I want to go ahead and share with you my July 2019 reading list! I got in a total of four books this month and that puts me at 35 books so far for the year. I'm for sure going to hit my 40 book goal this year!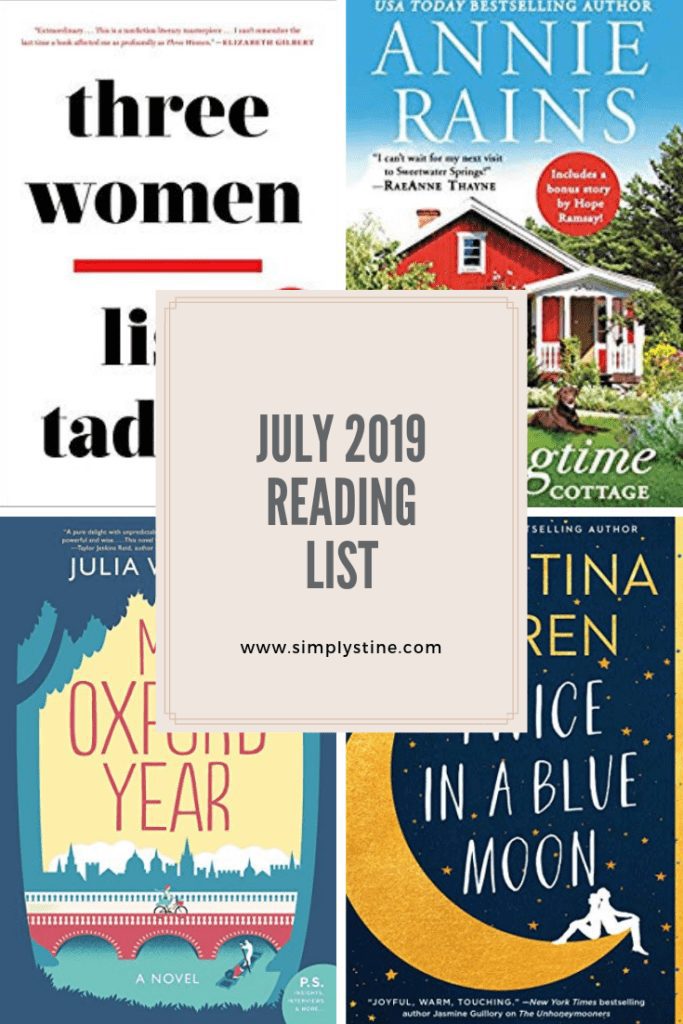 This was an advanced copy that I was able to read. The book comes out on October 22nd. I've read other books by these ladies (surprise, it's actually two women) and I have enjoyed most of their books.
Twice in a Blue Moon was a good read. I didn't love this one as much as others, BUT I still would give it a try! Not too steamy (at all) and a love story at the heart of the book. Also, the book touches on betrayal and forgiveness.
Sam Brandis was Tate Jones's first: Her first love. Her first everything. Including her first heartbreak.

During a whirlwind two-week vacation abroad, Sam and Tate fell for each other in only the way that first loves do: sharing all of their hopes, dreams, and deepest secrets along the way. Sam was the first, and only, person that Tate—the long-lost daughter of one of the world's biggest film stars—ever revealed her identity to. So when it became clear her trust was misplaced, her world shattered for good.

Fourteen years later, Tate, now an up-and-coming actress, only thinks about her first love every once in a blue moon. When she steps onto the set of her first big break, he's the last person she expects to see. Yet here Sam is, the same charming, confident man she knew, but even more alluring than she remembered. Forced to confront the man who betrayed her, Tate must ask herself if it's possible to do the wrong thing for the right reason… and whether "once in a lifetime" can come around twice.

Amazon Book Description
Three Women by Lisa Taddeo was an eye-opening book for me. It is about three women and their desires and sex lives. Adding to that, this book is about three white women in the US. The author took years of her life to research these women and I found the book fascinating. I just wish some of this book was about healthy sexual desires. Reading this book made me beyond depressed and I felt sad for these women. This book is very sad as it deals with emotions, sexual assault, depression, etc.
One thing I did want to point out was that there is a ton of sex in this book. Like it's basically erotica, which I thought was odd. Did these people go into that graphic of detail with the author? Like step by step of the sexual encounters they had?!?
If you read this book, I'd love to know your thoughts on this one!
It thrills us and torments us. It controls our thoughts, destroys our lives, and it's all we live for. Yet we almost never speak of it. And as a buried force in our lives, desire remains largely unexplored—until now. Over the past eight years, journalist Lisa Taddeo has driven across the country six times to embed herself with ordinary women from different regions and backgrounds. The result, Three Women, is the deepest nonfiction portrait of desire ever written and one of the most anticipated books of the year.

We begin in suburban Indiana with Lina, a homemaker and mother of two whose marriage, after a decade, has lost its passion. She passes her days cooking and cleaning for a man who refuses to kiss her on the mouth, protesting that "the sensation offends" him. To Lina's horror, even her marriage counselor says her husband's position is valid. Starved for affection, Lina battles daily panic attacks. When she reconnects with an old flame through social media, she embarks on an affair that quickly becomes all-consuming.

In North Dakota we meet Maggie, a seventeen-year-old high school student who finds a confidant in her handsome, married English teacher. By Maggie's account, supportive nightly texts and phone calls evolve into a clandestine physical relationship, with plans to skip school on her eighteenth birthday and make love all day; instead, he breaks up with her on the morning he turns thirty. A few years later, Maggie has no degree, no career, and no dreams to live for. When she learns that this man has been named North Dakota's Teacher of the Year, she steps forward with her story—and is met with disbelief by former schoolmates and the jury that hears her case. The trial will turn their quiet community upside down.

Finally, in an exclusive enclave of the Northeast, we meet Sloane—a gorgeous, successful, and refined restaurant owner—who is happily married to a man who likes to watch her have sex with other men and women. He picks out partners for her alone or for a threesome, and she ensures that everyone's needs are satisfied. For years, Sloane has been asking herself where her husband's desire ends and hers begins. One day, they invite a new man into their bed—but he brings a secret with him that will finally force Sloane to confront the uneven power dynamics that fuel their lifestyle.

Based on years of immersive reporting, and told with astonishing frankness and immediacy, Three Women is a groundbreaking portrait of erotic longing in today's America, exposing the fragility, complexity, and inequality of female desire with unprecedented depth and emotional power. It is both a feat of journalism and a triumph of storytelling, brimming with nuance and empathy, that introduces us to three unforgettable women—and one remarkable writer—whose experiences remind us that we are not alone.

Amazon Description
This book was sent to me to read and it's an adorable romance. This is the first experience I've had with this author, and this series, but it probably won't be the last!
Small town romance is at the heart of this story and I really, really loved that they included parts of Cherokee culture! This story goes into second chances and talks a lot about painful past experiences. Not steamy at all incase you were wondering!
This is the second book in this series, but I didn't feel like I was missing out on anything and couldn't go on reading this book without reading the first one. I probably will go ahead and read it because I enjoyed the story so much! Also, the third book in the series, Snowfall on Cedar Trail is going to be released in September!
As an editor at a major New York City magazine, Josie Kellum is always on the go…until an injury sidelines her in the small town of Sweetwater Springs. Luckily, her new physical therapist is easy going and easy on the eyes. When their sessions start to heat up, in more ways than one, Josie is intrigued. But she has a city and career she loves waiting for her. So why does the thought of leaving him suddenly feel a lot like leaving home?

Tucker Locklear is just starting to move on after his wife's death. While he can't deny his attraction to the gorgeous, vivacious Josie, he won't risk the pain of losing someone again. The sooner he gets Josie back on her feet and back to her real life, the safer he'll be. But in Sweetwater Springs, love has a way of mending even the most damaged heart.


Amazon Description
For some reason, I put off reading this book for quite a while. It had been in my TBR pile for a long time and I wanted to read it, I just never got around to it! FINALLY one day I picked it up and I had finished it before I knew it.
This book was beautiful and heartbreaking at the same time. I painted such vivid descriptions of Oxford, that I felt like I was right there with the characters. It's a classic tale of girl meets boy, but with a twist as he's her professor. Also, it's got the classic American living out her dream in a foreign country, but things aren't always as dreamy as we picture them.
I loved this book SO MUCH. I can totally see this being a movie. It's a book that I'll re-read at some later point. If you get the audiobook of this story, she's the narrator, as she's an award winning narrator!
Set amidst the breathtaking beauty of Oxford, this sparkling debut novel tells the unforgettable story about a determined young woman eager to make her mark in the world and the handsome man who introduces her to an incredible love that will irrevocably alter her future—perfect for fans of JoJo Moyes and Nicholas Sparks.

American Ella Durran has had the same plan for her life since she was thirteen: Study at Oxford. At 24, she's finally made it to England on a Rhodes Scholarship when she's offered an unbelievable position in a rising political star's presidential campaign. With the promise that she'll work remotely and return to DC at the end of her Oxford year, she's free to enjoy her Once in a Lifetime Experience. That is, until a smart-mouthed local who is too quick with his tongue and his car ruins her shirt and her first day.

When Ella discovers that her English literature course will be taught by none other than that same local, Jamie Davenport, she thinks for the first time that Oxford might not be all she's envisioned. But a late-night drink reveals a connection she wasn't anticipating finding and what begins as a casual fling soon develops into something much more when Ella learns Jamie has a life-changing secret.

Immediately, Ella is faced with a seemingly impossible decision: turn her back on the man she's falling in love with to follow her political dreams or be there for him during a trial neither are truly prepared for. As the end of her year in Oxford rapidly approaches, Ella must decide if the dreams she's always wanted are the same ones she's now yearning for.

Amazon Description
While I didn't get as much reading done as I have in previous months, I really enjoyed the books that I did get to read. What were some books that were on your July 2019 reading list?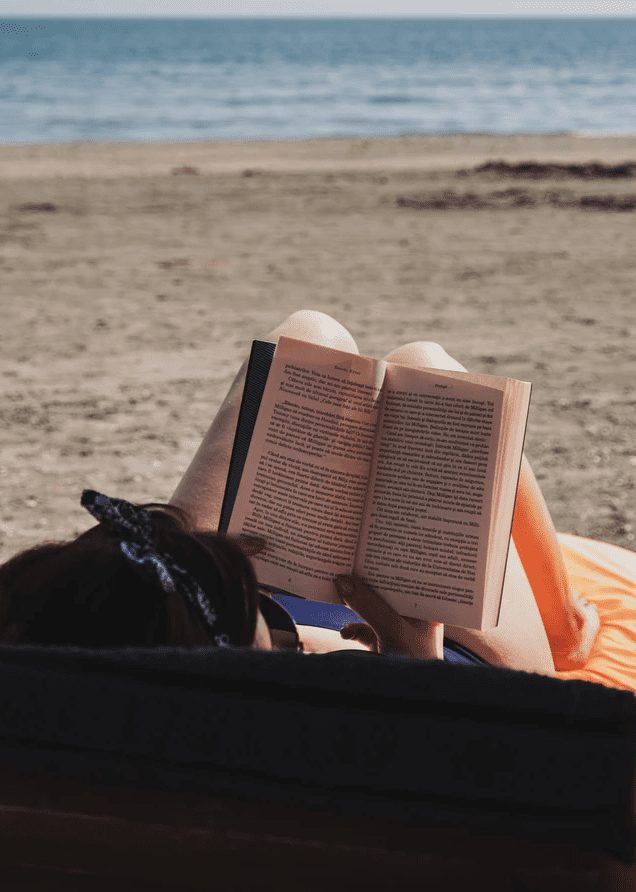 If you follow my podcast, Influenced The Podcast, we read Columbine for our July episode. For our August book pick, we selected Summer of '69! We hope you'll read along!
Affiliate Links have been used in this post. When you click on the links above, I make a small percentage back. This money is what is used to keep Simply Stine up and running! I thank you for your support!