I recently got a new shorter, lighter hair style. My hair was a heavy, dark mess. Can I fake it and make it look good? Yes. Do I want to have to do that everyday? No. So I chopped off just enough to allow me to still have an up-do for my best friends wedding. After that, so long hair! Pixie cut here I come. I'm already excited about it and can't wait!
My stylist always has great recommendations and I value what she suggests for me. Her new go-to product is Redken's Diamond Oil. She used it on my hair that day and my hair was silky soft and I seemed to be frizz-free. Could this be my new go-to product?!?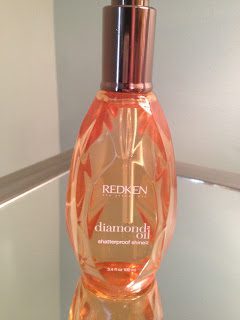 I immediately think of Rihanna when I see this bottle:
"Shine Bright Like A Diamond…."
This hair oil is not just your regular hair oil. Yes, it smoothes out my hair and helps with fly-aways, but it also nourishes, strengthens and reinforces hair from the inside out. It helps to boost shine and protect hair from all the harmful damage we put it through (heat styling,etc). I did a little bit of research on Redken's Website and was even more impressed after reading about all the technology behind this product and all of it's uses. Take a look at what I saw:
Image Source: Redken
Image Source: Redken
Not only is this amazing for my hair, but I can also use this on my dry hands?!?! AWESOME! I love this product because it does so much. It's everything from a simple protectant to a deep conditioning hair mask. The price on this product is $40.00, but I can honestly say this product will last me a very long time. A little bit goes a long way and with the dropper on this product, I don't waste a bunch of product that I don't need. A couple drops will do the job.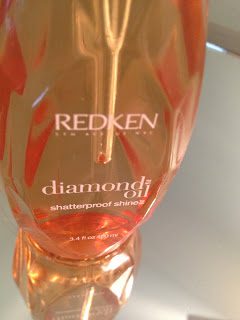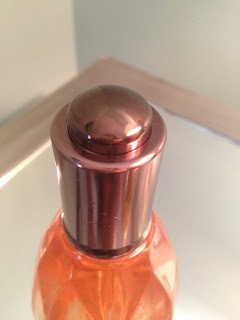 Easy to use dropper. Simply push down on top a couple of times and dispense product.
Make sure to warm up the oil in your hand before applying!
There are two versions of this product. The regular one that I purchased for Medium Hair Types and also the Diamond Oil Shatterproof Shine Intense for very Coarse/Dry hair types. My stylist said that most people would probably use the medium hair types, but consult with a stylist/sales person to find out which would work best for you.
Redken's products are available at any
Redken Salon
and at other stores like
Ulta
. If you are a part of the Ulta's
Rewards Program
, this was a product that was available for Level 6 redemption. Great addition to the program if you ask me!