Hi there! It's Jamie with a guest blog.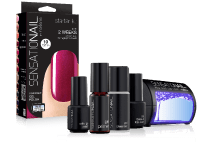 Image Source www.sensationailgel.com
I love having perfectly polished nails. My job has always made that impossible, until I found SensatioNail. I'll be completely honest. I did not want to spend $50 on a kit to do my nails. I was expecting the application to be similar to applying gel nails, and also afraid that the removal process would take hours and destroy my nails. None of this was true! I am so glad I took the chance to try this product. I am addicted!
I purchased my SensatioNail kit right after Christmas from Walmart. I was honestly disappointed in the lack of colors available. They only had one kit left and it was in a color I didn't love. It was a pale pink called Pink Chiffon. Since I didn't love this color I decided to get a holiday glitter duo in Midnight Kiss also. It was a deep red with a red glitter topcoat. Very pretty!
My first application using this kit was interesting. My initial reaction was that the polish was very smooth and easy to apply. It was very much like real nail polish. The drying time shocked me. I couldn't believe that I could really have 4 coats of gel polish dry that fast. That said, my first manicure did not last more than a few days. I almost returned the kit, but I am so glad I didn't give up. After a couple of applications I had it down!
The kit includes the LED lamp, nail cleanser, lint free pads, a nail file, wooden cuticle stick, nail primer, clear gel polish, and a colored gel polish. I have used this kit between 8-10 times and just ran out of the nail cleanser. I still have almost a full bottle of primer, and plenty of clear polish for at least 2 more applications. The starter kit was $50 at Walmart. You restock your kit with the essentials kit. The essentials kit runs $20 and individual nail colors are around $10. I have purchased a few colors and love them! I find that CVS has a much larger selection of SensatioNail products than Walmart.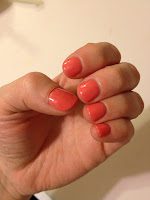 Coral Sunset
Since learning a few tips and tricks, my manicure lasts a week. Now, I work with animals and my hands are in water about 25% of the day. That said, a week is a LONG time for no chips! What I have learned is that you need to get the gel close to your skin without touching it at all. It isn't like regular nail polish where it will only peel off of your skin… it will lift off of your nail and peel. For easier removal only brush the nail primer around the outer edges of your nail, not over the entire nail. You may want to do 2 nails at a time to prevent the color from pulling away from the edges of your nail. Also, don't forget to cap off each nail. You can find more tips on the
SensatioNail
website along with videos that are really helpful.
I encourage anyone who has issues with chipping nail polish to give this a try. Use it a few times before deciding. I know you will love it!