Looking for a lightweight, long-wear foundation and concealer? If so, I think that the Rimmel London Lasting Finish Breathable Foundation and Concealer are two good options for you! This foundation features an SPF 18, won't clog pores and offers up to a 25-hour wear time.  There are 16 foundation shades and 6 concealer shades to choose from.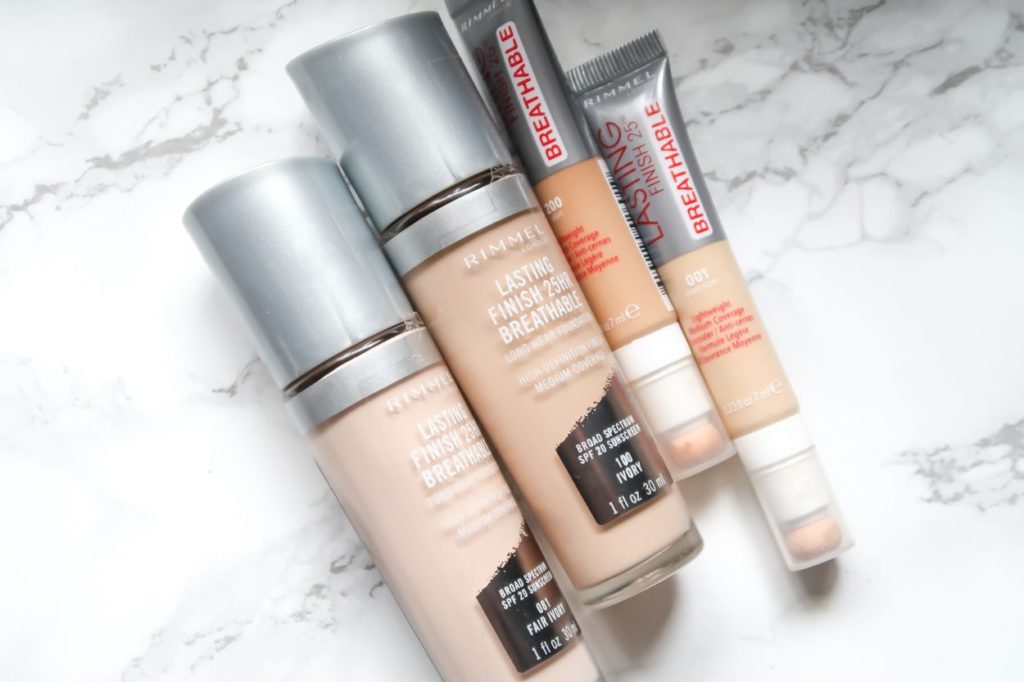 Rimmel London Lasting Finish Breathable Foundation and Concealer
How do the foundation and concealer look on the skin? Honestly, I think this is a beautiful formula.  It's very light and feels like I'm wearing nothing on my skin when I wear the foundation. It's a very fluid formula which I enjoy, especially in the warmer months that are approaching. The coverage is buildable, what I'd say to be more of a light to medium coverage.  If you're needing a lot of coverage, this might not be the foundation for you. It does take quite a bit of layering to hide any imperfections since it is such a light coverage formula. The same thing pretty much applies to the concealer as well.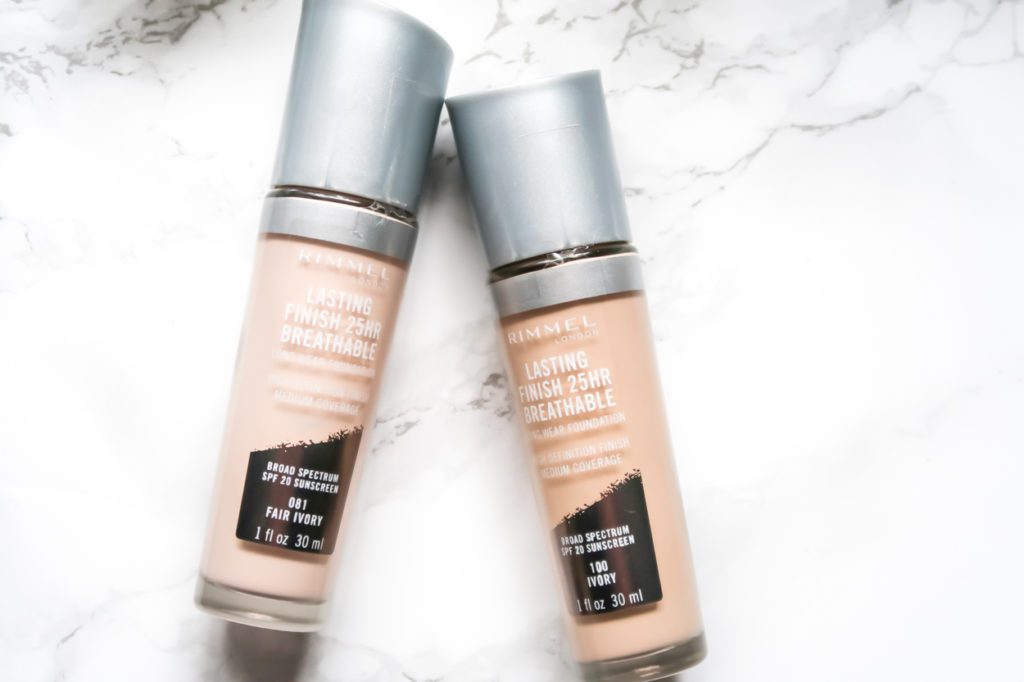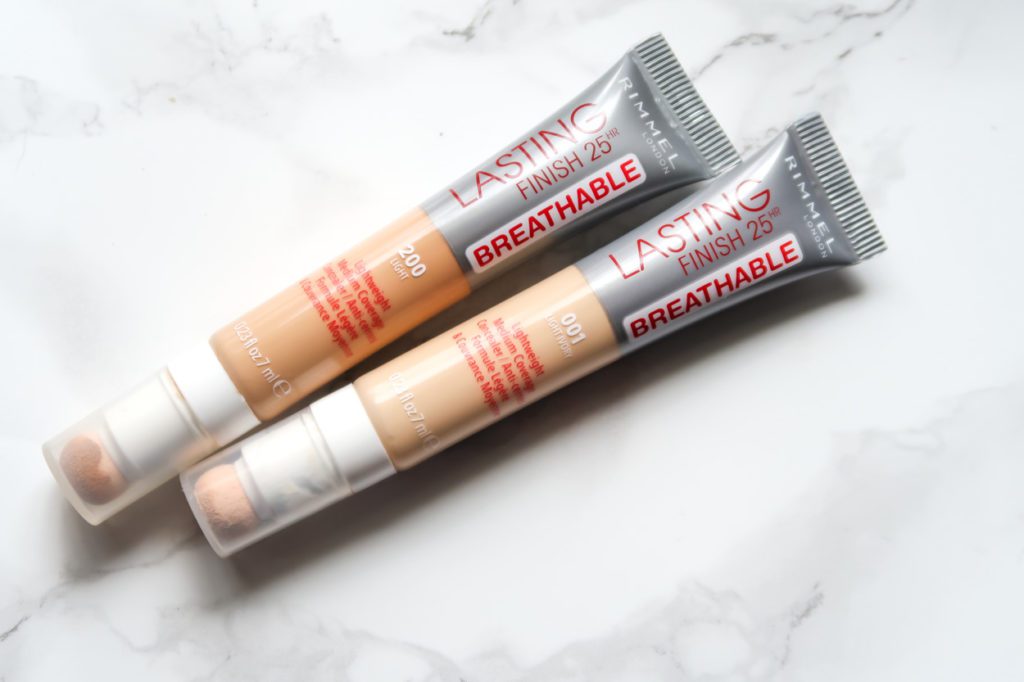 The concealer is a pretty good concealer that can be built up in coverage.  The shades that were sent to me, Light Ivory and Light, aren't exactly the best match for me when used alone, so I have to mix them. One shade is a little bit on the lighter side, but then if I go up a shade it's too yellow for my complexion.  This is an issue I commonly have with drugstore brands. However, I can still use these when mixed together! The formula is again, pretty light and fluid-like.
The product features a built-in sponge tip applicator that is made for easy application, especially on the go.  I have tried to use it to apply, but I find that by just applying the foundation with the sponge and then blending in with my fingers works best.  However, applying and blending with the sponge might be the way to go for some of you. Again, I can't stress enough that this is a lightweight product that isn't going to give you intense coverage for hiding imperfections, etc.
For someone who doesn't have any under eye discolorations or anything and just needs a little bit of color to brighten under their eyes-this is the product for you! As far as wear time with the concealer, I think it held up nicely.  It didn't crease on me or anything, but I wouldn't say that it would last 25 hours on me.  By the end of the day, it was showing some serious wear. However, I wouldn't say that I was disappointed with the coverage I had or the amount of time it lasted.  If I could find a better color match, I might have a been a little bit happier with my overall finished look. I did have to set my concealer with powder, but I always do.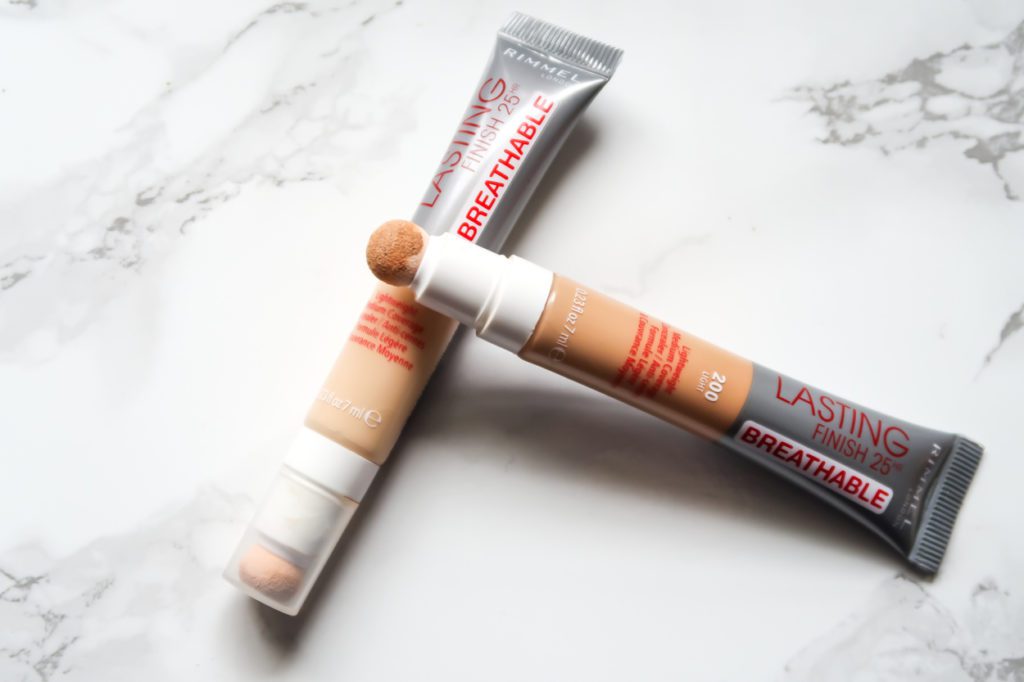 As far as colors being available, there are 16 foundation shades to choose from.  For me, I'm kinda in between two shades, so I had to do some mixing.  This might change as I get a little bit of sun and indulge myself in some sunless tanning. So the colors that I'm wearing right now are Fair Ivory and Ivory.  They work for me when used together.  I focus the darker shade around the outmost areas of my face and the lighter on towards the middle. I think that the foundation blends out very nicely and offers a nice wash of color.  For me to really hide my redness, I had to use about three layers of this product.  It sounds like a lot, but my since this is so fluid-like and light, it didn't feel heavy on my skin.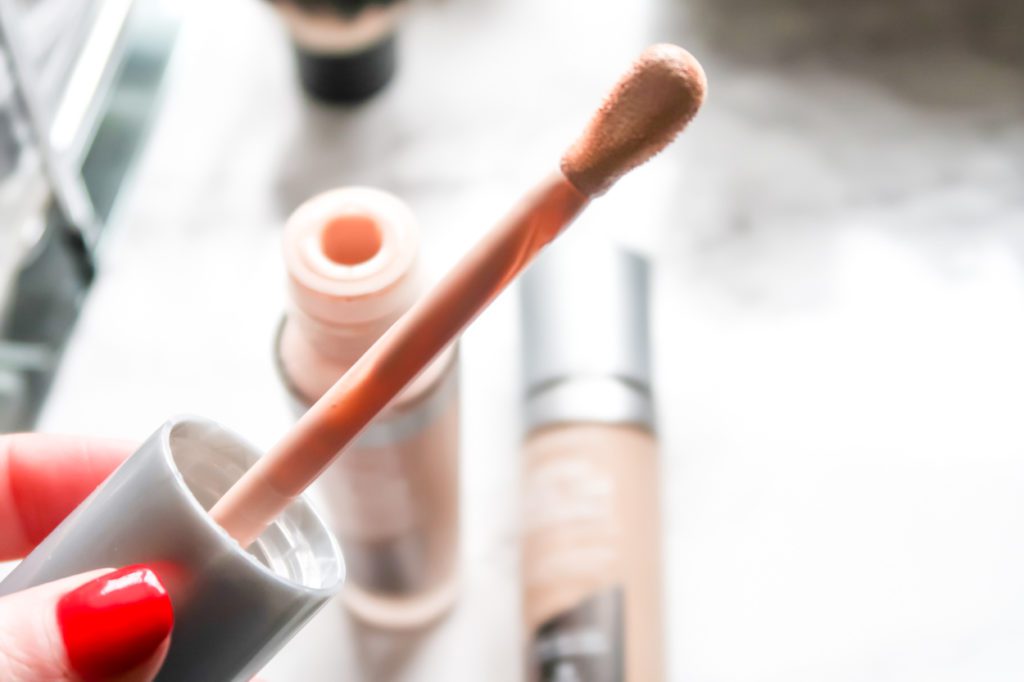 The Rimmel London Lasting Finish Breathable Foundation is packaged in a glass bottle that features a wand with a pretty large doe foot applicator.  Some people love this, some people hate it, but I've been seeing this and style A LOT in packaging for beauty products lately. You can use the wand to dot the product on your face in the areas that you want it OR you can just dot the product onto the back of your hand or sponge and apply that way.
Ok, so lets chat about this 25 hours wear time. Why?!? To be honest, I can appreciate a nice, long-wearing foundation but I don't need 25 hours, ha! Give me a good range somewhere between 6-8 hours and I'm a happy gal!  I get it though, they're trying to provide a long-wear formula for those of us who want that type of coverage.  However, you'll never see me wearing a product for 25 hours. #JustSayin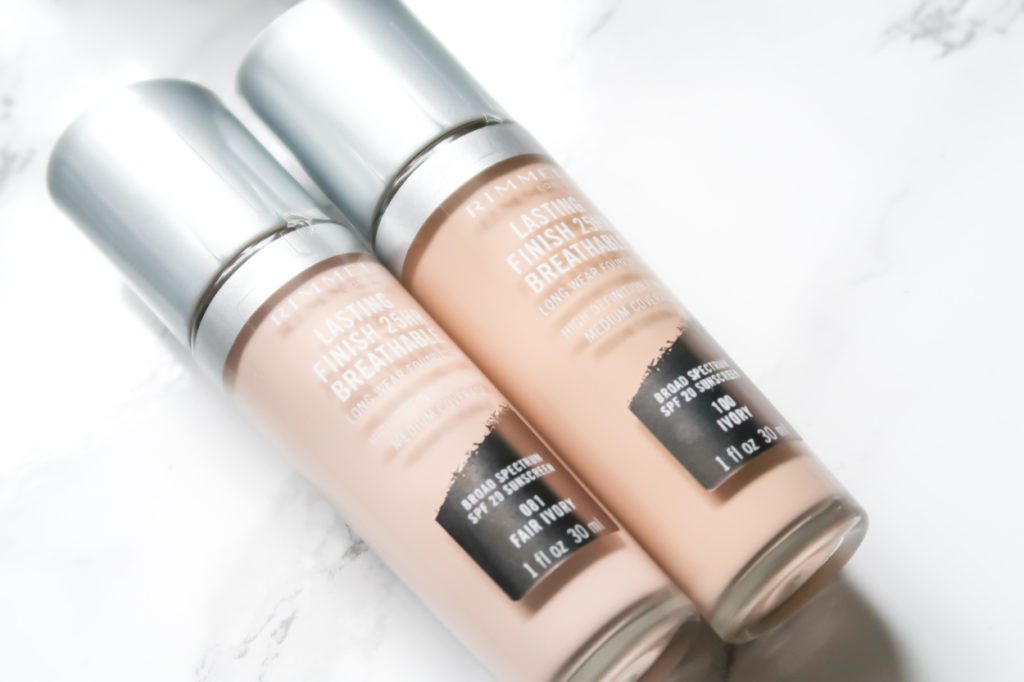 This foundation doesn't oxidize on my skin (which a lot of drugstore ones tend to) and it offers a beautiful, weightless coverage that I really appreciate. I also like the added touch of an SPF.  I normally wear a separate one, but for those of you that normally forget this step in your routine, this is a great way to make sure you have some sort of protection for your skin! I think if you're looking for a buildable, lightweight foundation that offers a light to medium coverage-this might be a great option for you!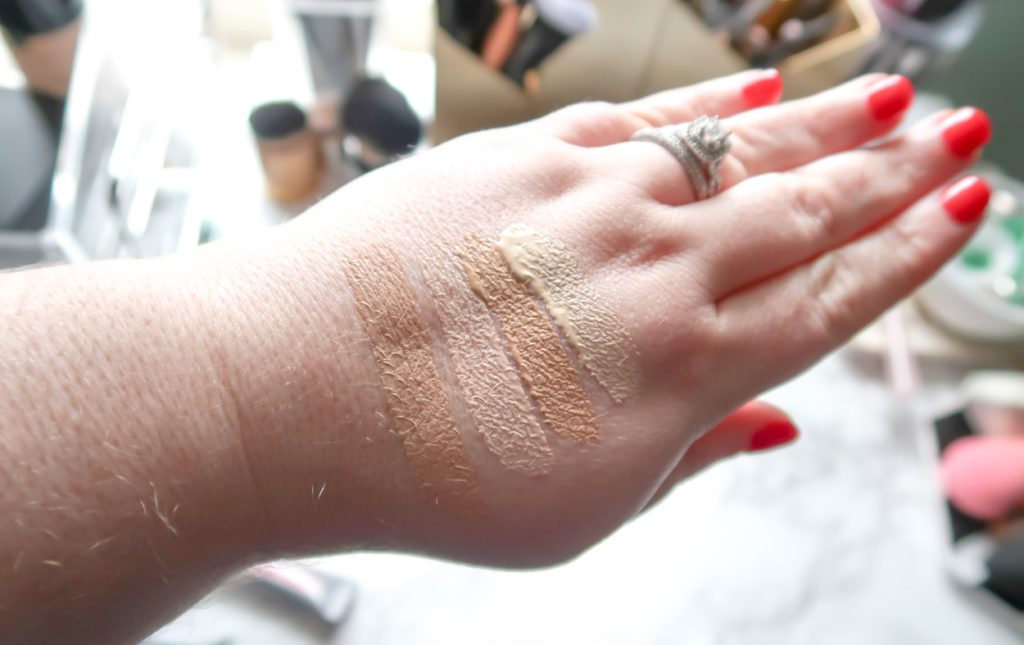 From Left to Right: Ivory, Fair Ivory (Foundations) Light, Light Ivory (Concealer)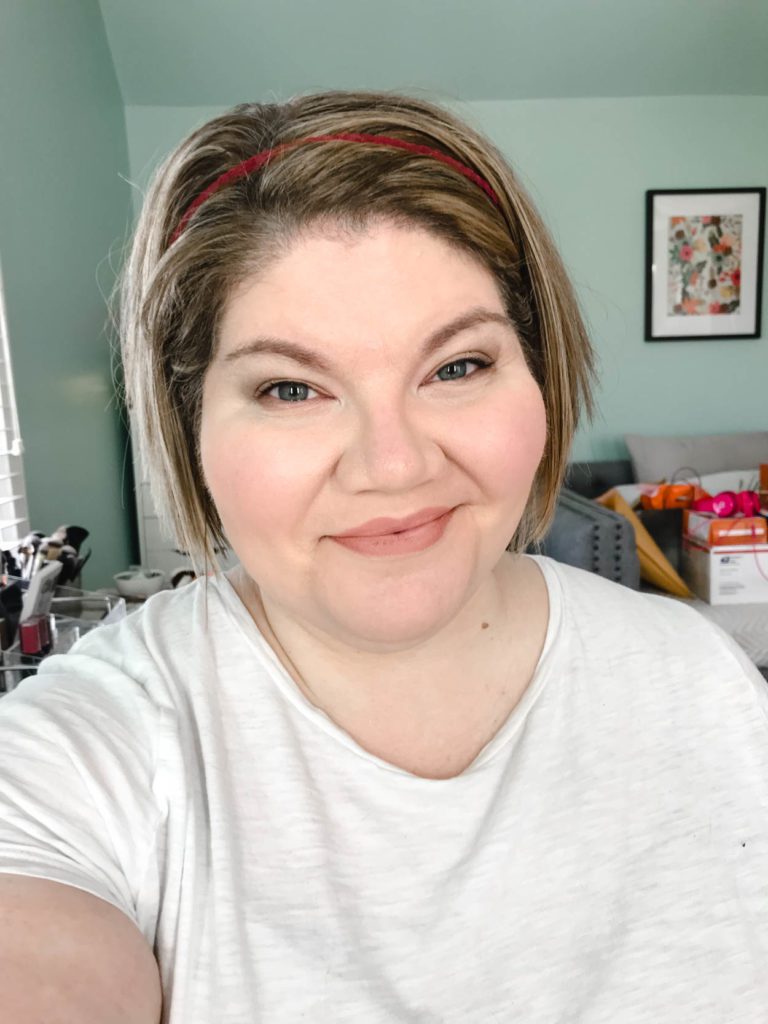 I snapped a quick picture of me wearing this foundation and concealer. It covered my redness and imperfections nicely, without being too heavy! My nose had some issues with the foundation breaking up, but other than that, it was a nice product! This is completely unedited!!!!
Overall, I'll admit that by looking at the reviews for these two products online-I was a bit worried.  They aren't the best reviews out there.  However, finally getting a chance to use these products on my own skin, I was able to see that they aren't bad products at all!  The color matches can be a bit tricky (it was for me) but overall, I think these are two great products if you're looking for a lightweight coverage.

Product was sent to me for review consideration.All thoughts and opinions are my own!