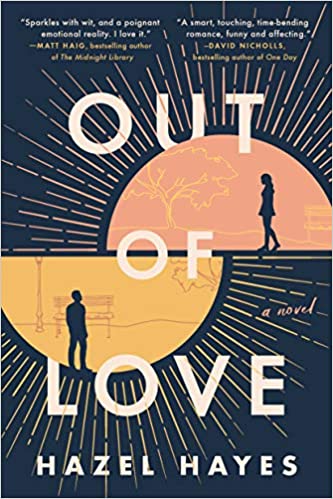 Out of Love begins at the end. A couple call it quits after nearly five years, and while holding a box of her ex-boyfriend's belongings, the young woman wonders: How could they have spent so long together? When did they fall out of love? Were there good times before the bad? These are the questions we obsess over when a relationship ends, even when obsessing can do no good. But instead of moving forward through the emotional fallout of a break-up, Out of Love moves backward in time, weaving together an already unraveled tapestry, from tragic ending to magical first kiss. Each chapter jumps further into the past, mining their history for the days and details that might help us understand love; how it happens and why it sometimes falls apart.
Out of Love by Hazel Hayes Review
I honestly had never even heard of this book, but when I was shopping at the bookstore, the guy who I occasionally chat with kept talking about how cool this book was and the concept of it grabbed my attention. So naturally I bought it, ha!
Out of Love starts off with two people breaking up, but we don't know why. As the story continues, it goes backwards. We learn more about their relationship and in the end, why they broke up. The unique thing is that it ends with them meeting and falling in love.
The concept of this story was so cool. I loved it and thought it was really unique. However, the couple just didn't pull at my heart strings enough. Like I wanted them to break up as I continued to read. I felt they both deserved to be happy and I was ready to move on and I wasn't even a part of the relationship.
Cool concept.
3.5/5⭐️
Shop The Post