I am a firm believer in a good skincare routine. I stick with my routine, both day and night, and even though I test A LOT of products (influencer perk) I have quite a few products that I consider essential parts of my routine. These products have been with me for quite a while, have been repurchased over and over, and are ones that I really swear by. Let's chat about them!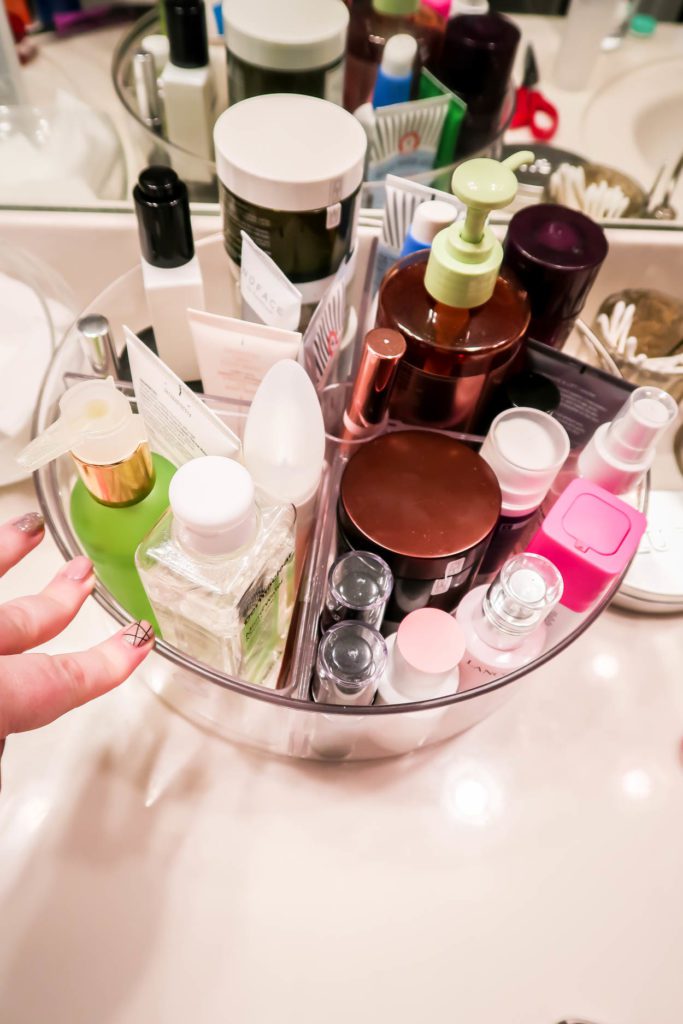 My SKincare routine
My day-to-day skincare routine looks something like this:
AM
-Cleanse (I normally use Micellar Water)
-Tone
-Vitamin C Serum
-Hydrating Serum
-Moisturizer
-SPF
PM
-1st Cleanse with an oil-based cleanser or a cleansing balm
-2nd Cleanse with a regular cleanser
-Exfoliate
-Toner
-Retinol (3x a week)
-Moisturizer
-Face Oil
Want to see specific products I'm using? Let me know in the comments!
FOUR SKINCARE PRODUCTS I ALWAYS USE

I love this mask so much. It gives your skin such a glow if you're dealing with dull skin. It features a Natural BHA from White Willow Bark Extract so you're getting exfoliation that helps clear up pores. It also features Pomegranate Enzymes that help to also clear up dead skin cells and help to smooth any texture on the skin. On top of that, you're getting Pink Clay that helps to gently absorb any excess oil and buildup.
It's my go-to facial mask when I need a miracle on my skin! Big event? THIS ONE! I swear by it and have been using it for years. You can use this mask up to three times a week, but I typically only do it once or every other week. Apply to the skin and let it sit for 20 minutes and rinse!
Alternative: Peach & LIly Super Reboot Resurfacing Mask

A sunscreen that also gives my skin a radiant glow and acts as a makeup primer? YES! I was hesitant to try out this sunscreen, but it doesn't disappoint. My only concern was that the pearlescent finish would leave my skin too oily and have too much glow. It doesn't! The formula features Hyaluronic Acid which offers hydration, Sea Lavender and Cocoa Peptides. So it's protecting your complexion from blue light and also offers antioxidant protection.
On days when I don't want to wear foundation, I wear this! It evens out my complexion just enough! There is supposed to be a "dupe" of this sunscreen at Kroger, but I haven't tried it yet. It's never in stock!

This is a moisturizer I turn to over and over again. This moisturizer features a prebiotic thermal water, ceramide-3, Niacinamide, and glycerin to help protect and soothe the skin. It's a lightweight formula and is good for all skin types, including sensitive skin types. If you're using anything for anti-aging that can dry out your skin or you suffer from acne and on treatments for it, this is your new best friend!
Helps retain moisture and maintain a healthy skin barrier. When using this moisturizer, it's said to hydrate the skin for up to 48-hours. Can be used morning and night.

This cleanser started off as one that I picked up randomly (a trial size) while in Chicago. I had forgotten my cleanser and I stopped by a Sephora and picked this one up. I LOVED IT so much that I've purchased the full size since then. It's a very creamy cleanser and it doesn't dry my skin out. It features Kale, Spinach and Green Tea so it's loaded with ingredients that make your skin super clean, hydrated, and is alcohol free!
One of the cool things about this cleanser is that you can also use this as a first cleanser to remove makeup, and as your second regular cleanser.
Those are my four most used skincare products that I am ALWAYS using.
Are there any skincare products that you find yourself using over and over? Share below!
Shop The Post