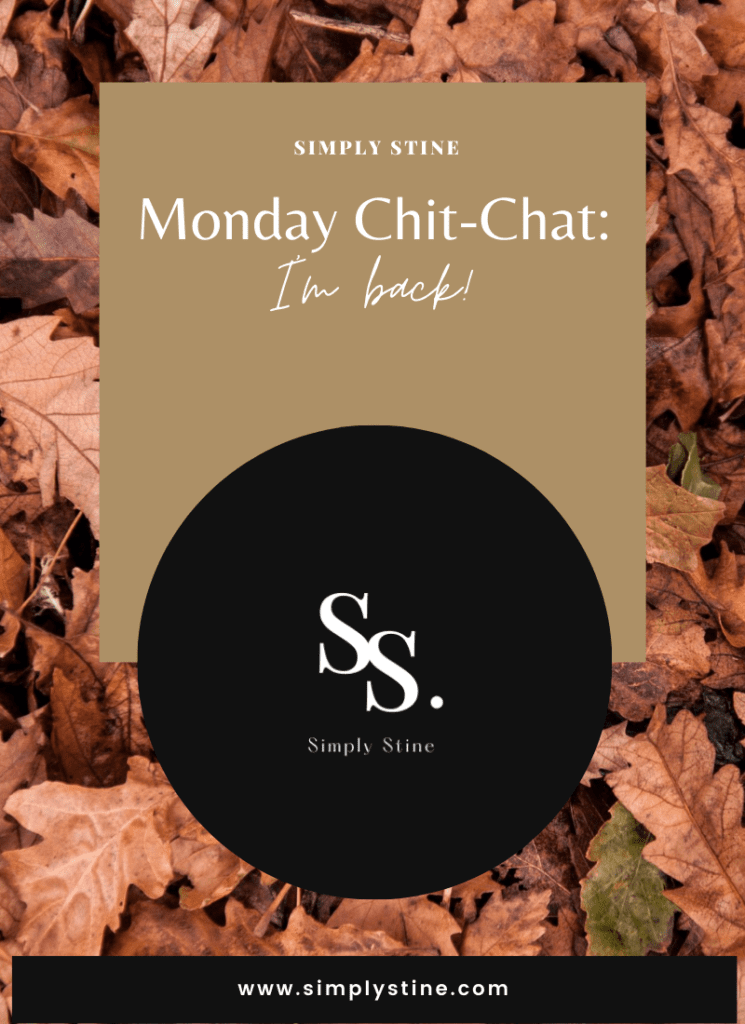 Simply Stine is Back!
After a much needed break, I'm finally back to posting new content on Simply Stine. I took a break from social media mostly. Sure I popped on a few times, but I was on and off in less than five minutes. It was fantastic and I've vowed to do this more often. As Simply Stine is my full-time job, it takes a lot to create, create, create. Sure, it's not the hardest job ever, but it does take a certain bit out of you after a while.
The thing about being a blogger/influencer is that no one warns you just how draining social media can be. Sure I love reading emails and comments, but the constant posting, the creativity involved, and the trolls can all really take a toll on your mental health. I sometimes feel I never get to really shut off work; I'm always on and working. So, after a lot of consideration, I let myself take some time off and didn't hold myself to any schedules. I did some behind the scenes work, but that's it!
My main goal with Simply Stine was to help people feel their best. That was my motto 12 years ago. Now I just want Simply Stine to be a place where you come to for inspiration. Where you come to laugh at my crazy stories because sometimes life is just funny. I want it to be a place where you feel inspired to try new makeup techniques, wear the damn clothes that you're too scared to try on, and to feel like the true badass that you are. If you're having a bad day (who isn't every now and then) I hope that I'm able to somehow help you along the way.
Whether I'm sharing my story about how infertility changed my life, how I'm dealing with my anxiety and depression, or what it feels like to be a 40 year old struggling to figure out her life at the moment, I hope that somehow, I'm able to make a difference in your life. That's my main goal with Simply Stine right now. I'll keep it real (always) and honest.
Simply Stine Got a New Look
If you didn't notice, there's a new look for Simply Stine. To make a very long and boring story short, I needed the site to be faster, easy to navigate, and I needed to update a few pages. So this is what I've been doing for the past two weeks. Here's what's new:
The Bookshelf (You can now easily browse all the books I have read and order them!) This is being updated still.
The layout has improved! The most recent blog pages are featured on the main page. Easily searchable, etc.
The Shop page got a facelift. I'll be updating it soon with Holiday content
The overall speed of the page (this is beyond my understanding, but it's faster now, ha)
There is a 2021 Holiday Gift Guide Page that features all of my gift guides I've put together
Simply Stine's Posting Schedule
Since we're almost into the holiday season (it's so close) things will slow down for the year. So far, I'm almost done with all of my Holiday Gift Guides. There are three live right now and the rest will go live by the end of this week.
My other priorities are showing some new recipes to help you out this holiday season and keeping things upbeat, funny, and informative on here. I know that this time of year can be so stressful for many, so I hope to make you laugh a bit, inspire you to look and feel your best (fake it till we make it, guys) and keep you on the right track to end 2021 on a good note.
So, my plan is to hopefully still post on Monday, Wednesday, and Friday. I'll also send out a weekly newsletter on Friday. If you aren't on my subscriber list, please be sure to sign up! I am going to start sending out some freebies and such to my subscribers only.
I'm glad to be back. I honestly love communicating with you guys and I miss your DM's, emails, and comments! Stay tuned for holiday content coming your way and as always, a dose of laughter, some inspiration, and some book reviews coming soon. Thanks for staying with me while I had a bit of a "vacation" and I hope you love the new and improved look of Simply Stine!