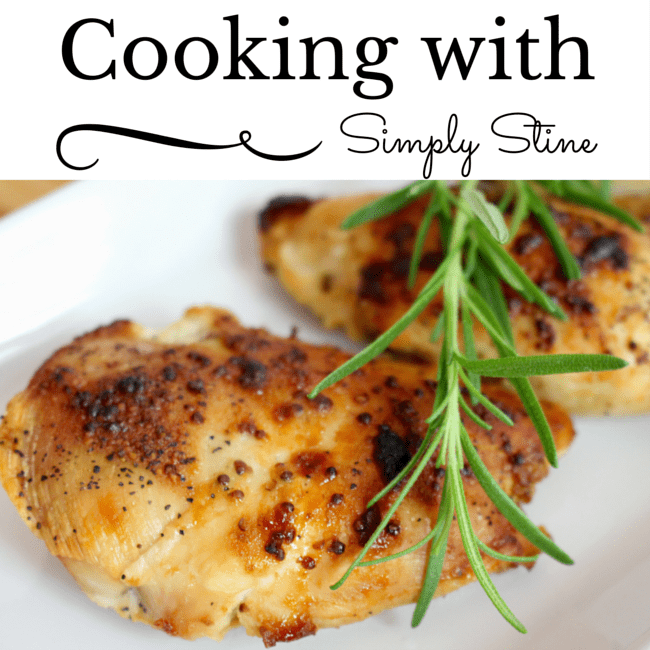 I love to cook and I've been promising more recipes on the blog and I'm so glad to share this recipe with you today.  I've seen a similar recipe floating around on Pinterest quite a few times.  It's labeled "The Best Chicken Ever" and I thought, well that's quite a statement.  So I examined the recipes and kind of made it my own.  You'll notice I even got all fancy and provided you with a recipe card below. I know, I know. I got reallyl excited about this post.  I've been wanting to share more recipes with you guys, but sometimes I just cook on the fly and I have no idea what I've even done as far as measurements and such.  This time, I paid attention and wrote it down. I even took these pictures before we ate. LOL!  You're welcome!
Maple Dijon Chicken
The chicken was so simple to make. Whisk some ingredients together, season the chicken and throw the ingredients on top of the chicken and bake.  Seriously, if you're the type of cook who likes a no fuss recipe; this is for you.  A couple of things to note.  I used both whole grain mustard and dijon.  I used a 1/4 cup of each. I don't know if this really made a difference in the recipe, but to be honest, I didn't have enough of the dijon alone.  Also, I noted on the recipe card for the temperature to be between 425 and 450.  That's because I stared out at 425, but I wanted the chicken to get a little browned up and the sauce to caramelize.  I had to turn up the temperature in the later part of the cooking to 450 and that worked perfectly. So you be the judge of the temperature and just pay attention to the chicken.  As far as the rosemary, you could also chop it up and throw it in with the rest of the ingredients and cook it with the chicken, or you can just serve it on top of the chicken to really impress your family members.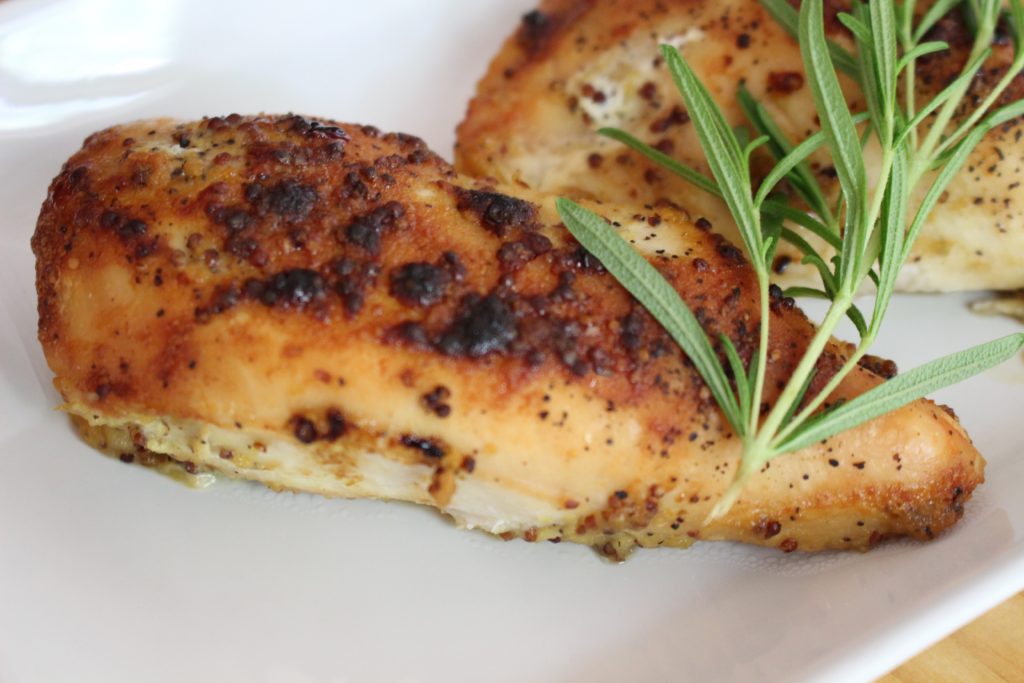 This chicken was so, so good.  I actually took a bite and went "wow." I probably text messaged my mom because this recipe is right up her alley.  The chicken was moist, had excellent flavor and I was pretty much upset that there wouldn't be more leftovers.  Rob ate it and loved it also and he's not a mustard fan at all.  Would I make this again? YES! It's excellent.  I even think you could probably cook this in the slow cooker, but I don't think you're going to get that brown, crispy, caramelized chicken and personally, I think that's what makes the recipe so good.
Ditch that boring grilled chicken dinner and try something new!  I'm always saying this and I think it's important to note that feel free to change up the recipe as you like.  If you'd like less mustard and more vinegar-DO IT!  Just note that it might not come out the same as the recipe I noted below.  It's always fun to experiment with recipes and make them your own! I think this is one of those recipes that everyone will think you took hours cooking and prepping.  Nope! The best thing about it is the clean up.  Since your pan is lined in foil, you can just simply toss the foil in the trash and you're done! It doesn't get much easier than that.
I hope you guys enjoy!  Let me know if you make this in the comments below!