Nail Polish is something I love, but I don't always allow myself to splurge on new colors because my collection at home is crazy and I'm a member of the Julep Maven Program.  There are times when you just have to browse the Dior Vernis collection and allow yourself to dream a little.  I adore Dior's nail collection and when I saw this gorgeous Liliac shade, I knew I was in trouble. You see,  as much as I love these colors,  I hate spending $24.00 on them.  OUCH! It's a hard hit to my wallet.  So I only allow myself to splurge on these every so often.
Like any Dior nail polish, two coats and my nails were looking gorgeous! This is a very pastel shade and it's very glossy.  This and the Julep Shenae, will be my go to Spring colors for sure.  The polish applied very easily, although, it is a bit thick so be careful not to apply too heavily.  As far as wear, it's lasted about as much as any typical regular non-gel nail polish will last.  So far we are working on day four and still going good!
The Dior Lilac Colorvision shade is exclusive to Sephora.  I just checked and it's totally sold out online right now, but I am sure they will get more in.  I picked mine up at my local Sephora store and they had plenty in stock, so I'd go to the store if you can to purchase this.  Quick tip: If you look up this item on Sephora's website, you can check your local store to see if they have any in stock before you go!
I am so happy with this nail color and will love using it throughout the springtime.  I'm going to be on the lookout for any cheaper alternatives and if I find any, I'll let you know!  If you know of one, please fill me in!!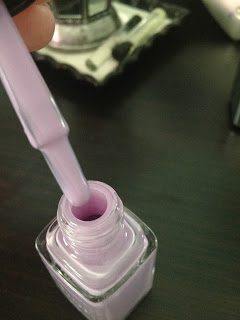 I enjoy the brush Dior has for their nail polishes. It's smaller and wider than most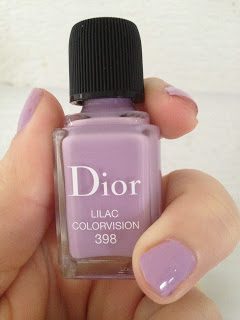 The lovely silver cap does come off and it's a regular nail polish top