Being that I live in Georgia, our temperatures can get hot really quickly. We've already turned on our air conditioner if that tells you anything.   I desperately need a good go to deep conditioner to have on hand.  I already use oils and heat protectants, this is just an extra step I like to do.  Lately I've been finding that I've been using the Ojon line quite often.  It's easy for me to find (Ulta, Sephora,etc) and it works!  It can be a bit pricey, but a little bit of the product goes a long way and it really does save my hair from having too many bad hair days.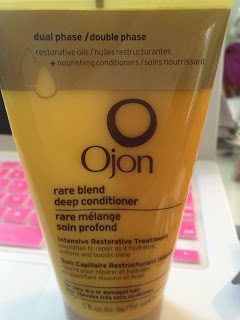 Ojon rare blend deep conditioner 
This product retails for $34.00 and contains 5 fl.oz.  It's a splurge, but it's a really good one in my opinion.  This deep conditioner is like two products in one.  The amber side of the product is a blend of 7 rare oils ( Ojon Oil, African Shea, Brazilian Muru Muru and Indian Klkum Butters) and the ivory side is a moisture-rich cream that contains plant-derived conditioners.  This baby is loaded with all kinds of goodness for your hair.  It softens my hair, hydrates and really gives my hair a nice glossy shine to it.  I apply this after shampooing and leave on the hair for about two minutes.  I rinse and am left with fantastic, tangle-free hair.   I use this about once a week, maybe a couple times a week during the summer.  I've been using it with the Damage Reverse line from Ojon and loving the results.  
I love this product for those who suffer from dry, damaged hair.  I know it's a lot, but it's a fantastic product that really helps my hair.  I'd love to hear if you have tried this product before and liked it? Hated it?  Let me know!