With temperatures getting warmer, I love to mix up what I'm eating. Instead of heavier meals, I find myself reaching for lighter options. I love a good smoothie, but every now and then I change things up and make a smoothie bowl instead. It is pretty much the same thing, but with a smoothie bowl, you're blending a base and add in fresh fruits and extra toppings.
I like my smoothie bowls thick, where a smoothie drink can be a little more thin in consistency. I made a Mango Pineapple Smoothie Bowl recently and I got so many comments about it that I thought I'd just show you the recipe in a post.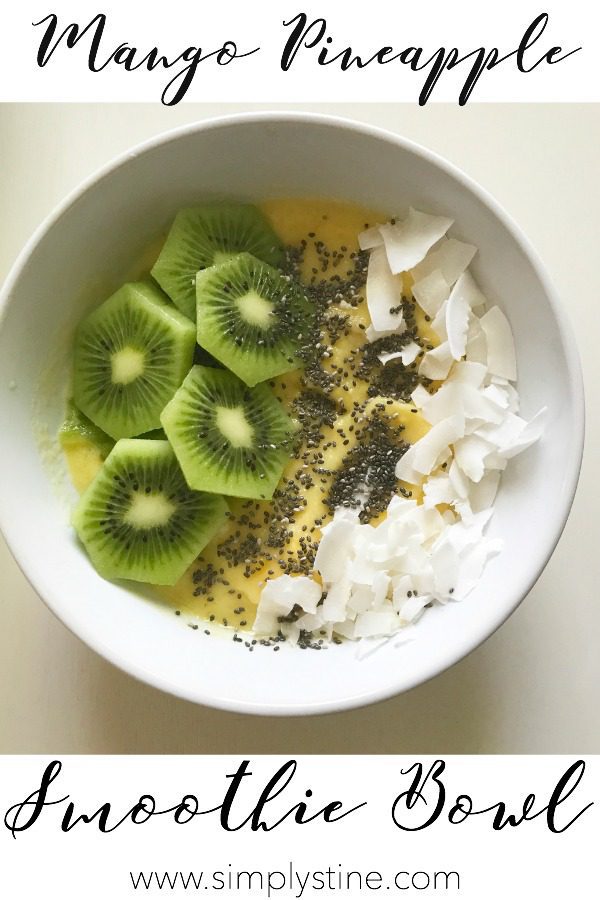 For my recipes, I tend to use a mixture of fresh and frozen fruit that I pick up at Trader Joe's or Costco.  It helps make the Smoothie Bowls thicken up (and stay cold) and let's be honest, fresh fruit can be super expensive and sometimes not in season when you want it.   Trader Joe's has an awesome selection of frozen fruits and they're very reasonably priced.  Can you use fresh fruit? YES!  The choice is completely up to you.
One of my favorite Smoothie Bowls to make is a Mango Pineapple Smoothie Bowl. It's so flavorful and satisfying.  Plus, it's super easy to make. This Smoothie Bowl instantly takes me back to the Caribbean. I've never had such amazing fruit before in my life than when I have been to the Islands in the Caribbean.  This Smoothie Bowl is like a tropical vacation for your palette.
The great thing about these Smoothie Bowls is that you can change the flavors up so easily.  So experiment and try different recipes!  This is just one that I've been making a lot lately because I'm addicted to Mango, ha. For this recipe, I topped my Bowl with Kiwi Slices, Chia Seeds and Unsweetened Coconut Flakes.  So good!
Mango Pineapple Smoothie Bowl
---
Ingredients:
1 Frozen Banana
1 Cup Frozen Mango
1 Cup Frozen Pineapple
1/4 Cup of Coconut Milk (Or Milk of your choice)
Blend all ingredients until smooth. Pour into bowl and add your toppings!
Toppings Suggestions:
Unsweetened Coconut Flakes
Mango
Banana
Kiwi Slices
Chia Seeds/Flax Seeds
Strawberries
Blueberries, Blackberries
Star Fruit
Pineapple
---
Go ahead and try this as your new go-to recipe for your next Breakfast or maybe even a snack during the afternoon?!?!  Trust me, you'll love this recipe and how easy it is to prepare! You can change the recipe so much that you'll never get tired of it!