One of the most popular beauty products that hit the market lately has to be the Makeup by Mario SurrealSkin Liquid Foundation. It's ALL OVER social media and all the popular beauty influencers pages. This was his first foundation that he's launched so I was more than excited to try it for myself.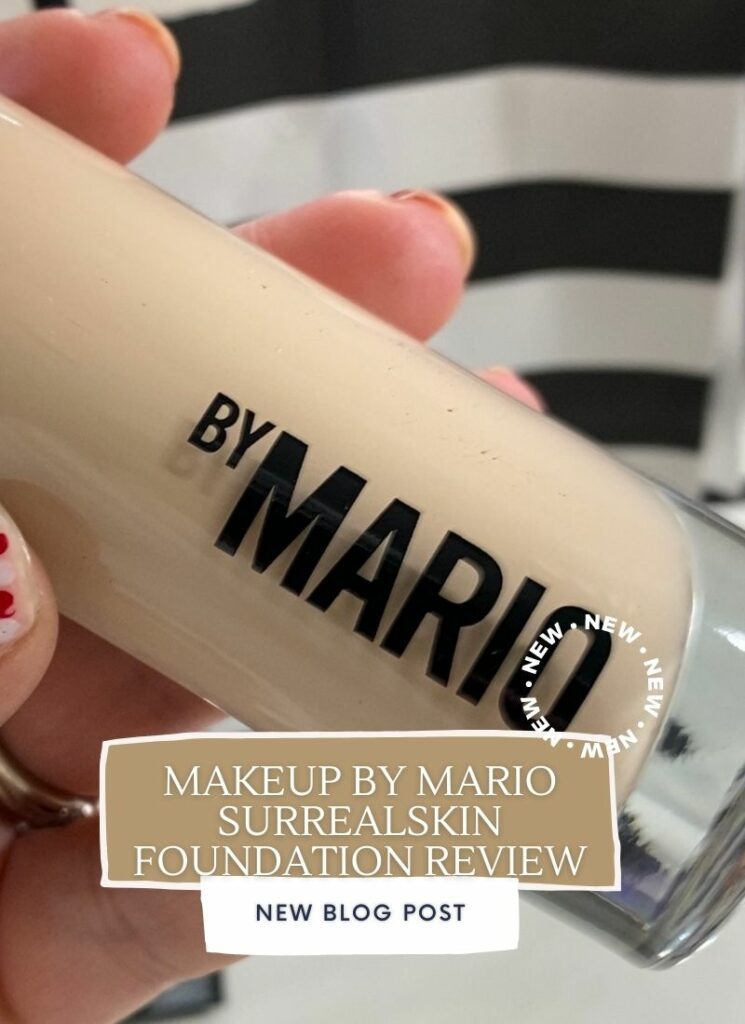 If you aren't familiar with Mario Dedivanovic, celebrity makeup artist, then please let me introduce you. This man is pure talent when it comes to creating a flawless makeup look. You might have seen him alongside Kim Kardashian on The Kardashians, BUT he also works with countless other celebrities. He's taught makeup education classes to thousands and has been the man behind so many viral makeup techniques. In 2020 he launched his brand, Makeup by Mario, which is currently sold at Sephora. He's A BIG DEAL.
I recently picked up the first foundation he launched, SurrelSkin Liquid Foundation. This formula offers buildable coverage with a (very) luminous finish. It's available in 30 shades, but I will say that I think the undertones of most of the shades do tend to run a bit yellow. The foundation features a MoistureGrip Technology that helps to lock in moisture for the skin, so this is perfect for those with dry complexions. There is also a new makeup brush to go along with the foundation, Surreal Foundation F4 Brush, that he suggests to use with the foundation.
Application of SurrealSkin Liquid Foundation
I tried numerous times to pick up his makeup brush with no luck. It was sold out each time that I tried my local Sephora stores. So I turned to my favorite foundation makeup brush and blending it out with a Beauty Blender. I also tried just applying it with my fingers, to see how that application worked compared to brush/sponges.
My main concern with my complexion is that I have redness (sometimes more so than others) texture (mostly pores on my cheeks and nose area) and I'm combination oily and dry. Since I was trying a new foundation, I like to skip using a primer to see how it performs without one. Depending on the foundation I'm using, I tend to go between different primers. Some of my favorites are:
The first thing that I noticed when applying this foundation is that a little bit goes a very long way. Also, the shade 2N was a pretty good match for me. A bit yellow toned, but nothing too bad that I couldn't pull off. His range is so versatile that it's said that numerous shades will work for you. Shade 2N will be a bit too pale for me if I fake tan or get any sort of color on my complexion.
At the time I first tried the foundation I was dealing with quite a bit of redness. My rosacea was in a major flare-up. I needed coverage for sure to even out my complexion. I dotted the foundation on my cheeks, forehead, and chin and started to blend away. Unfortunately for me, I noticed quite a bit of texture showing through the foundation immediately. My pores were so noticeable that I felt like I had done something wrong. Certainly this isn't what he had in mind?!?! Also, since this is a radiant finish foundation, I felt like it didn't work for my overly oily areas. It just didn't look good from the moment I put it on.
Not what I was hoping for or expecting obviously……
So I tried again and this time I made sure my face was prepped, hydrated and primed. I used my makeup brush on one side and fingers on the other side. I just couldn't get the foundation to not emphasize my texture issues no matter how I applied the foundation. When blending with a makeup brush, it did blend in nicely. However, with my fingers, it was a no go. I think blending with a brush and sponge is the way to go for this one.
Final Thoughts on Foundation
I didn't love it, sadly. For my combo skin type, it was too radiant and it emphasized too much of what I didn't want to it to. AKA pores.
I think dry skin types will love this formula.
I've read a lot of people struggling with color matching this foundation. I'd suggest looking online as there are a lot of visuals that you can turn to for help in matching.
From a distance I think that this foundation looks lovely (even on my skin) but up close was where I could notice a lot of the texture and pore issues.
I did have to set this with a setting powder and I used a finishing powder throughout the day. My oily areas were not loving the formula.
The Makeup by Mario SurrealSkin Foundation went back to Sephora as I couldn't get this to work for me as I had hoped. I haven't replaced it with anything yet, but I'm sad this didn't work out for me because I genuinely love supporting Mario and his brand. With any product, the way a product works varies from person to person, so if you're interested in trying this foundation, I'd go to a store and see it in person if you can.