I get approached by quite a few companies to talk about their products on my blog. Some I've heard of and others, like Midnight Velvet, I've never heard of. Have you? Chances are, you probably haven't, but I'm hoping that after this review, you'll check them out. If you have, then why didn't you tell me about them before? Ha!
Let me introduce you to their m. vie Mineral Makeup Line. I was sent a starter kit and some other items that I personally requested. I was really quite pleased with the packaging. They came in an adorable bag, that could totally be re-used for something else later down the road. The starter kit that they sent me came in a zip bag that is very, very cute. It's the perfect sized bag to keep in your purse for quick touch ups or for after workouts, etc. If you are a fan of NARS or at least know of their products, then you know how their products have a somewhat rubberized package. Well, these do too! The products felt very luxurious and made me excited to see how the actual makeup was. It didn't disappoint! Here are some of the items I got, with pictures and swatches.
m. vie Cosmetic Starter Kit
Retails for $49.95 ($64.95 Value)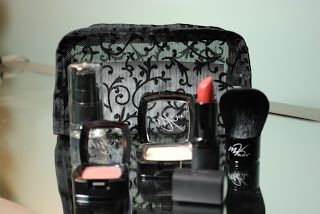 Each set includes:
*Mineral Mist
*Lipstick
*Pressed Mineral Foundation
*Pressed Mineral Blush
*Mini Kabuki Brush
*Black Mesh Embossed Velvet Cosmetic Case
This kit comes in six shades to choose from. I went with the lightest, Fair, but I might have been able to use the Medium Fair. The colors I got were colors I'd actually wear. Sometimes not all the colors that come in the kit are something you'd actually want to use. I have some photo's below to show you the difference with and without this makeup. The first photo is my right side, with no makeup. The second photo is my left side, with makeup. Finally, the last photo show's me buffing the product into my face. I really liked the mineral foundation. It worked great! Take a look!
Blotchy and red. That's my skin lately.
Loving the flawless, even complexion
using the Mineral Foundation gave me!
Also wearing their Terra Cotta Blush here.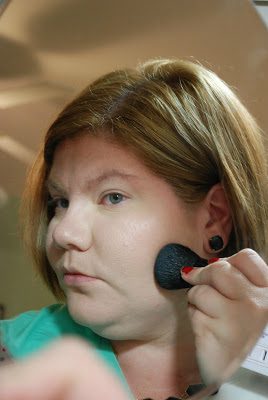 The Mineral Foundation really buffs nicely into the skin.
Takes away any imperfections such as redness or acne.
Love that it isn't heavy and I can use as little or as much as I want.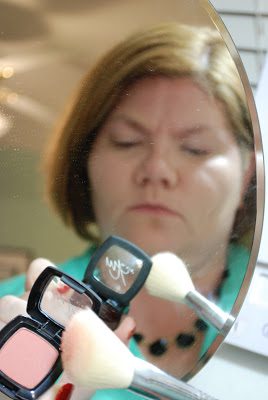 The Blush, Terra Cotta, is such a gorgeous, very pigmented shade.
Just small amount (as you can see on my brush) is all that I needed for BOTH cheeks!
I'm not a stranger to Mineral Makeup and I really enjoy using it especially in the summer. I feel like it's a great makeup to use for when you want a good bit of coverage, without the heaviness a typical foundation. The foundation was great. There was a significant amount of fall out, but this is a mineral makeup. Using the Kabuki brush that came in the kit, I applied it to the skin and it covered most of the imperfections I had. I even used it under my eye area and around the nose, to cover any areas I'd normally use concealer on. The blush was very pigmented and applied nicely. I'd say for sure with the blush, a little bit goes a long way! The lipstick was very creamy and packed quite a bit of color! My lips felt very moisturized and conditioned when using this.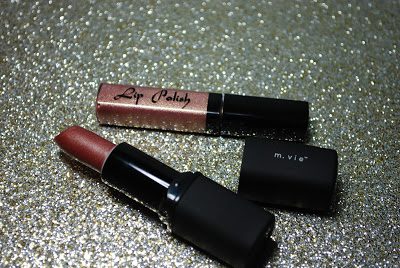 Lipstick :Rambling Rose
Lip Polish: Pretty Please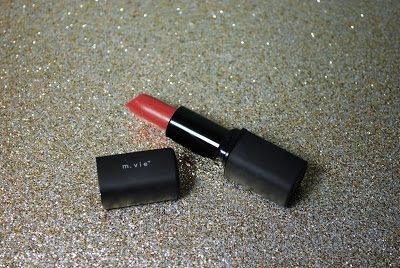 Lipstick: Mango Tango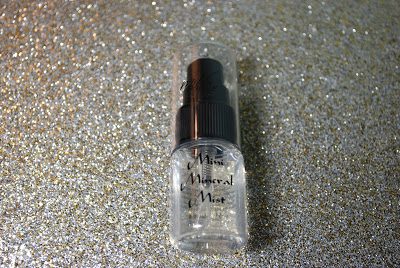 A quick spray of this will help your makeup last all day!
You can also spray during the day for hydration.
Mineral Foundation: Barely There
Blush: Terra Cotta
I love the clear top on the packaging!
Perfect for storing in a makeup drawer, but you can still see what color it is!
Midnight Velvet was also nice enough to send me some other items that I had asked to try. I loved the
Lip Color Rambling Rose
($13.95) and the
Lip Polish in Pretty Please
($11.95). Both were gorgeous colors and I loved that the lipstick has Vitamins A & E and Sweet Almond and Jojoba Oil. Not only is it giving me a great color on my lips, but it's also moisturizing them at the same time!
I have to say that the brushes were probably my favorite. I got two and love both. Not only are they super affordable, but they are also double ended. Which means one brush will do many things!
The first brush I got was the
m. vie Duo Camofluff Brush
($16.95) and it's so, so good. The flat end of the brush works great for applying concealers and using the fluffy end, it's perfect to set the concealer with mineral powder or to blend an eyeshadow.
The second brush I got was the m. vie Duo Deluxe Spooly Wand & Tapered Angled Brush. ($14.95) It's perfect for creating the perfect brows, applying your eyeliner. I love to use the angled brush to apply my brow color and run through the brows with the spooly wand. Using that combination of brushes gives me the perfect, natural looking tamed brows.
LOVE this Lip Polish!
It's so glossy and pigmented!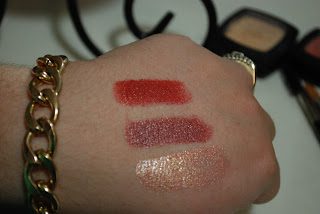 From Top to Bottom: Mango Tango, Rambling Rose, Pretty Please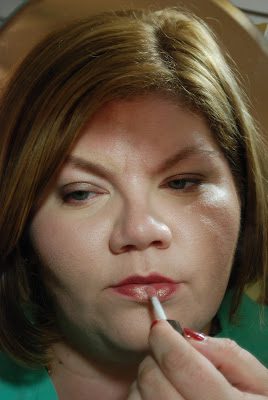 Rambling Rose Lipstick with the Lip Polish, Pretty Please
Overall thoughts on the line are great! I've said this before and I mean nothing bad about this, but I am super picky when it comes to my makeup. I like a good, quality product. I want it to last and give me the results I'm paying for. m. vie definitely does that! It's affordable, but the makeup itself is very good quality. I love the modern, sleek packaging and the great selection of colors and products they offer. While I haven't used the whole line, I've used enough to form a good opinion on the company and the products. I'm sold! It's always great to find companies that are new to me, but have great products!
Midnight Velvet is so awesome, they have allowed me to give one lucky reader a $50.00 Gift Certificate! To enter, comment below about why you want to try this line and what you would like to try! I'll pick a random winner and Midnight Velvet will send your Gift Certificate straight to you! Good Luck!!
For more information on Midnight Velvet, please visit the following:
**The products mentioned in this post were provided to me to review from Midnight Velvet. All thoughts and opinions are my own.