It's Beauty Battle time!  I've been wanting to do a blog post like this for a while now and I finally sat down and made it happen.  I get a lot of questions about which subscription is better and my honest answer is that it varies month to month. Both cost me $10.00 a piece and arrive about the same time each month.  I feel that Birchbox tends to contain more high-end samples and Ipsy almost always contains a lot of full sized products (sometimes all) and tends to be geared towards makeup.  Ipsy comes packaged in a makeup bag each month, while Birchbox comes in a small box.  **Forgive me if this is a long post, but there is a lot to talk about!
First Up: Birchbox…..
Love the Davines and Youngblood included! Plus the suki facial cleanser is amazing!
This Birchbox seemed to be all about hair! The theme of this month was Wanderlust and was supposed to be filled with samples from "near and far that will serve you well on your summer adventures."  I enjoyed the actual box it came in.  The inside was a simple Chevron pattern and I am a big lover of all things chevron!
1.  Davines Love Smoothing Shampoo
I haven't gotten a chance to try this yet, but it has a very nice, soft scent.  I have heard of this brand before, but haven't tried them.  This shampoo contains Indian Fig Extract and Olive Oil and is made to smooth and soften the hair.  This was a sample size, but a full size of this retails for $24.00.
2. Birchbox+Color Club Wanderlust Collection Nail Polish
Birchbox and Color Club teamed up to create 4 polishes inspired by their favorite cities. Don't get me wrong, I love the color that I got.  It's neon and very fun for summer, but the problem is more with the actual polish itself.  Every time I have worn this brand, it chips on me within a day or so.  This is a full size product and it retails for $8.00.
3.  Davines Oi/Oil Absolute Beautifying Potion
This is an extra that was included in my Birchbox and again, I haven't gotten to try it yet.  The description states that, "This is an antioxidant-packed potion to instantly tame frizz and strengthen hair over time." Directions say to use two-three drops on damp hair or can be used on dry hair for extra shine.  Full size retails for $40.00.
4.  suki Exfoliate Foaming Cleanser
This is a two-in-one cleanser and I love those! It's a cleanser, but also an exfoliant. This product smelled so good (lemons) and a little bit went a long way!  This cleanser contains natural sugars and lemongrass and what I loved most about it, is that it can be very abrasive or very gentle, depending on how you apply it.  To apply this, you use a small amount on damp hands and rub the product between the hands to activate the foaming cleanser.  I LOVED this and it worked fantastic.  This was a sample size, but the full size product retails for $32.95.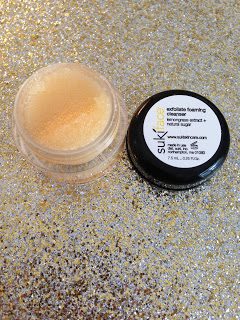 5.  Youngblood High-Definition Hydrating Mineral Perfecting Powder
I got a small sample of this product and was excited to see Youngblood included in the box.  I have been wanting to try their line for quite some time, but never get around to the actual retail location that carries it in my area.  This powder will help stop you from having a shiny face and it locks in moisture, making sure your skin and makeup look flawless all day.  This is similar to my Makeup Forever HD Powder that I love.  I'm going to keep trying this and see what I think the more I use it.  So far so good. I got a sample of this, but the full size version of this product retails for $36.00.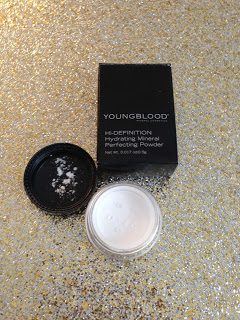 6.  Davines Love Smoothing Conditioner
Another little extra that was included in my Birchbox was a packet of the conditioner to go along with the shampoo from Davines.  This conditioner contains Borage Seed Oil which is great for nourishing and moisturizing the hair.  I haven't gotten a chance to try this yet, but I will do a full updated review on the entire Davines line when I do. This was a sample of the conditioner, but a full size version of this retails for $27.50.
So, as you can see, my Birchbox for the month of June was very hair related.  No full sizes with this box.  I don't expect full sizes from Birchbox, so I can't fault them on that.  I hate the Color Club polish (love the color though), but other than that, I will for sure use everything I got.  I'm also excited to try out the Youngblood Perfecting Powder some more.  I can't give a total for how much this box was worth because I only know the price of the nail polish.
And…Ipsy
That's 5 full sized products for the Ipsy bag this month! Retail value of all of my products, $47.48!
I have to admit that I'm normally partial to my Ipsy Bag.  I normally get most, if not all, full sized products and I get a makeup bag each month.  I don't always love every product, nor the makeup bags, but for $10.00, I feel like I get a lot more than my Birchbox sometimes.  This month, I wasn't loving the bag at all.  It's not my style, but I already know someone who will love it and I plan to pass it along to her.  I also love the fact that each of the companies they feature, offers a discount if you purchase from them.  Not only am I getting full sized products (most of the time), but I'm also getting a great discount to use in the future for EACH of the brands that were included.
This was definitely not my favorite bag I've gotten, but it's nor horrible.  All of my products were full size and the value of my products (not including the bag, I have no idea how much that cost) was $47.48.  I paid only $10.00! That's a win in my book!
1.  Cailyn Eyeliner
Love this product! Such a unique packaging for a liner and I got this in a deep purple shade.  It's gorgeous.  This retails for $21.00 and they offered a 30% off discount if I want to order again.
2. NYX Cream Blush
I really like cream blushes.  Even with my oily skin, as long as I set them with powder, they are normally great.  This blush
retails for $6.00 (they offered up to 40% off) and it's just as good as some of my more expensive ones.  It's very pigmented, but gives a really great sheer color to the cheeks.
3. J.Cat Cream Palette
I don't even know where to begin with this palette.  At first I thought it was an eyeshadow palette and I thought, ok this will be great for dramatic nighttime makeup.  Seeing as I do have a bachelorette party to go to, I thought this would be perfect.  Then I find out, it's not an eye palette at all.  Instead it's more for body art.  WTH?!? I am not sure what I'm going to do with the palette, but I will say, the glitter is a bit chunky, but this palette is a great selection of golds/browns.  This retails for only $4.49 and might be a good product to look into around Halloween time?!? I'm still not sure about this product.  They offered 25% off a product.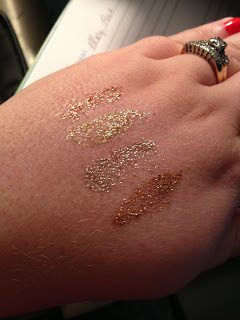 This was applying with the sponge applicator they provided.
 Very chunky and didn't spread even at all.
4. Starlooks Lip Liner
I got this in the shade Tipsy and it's a great, bold pink/orange color.  It's very pigmented and creamy which makes it great for applying.  This retails for $12.00 and they offered 35% off a product.
5.  J.Cat Eyelashes
While I haven't tried these yet, they do seem to be a really good option if you are in need of some new false lashes.  These retail for $3.99  and they include glue!  I'll do another review on these later to let you know what I thought of them.  They do seem pretty big, so make sure to trim these if you do purchase them.
And my Winner…..
I would have to say that just for the value alone, Ipsy is the winner.  I scored $48 worth of products this month and I only paid $10.00.  I did like the Birchbox and I'm sure I'll enjoy my new Davines products, minus the nail polish.  Like I said before, each of these varies month to month.  I've never NOT liked one enough to cancel…..yet.  
Join Ipsy by clicking here

Join Birchbox by clicking here